Description
Pressure control technology, monitors sanding pad pressure applied for optimal finish. Random orbit action for a swirl-free finish and faster stock removal. Pad brake, creates a gouge-free finish. Micro-filtration captures and contains fine dust particles. Clear view dust canister removes guess work of when to empty container. Built-in vacuum port, Shop-Vac compatible for maximum dust collection. Dust sealed switch for extended tool life. Soft grip for improved comfort and control. Includes: 3 Sanding discs.
Frequently bought together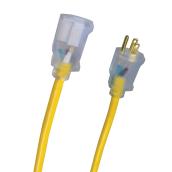 WOODS
12/3 Extension Cord - 25' - Red
Format 12/3 25'
Details
Article #74045239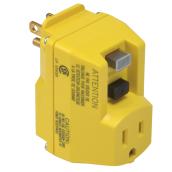 YELLOW JACKET
Single Outlet Portable GFCI Adapter - 1800 W - 15 A
Details
Article #32045050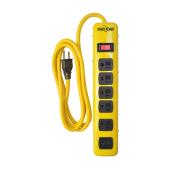 YELLOW JACKET
6-Outlet Power Bar with Surge Protection - 6' - Yellow
Format 1.8M
Details
Article #32045053
Random Orbital Sander - 5" - 2.8 A - Red
is rated out of
5
by
86
.
Rated

5

out of

5
by
woodworker1765
from
Very Impressed
I am very impressed with this sander. After almost 12 years using the same old orbital sander, it finally gave all it had and is now gone to the great saw dust pile in the sky. This Skil sander is great for the projects I work on. I make furniture for my daughters dolls as well as other small projects. The first time I really used the sander I was so impressed I just had to write a review. It did everything I needed it to do to get a nice smooth finish on the pieces I am working on. Very glad I chose this model.
Date published: 2012-11-10
Rated

3

out of

5
by
John
from
Good while it lasted
I've had this sander for about a year. Used for little projects here and there. Today while sanding some plywood , a sudden smell of burning, a loud pop and three of the four screws in the bottom got hot enough to burn the sandpaper. They fell out after removing the sandpaper and just like that we are done. I did get a year out of it , by todays standards (where things seem to be engineered to fail 3 hours after the warranty is up) so I should be happy with that. I will probably look to the older tools from here on out. Bottom line is , if you need a great sander for roughly a year, then here it is. I would recommend this to a friend , but with that warning.
Date published: 2014-09-28
Rated

2

out of

5
by
bledsoewood
from
not built to last
pros: this is a comfortable sander to use, and i like the pressure sensor. cons: the pad on the sander came unglued after a few paper changes. easy enough to fix with some contact cement. then something came apart inside the sander. the pad almost fell off while i was sanding. the screws holding the pad on were all tight, whatever came apart was up inside the sander. this would be an okay sander for occasional use, but it will not handle frequent users.
Date published: 2011-11-07
Rated

4

out of

5
by
Kenm
from
Easy to use
Easy to use sander adequate for most home owners and may satisfy some professionals. The LED indicator works well to tell you you are pressing too hard. I can't easily see the indicator if I am holding the sander upside down. The motor seems a little light on power but adequate. It appears to be a solid well built unit. Works very well. The filter is great, better than the socks on other units. It's very easy to see when the filter is full as the canister is clear. It also uses the standard hook and latch sanding discs with holes that are available everywhere. Changing pads is a breeze. I am very happy with my purchase.
Date published: 2014-01-03
Rated

5

out of

5
by
DirtySanchez
from
Great Value... so far.
It may be too soon to for me to review this as I have only had it for one week, but I have used it for about 3 hours so far. I do a fair amount of woodworking. I've had the Skil finishing sander for about 3 years, and have used it for literally hundreds of hours. If this ROS lasts half as long as the shortest lived Skil tool I've owned in the past, I'll be a very happy camper… that, by the way, would be 5 years! It is smooth to operate, soft start is a nice touch, and the dust collection unit actually works, and is interchangeable with the finishing sander's. I would gladly pay another $10.00 for a speed control option, but I don't know how useful that would be.
Date published: 2013-12-08
Rated

2

out of

5
by
annabellescreations
from
quality control must have been sleeping.
There are several things wrong with this sander. The dust collector while effective in dust collection is easily broken off if bumped because of the thin plastic ears that lock onto the lugs of the exhaust drop it or bump it and you will be securing it with tape from now on. Also the aggressivness that others have mentioned appears to be an overspeed condition that mine is now afflicted with and as a result the bearing that is key to the random orbit action has failed. Cost to repair was around $6. After replacing the bearing the next to fail was the PLASTIC part that the sanding pad screws into. cost to repair was around $9. I bought two of each of these parts because I figure its gonna do it again. If this had not been a birthday gift from my daughter and therefore special, I would have chucked this thing in the trash.
Date published: 2012-05-02
Rated

2

out of

5
by
Jason
from
Great Sander, but doesn't last more than a year
I use this Sander all the time. I like the way it fits your hand and it works really well. The only problem that I have is the fact that I have had to return it twice due to the pressure gauge wearing out. The pressure gauge on this sander tells you how hand you are pressing down while sanding. It will still work, unless you want to sand something. The pressure will always show red, and you can no longer sand anyting. I really like the sander, but it has this internal flaw that needs to be fixed. I took it back and Lowes replaced it, but I bought a back up waranty for 2 yrs.
Date published: 2014-01-14
Rated

3

out of

5
by
freeman108
from
Get what you pay for
When I purchased this device I asked why some of the other orbital sanders were more than double the price of this unit. The sales associate told me that this unit is for weekend warriors and not professionals. I am not a professional of I thought the product was for me. I have been using my unit for about five months burning through about three 80 grit pads a week, and I do not know how many 150 grit pads (slightly more than the 80 grit). This unit does what I need it to do. I have no complaints. Perhaps because I had my expectations set before I bought the unit, but no complaints. Maybe it could be because I do not know any better. I have never used a professional grade unit before so I do not have the bias/comparison base of using a superior unit. If you are an average home owner doing average sanding this unit will get the job done. If you feed your family with your sanding work I can see how this unit might not be the one for you. Even if/when this unit breaks, going to get another one is still cheaper than a professional grade orbital sander. I would recommend this unit after I set the expectations.
Date published: 2012-09-17