Description
Angle Grinder with a powerful motor. Tool-less guard adjustment, side-assist handle with wrench storage. Heavy-duty metal gear housing. Compact grip design.
Product specifications
Metal grinding wheel, side assist handle and spanner wrench.
Frequently bought together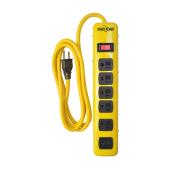 YELLOW JACKET
6-Outlet Power Bar with Surge Protection - 6' - Yellow
Format 1.8M
Details
Article #32045053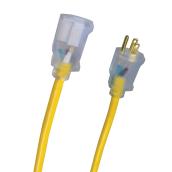 WOODS
12/3 Extension Cord - 25' - Red
Format 12/3 25'
Details
Article #74045239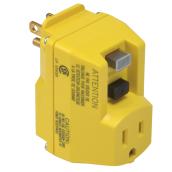 YELLOW JACKET
Single Outlet Portable GFCI Adapter - 1800 W - 15 A
Details
Article #32045050
4.5-in Angle Grinder
is rated out of
5
by
60
.
Rated

1

out of

5
by
Zech
from
Not worth the trip to Lowes
I needed an affordable small grinder and decided to give this one a chance. I was wrong for having used the time to take this one home. The high points about the grinder are that it feels good in the hand and balances nicely. The cons are that the lock button would not lock the wheel enough for me to tighten the disc down correctly, it could not withstand the simple task of using a wire wheel to remove rust without stalling the motor with anything heavier than the weight of the grinder on the wheel, the handle is a little longer than I like for a small grinder. Overall I am taking this grinder back tomorrow as soon as possible.
Date published: 2011-05-26
Rated

5

out of

5
by
Mr. Do it all
from
Carpenter/Maintenance
This is a excellent tool for the price. I use it to cut sheetmetal, locks, fence poles, busted plumbing pipes, etc. 11,000 rpm's is more than enough to handle a job with this tool, especially with a diamond blade. It does the same as the more expensive griders. I would recommend this to a friend.
Date published: 2011-01-11
Rated

4

out of

5
by
heating guy
from
Small and Lightweight,
I have used it in the hvac field cutting light metal and all thread rod.not for heavy long term gringing but as a light cutting tool i would say it is great except the trigger is a little rough...but hey its 30$ if you want perfection get a dewalt haha...
Date published: 2011-01-11
Rated

5

out of

5
by
MchevyM
from
Worked Great
Remodeling my house and tearing up all the tile,so I picked this up to grind the remaining thinset off the concrete. Used it for 3.5 hours nonstop grinding with a masonry blade and it started to get a little warm (understandably) after a ten minute break, we back at it for another hour and had no problems. Glad I made this purchase. Also, little spot in the handle to hold the spanner was a great idea.
Date published: 2012-11-10
Rated

5

out of

5
by
gt2003
from
Great value for little money
I'm a do-it-yourselfer and needed a grinder for a project. I considered renting one for the day until I saw this. Really? I can buy a new one for very close to what I would spend to rent one for the day. I bought it and used it to level out a few high spots of concrete on my kitchen floor. It worked perfectly, plenty of power etc. I'm glad I bought it and now have it on hand if I need it. Tonights project is using it to saw thru a steel clothes line post. I think it will hold up perfectly for the DIY'er!
Date published: 2012-12-03
Rated

5

out of

5
by
EAGLE
from
Great purchase
I bought this ginder didnt think it would be much good because of the price. Wrong, tough, plenty of power, Light weight, easy to operate , I love the sliding lock so you dont have the the switch on. I think i'll have this for a very long time. you cant get a better one for the money
Date published: 2011-07-12
Rated

4

out of

5
by
John
from
Power Tools Have There Limits! Know Them!
I Bought This Grinder Last Year Around September For Making Knives And Repair Jobs I Have Put This Little Tool Through More Than Most Will Ever Do And It Works I Had Read The Reveiws On It And Figured That They Were Written By People Who HAd No Clue What They Were Doing And I Was Right. It Works Just Fine No Problems Other Than Quality Of Grinding wheels Angle Grinders No Matter What Brand Or Style Are Not Meant To Cut Through Inches Of Steel It Works Great With Wire Wheels Grinding Wheels Even When I Put A Saw Blade On It It Did What I Needed It to IT IS DEFINITLY NOT FOR HEAVY DUTY USE! It Does Have Power And Lots Of It But Keep In Mind That Tools Have There Limits! If You Pace Your Work And Let The Tool Do What It Was Meant To You'll Be Just Fine.
Date published: 2011-07-08
Rated

3

out of

5
by
Steve
from
Not for heavy use
My boss bought this grinder for me. I work in a weld shop, lasted about 5 weeks and the trigger box went out. good power and looks, just not for heavy duty use. Looks like i'm buying a Bosh, because i've had bad luck with DeWalt.
Date published: 2011-04-13