Description
Pressure control technology that warns when excessive use. Clear view dust canister contains fine dust. Built-in vacuum adapter. Soft-grip for added comfort and control. Dust sealed switch for extended tool life.
Product specifications
One abrasive paper sheet and paper puch plate
Frequently bought together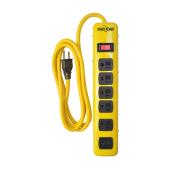 YELLOW JACKET
6-Outlet Power Bar with Surge Protection - 6' - Yellow
Format 1.8M
Details
Article #32045053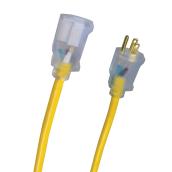 WOODS
12/3 Extension Cord - 25' - Red
Format 12/3 25'
Details
Article #74045239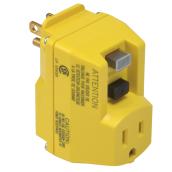 YELLOW JACKET
Single Outlet Portable GFCI Adapter - 1800 W - 15 A
Details
Article #32045050
I am going to sand a cabinet door that has been stained and want to apply a fresh coats. It doesn't require a top notch. Can you recommend grade or gradeS of sand paper I should use including product code/CODES compatible with this sander.
Any full sheets of Sand paper are compatible, fold the full sheet in half, then cut with a box knife along the fold, fold both halves again and cut on fold.  You now have four 1/4 sheets for the sander.  As for the cabinet door, try a stripper first as your inner panel is likely a thin veneer on 1/8" - 1/4" ply and you'll sand right through it to the plywood beneath.  once you've used the stripper, start with a 120 grit paper and work your way up (200 - 300 grits) to finish the sanding, wipe with a micro fibre or tack cloth (don't vacuum) and start re staining.
Date published: 2016-11-23
2-A Palm sander
is rated out of
5
by
129
.
Rated

1

out of

5
by
downhomeboy
from
Sander will not hold paper
I bought this sander specifically to sand about 16 stair treads. The clamps to hold the paper just do not work correctly. I used both paper and cloth backed sheets, both precut 1/4 sheet and 1/4 sheet made from full sheets. The paper would not stay on the sander. The pad under the paper is foam and seems fine, but the surface befow the champs is smooth plastic. I finally had to use an adhesive to get the job done. I was not worried about damaging the sander because unless it will hold the paper, it is useless to me. Once I used the adhesive, the sander performed fine. BUT A SANDER THAT WILL NOT HOLD THE PAPER IS HORRIBLE!!
Date published: 2012-06-04
Rated

4

out of

5
by
Whisky6
from
Great Value for the Money
I purchased this sander 3 month's ago after my old one broke, I don't have any real complaints, I ahve used it for several woodworking projects thus far, Including: Hope Chest, all solid Oak and Birch, Weather Station:Oak, 4 Music Boxes: Mahogany, Cherry, Oak. 2 End Tables: Oak. I have used it from start to finish all stages of sandpaper, no problems. If you have paper tear, don't press down so hard any pad or orbital sander is for smoothing NOT removing wood. All in all a great buy for the money.
Date published: 2012-01-06
Rated

5

out of

5
by
Megaslug
from
Great value
Great value for the price. It does the job, is easy to use, and seems put together well enough for regular use. The dust collector catches most of the dust, but can be hard to empty out. I didn't try this with my Shop-Vac, as I would have needed an extension hose to reach up where I was sanding, but that should do an even better job of containing the dust. Installing a sheet of sandpaper is easy thanks to the large knobs on the ends of the spring clamps, and the compact size makes it easy to get into small spaces. The handle is comfortable, even after extended periods of use my hand didn't go numb like it did with older sanders.
Date published: 2014-05-13
Rated

3

out of

5
by
GeorgeR
from
Micro-filter A Dud
This is a well made and great performance sander. It has one flaw for this particular brand. The micro-filter lets you see when it needs to be emptied but I found it hard to clean. They should have made it easier to take apart so you can clean filter along with the inside. Yes, you can hook it up to a vacuumn cleaner. Who wants to drag one around as you sand? A better option would be to made up a cardboard box with a hose connection.
Date published: 2011-06-10
Rated

5

out of

5
by
Brett
from
I've used this sander almost every day for a month now and I've been pleased with its performance. Don't know how well the dust bag that came with it works since I hooked it up to a shop vac first thing and that setup works fine.
Date published: 2011-04-21
Rated

5

out of

5
by
Jim
from
A GREAT little sander
Works very well, is easy to use and the dust filter is outstanding, but clean it often. For the price this is a very good and useful purchase.
Date published: 2012-01-31
Rated

5

out of

5
by
Lisa
from
Nice little sander
I bought this product during our kitchen remodel. I needed to sand down the dry wall and this is a much better alternative than doing it by hand. It worked very well. The sand paper was easy to install using the plastic instructions and the hole punch stand. The filter is a nice addition, although I had a lot to sand it needed to empty it frequently, but that was not an issue, as it was expected. The value for this product is great. The price was right and I could not have imagined sanding the area by hand as it would have taken 10 times as long. This was fairly light weight and easy to use.
Date published: 2013-07-06
Rated

5

out of

5
by
vacationgirl
from
I just bought this sander to do small household projects and wood-working projects with my 9 year old son. I am not going to use this on furniture. For the price, it is exactly what we needed. It is light weight and easy to manuever.
Date published: 2011-12-05