Description
Get plenty of storage space with this 21-cu. ft. refrigerator from Whirlpool. Featuring a side-by-side design, it is equipped with electronic controls and LED lighting, and offers great flexibility with adjustable door bins, spill-proof glass shelves, humidity-controlled drawers and a dairy compartment. The freezer features 4 wire shelves and a plastic shelf, and has an adaptive defrost system that runs the cycle only when necessary. An optional ice maker can also be added.
Product specifications
Number of Refrigerator Shelves
4 shelves, 1 humidity-controlled crisper, 1 drawer, 4 door bins
1 plastic shelf, 4 wire shelves, 4 door bins, 1 light
Reversible Door Swing (Y/N)
Frequently bought together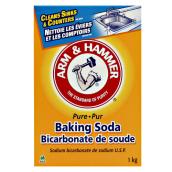 ARM & HAMMER
Baking Soda
Format 1KG
Details
Article #53975001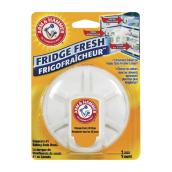 ARM & HAMMER
"Fridge Fresh" Refrigerator Air Filter
Details
Article #53975000
we have narrow doors 29-31 inches opening, are you able to deliver with detached door?
Hi Tabyuti! Yes the fridge can be delivered with the door detached; this model measures 28" in depth and should then clear the opening. However, all other openings- hallways and doorways- through which the appliance will need to pass must also be considered. A 36" fridge is a great choice as it creates so much value with its superior capacity- perfect for a large family! Thank you for your question!
Date published: 2018-07-23
Side-By-Side Refrigerator - 25 cu. ft. - White
is rated out of
5
by
417
.
Rated

5

out of

5
by
Ginny 27
from
This refrigerator has everything I like.
I like this refrigerator because it has enough space for me and my family (when they visit me). I am a Mom and Grandmom. (My husband passed away ten years ago.) I love to have my children visit and when they are not here I have plenty of room for just my needs. When they are visiting I still have plenty of room since they will often eat lunch out or sometimes dinner. (They are on vacation.) It has a wonderful system to secure the doors so very little of the cold escapes. It has good lighting so everything can be seen easily. It has a servicing department that is very good too. [This review was collected as part of a promotion.]
Date published: 2018-08-12
Rated

5

out of

5
by
Danland
from
Basic and great
I had a Samsung that blew out its first motor in 4 years. Second was about to go out. Since the drawers never worked right, I decided to get a new refrigerator. I looked at all the ones with fancy doors, Bluetooth, water, etc and decided that I would get a side by side. Now I have more room than with one that had ice maker and water. Only negative is the shelves do not adjust and are narrower than my old one. I am very happy with it otherwise. I will give up a little to be able to see all my food in the freezer side. Much better than a drawer. [This review was collected as part of a promotion.]
Date published: 2019-07-16
Rated

5

out of

5
by
Sunshine-901
from
Great Choice
I recently purchased my first home. My kitchen has hard wood flooring. After doing tons of research, I chose this refrigerator simply because I did not want to have potential water issues ruining my floors and having an added expense. This refrigerator is chic yet still understated. No, it's not the fancy french door refrigerator, but I love the fact that it has a lot of freezer storage. I also I read some of the reviews about how noisy this refrigerator might be. Honestly, I have been pleasantly surprised. It's super QUIET. This was a wise purchase. P.S. I bought the refrigerator on sale. [This review was collected as part of a promotion.]
Date published: 2019-09-12
Rated

5

out of

5
by
maplepepper
from
Best Fridge we've ever owned!
First - this fridge is HUGE!!! There is so much room inside - such a change from our last one where we had to rearrange everything just to put something in. Also, it is the quietest fridge we've ever had. The bins and shelves are all strong and high quality. It's beautiful to look at and due to the excellent design, the delivery men didn't even have to remove the doors to get it in our standard size front door. I can't say enough about this fridge - never before have I been so excited about an appliance - it's perfect in every way. If you're looking for a fridge to fulfill your wish list - this is the one to buy. [This review was collected as part of a promotion.]
Date published: 2019-09-10
Rated

4

out of

5
by
Lbmama10
from
So much space!
I bought this fridge a couple of months ago and I'm happy I did. I went with the model that didn't have an ice maker so that we would have more freezer space. The freezer door has lots of spaces which I love because I can organize bags of veggies and there are several shelves. It would be nice if the shelves were adjustable but they seem wide enough it hasn't been an issue. The fridge side is good sized. It has two large drawers. The shelf that's over the top drawer seems unsure of itself, like it might come out if you pull too hard on the drawer. The fridge door also had plenty of storage. [This review was collected as part of a promotion.]
Date published: 2020-01-10
Rated

4

out of

5
by
leahj
from
Sleek design, great temperature control
We are very pleased with the refrigerator overall. My one complaint is that there is no dedicated cheese drawer. It's difficult to figure out how to store a lot of different cheeses and related spreads that we used to keep in a little drawer. What I've done is place all of them in a container that can be taken in and out of the shelving, but that tends to get buried behind other things so it's not ideal. After purchasing I looked up the product assuming there must be a part we could order but it looks like there is no such option. It's certainly not a deal-breaker, but annoying enough that I gave this fridge 4 stars instead of 5. [This review was collected as part of a promotion.]
Date published: 2019-11-04
Rated

4

out of

5
by
Luane
from
Likes & Dislikes
Switching from a top refrigerator, bottom freezer, I was concerned whether I would like a side by side and like it better because of the smaller doors opening in a limited space. Love the lighting in both units & extremely quiet when running. I would prefer narrower and/or taller shelf compartments (tall bottles tend to tip unless space is used entirely). Do not like the bottom piece corners since they catch dust & are impossible to clean without removing entire bottom piece. Also sorry I did not get fingerprint free finish. [This review was collected as part of a promotion.]
Date published: 2019-10-17
Rated

3

out of

5
by
Punk
from
Generally nice and acceptable
First: this refrigerator was ordered 12/27/18 with delivery expected 1/22/19. Actual delivery was 2/6/19. Second: Doesn't bother me a bit but this refrigerator isn't as quiet as others that I've had in the past. It is not as noisy as I've heard some "Sub-Zero" refrigerators I've come across. Third: The doors don't line up. The refrigerator door is almost 1/4 inch higher than the freezer door. Forth: The door handles are so close together that one arthritic knuckle or another gets caught between the handles. Just a little while ago I got something from the refrigerator and when I started to step away my hand was caught with a knuckle caught between the handles. I don't know but I'll have to really be careful and work on my habits as to how I handle the door handles. Finally: I took a picture of the missalligned doors and handles but can't get that picture to show up in the review. [This review was collected as part of a promotion.]
Date published: 2019-02-07