Description
With over 100 ways to organize your refrigerator, you are certain to find room for all your groceries! This 22-cu. ft. refrigerator from Frigidaire Gallery has a side-by-side design and features a beautiful Smudge-Proof black stainless steel exterior. Get filtered water and ice cubes easily with the exterior dispenser and enjoy great visibility with corner-to-corner LED lighting. This refrigerator has Store-More humidity-controlled crisper drawers, glass shelves with a metallic trim and a chill drawer which uses cold air from the freezer to quickly cool food and drinks.
Product specifications
4 shelves, 2 humidity-controlled crispers, 4 door bins
2 wire shelves, 2 baskets, 4 door bins
Number of Refrigerator Shelves
Reversible Door Swing (Y/N)
Frequently bought together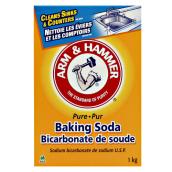 ARM & HAMMER
Baking Soda
Format 1KG
Details
Article #53975001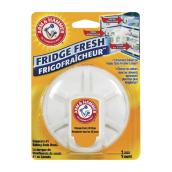 ARM & HAMMER
"Fridge Fresh" Refrigerator Air Filter
Details
Article #53975000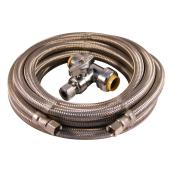 AQUA-DYNAMIC
Ice Maker Connector Kit
Format 1/2x1/2x1/4" 10'
Details
Article #01735520
What is the front width? Im looking for a counter depth 36" wide.
Hi Emma82! Thank you for your inquiry. In researching, we were able to see the dimensions are listed as follows: 36" W x 28-1/2" D x 69-7/8" H. Kindly- Ciara
Date published: 2018-10-25
Side-by-Side Refrigerator - 22 cu. ft. - Black Stainless Steel
is rated out of
5
by
1952
.
Rated

4

out of

5
by
srdshopper
from
Sharp-looking
[This review was collected as part of a promotion.] The refrigerator is very sharp-looking. For the price, it is disappointing in terms of size and the ice dispenser (when dispensing crushed ice, it seems impossible to stop and remove a container without ice falling out around it). With the limited availability of appliances during the pandemic and the fact my old refrigerator stopped working, I was limited in my choices. Warning--the shiny part of the door handles is easily dented. The door opened against my granite counter the first day, resulting in a nick in the door handle. I now keep a towel wrapped around the handle as a buffer.
Date published: 2020-10-12
Rated

4

out of

5
by
Colorado 123
from
New Refrigerator
[This review was collected as part of a promotion.] Bought the refrigerator 2 months ago. Works great and I like the features. People should be aware of measuring the refrigerator. It is the same size as the old one. However the door is thicker and the box itself is smaller. This may effect you when sliding into an area by a wall surrounded by cabinets. The thicker door now hits the cabinet wall. We had to pull the refrigerator out more to avoid this, but now the door hits the wall, next to the thin cabinet. Never thought to measure door thickness for comparison, with the older refrigerator that fit and opened perfectly, with no cabinet or wall problems.
Date published: 2019-02-17
Rated

5

out of

5
by
DiMar
from
Better than the first!
[This review was collected as part of a promotion.] My spouse and I recently purchased a new Gallery refrigerator for our new home. We had our previous refrigerator for about 5 years and it was going strong, but we decided to give it to the new owners of our old house. We loved that unit and decided to buy a newer version. The only difference this time is it was counter depth. What a great decision! We actually like the new one even more. It has some improved features, clean lines and more efficient storage features. We can't even tell it has less cubic feet because its counter depth. Just a great value
Date published: 2019-09-10
Rated

4

out of

5
by
Mrs Dee
from
Had to see for myself
[This review was collected as part of a promotion.] Before buying this refrigerator I read a lot of reviews and the few that were not good spoke of a noise or high pitch sound that made me very affraid to purchase this refrigerator I am happy to say with my refrigerator that is not the case the refrigerator is beautiful inside and out I haven't heard any noise other than the normal noise you may hear from the ice maker it gets very cold and I love the lights inside a good buy just praying I get 13 plus years out of this one it was hard saying good bye to my other baby which was also a Frigidaire stick with what you know hope this helps.
Date published: 2018-08-22
Rated

3

out of

5
by
ejgerr28
from
nice color
[This review was collected as part of a promotion.] because i live in a row home in phila. my front door is very narrow, 27". so this fridge was the logical choice since it's counter depth at 24". fit in perfectly! that and the color,unfortunately is all i like about it. i don't care for the design. there is no reservoir so water dispensed is warm, ugh!i don't think the tap is going to last long once my grandkids start using it, it's plastic? noisy too, space is very limited which isn't that bad but the doors seem deep and shelves are really narrow? i think they should have shortened the drawers inside fridge. and like the range, it seems flimsy
Date published: 2018-04-12
Rated

1

out of

5
by
Linda7
from
noisy
I bought this back in Nov. , and from Day 1 I was unhappy. Its Noisy- not normal noises.. I have had repairmen out here, talked for hours with Frigidiare and the place I purchased it from. I am wanting to replace it with the French doors because I am told that it is much quieter- however, it will cost me $500.00 to do that ! I bought the whole gallery line for my kitchen- all 4 , so I don't have any money left!! Please work with me to give me a credit so I can have them come and take this side by side out of my house - and replace it with something hopefully that is quieter... It was quite the topic at my Thanksgiving (that a brand new product would sound this bad!!)
Date published: 2019-12-18
Rated

4

out of

5
by
Addie1
from
Great fridge overall with a few issues
[This review was collected as part of a promotion.] Been using for almost 2 months. Initially experienced LOUD high pitched hum but subsided after 24 hours. Still makes odd noises at times and also had frost buildup in top produce drawer on corner of drawer on side nearest to freezer. Fridge temp set at default 37 degree fridge temp setting. Winter time now so will have to see if noises and frost change with changes in ambient external temp or humidity. Pretty fridge and nice storage space if you want a counter depth and don't need a large fridge. Don't have water and ice hooked up yet so cannot comment on function or noises if those are functional.
Date published: 2018-01-19
Rated

1

out of

5
by
Michelle11
from
Would not purchase
[This review was collected as part of a promotion.] This refrigerator was part of a package when I purchased a new house. I have had nothing but issues with this since the day we moved in. At least 1-2 times per day it makes a loud whirring sound as if it's going to launch through my kitchen. If that isn't bad enough, almost everything in the top drawer freezes as well as everything on the freezer side of the top shelf. When service came out to look at it, he informed me this was because there was so much stuff in the freezer. We removed at least 1/4 of what was in the freezer and we still have the same issue. I would not recommend purchasing this refrigerator as a main fridge.
Date published: 2020-05-12