Description
Max Stretch by GE is a premium quality general-purpose caulk that offers maximum stretch with 2x the strength in applications with large joint movement (+/- 35%). Max Stretch typically provides over 800% of elongation (stretch), for good adhesion in expansion applications. Spans up to a 2" gap. Ecologo Ul 2761.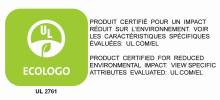 Ecological Attributes
This sealant is ECOLOGO® certified (UL 2761: Sealants and caulking compounds). It rmits fewer VOCs for better air quality.
Product specifications
Doors, windows, siding, trim, moulding, baseboards, vents