Bathtub Sealant
Article #1553021
Model #SE1181 12C
Format 290ML
RONA Langdon Hardware Ltd. / Fort Erie
(289) 320-8250
Description
Bathtub sealant. 290 ml. Made of silicone I. Almond colour.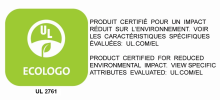 Ecological advantages
Ecological Attributes
This sealant is ECOLOGO certified (UL 2761: Sealants and caulking compounds). It was formulated without certain substances that cause adverse effects on human health (e.g. heavy metals, toxic aromatic solvents) and less than 5% volatile organic compounds (VOC).

By reducing the COV level in your home, you improve the quality of air and decrease the adverse impacts on human health.
Environmental Issues
This product is eco-responsible because it reduces the impacts associated with the following environmental issues: