Description
This 22.5 cu. ft. refrigerator from Samsung has a fingerprint-resistant black stainless steel finish for clean and modern look. Featuring Twin Cooling Plus(TM) technology with independent cooling systems, your food is preserved in optimal temperature and humidity conditions. This refrigerator has a water dispenser and an Ice Max ice cube maker which produces up to 5.2 lbs of ice cubes a day and has a storage capacity of up to 2.7 lbs. This appliance is equipped with a Cool Select Pantry(TM) which has 3 temperature settings for beverages, deli food and wine. The freezer features an EZ-Open(TM) handle that allows for easy opening and closing even when the freezer is fully loaded. What's more, with built-in Wi-Fi connectivity, you can control your appliance using the SmartThings app. Easily check the temperature, get alerts if the door is left open and even read or write memos.


Ecological Attributes
This refrigerator is ENERGY STAR® certified to save up to 10% in energy.
Product specifications
Refrigerator: 2 - Freezer: 2
Counter-depth French-door refrigerator
1-year limited, 10-year limited on compressor parts
5 shelves, 2 crisper drawers, 6 door bins, 1 Cool Select Pantry(TM) drawer
Reversible Door Swing (Y/N)
Frequently bought together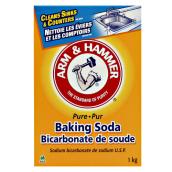 ARM & HAMMER
Baking Soda
Format 1KG
Details
Article #53975001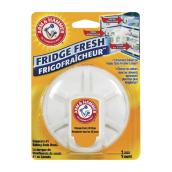 ARM & HAMMER
"Fridge Fresh" Refrigerator Air Filter
Details
Article #53975000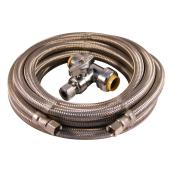 AQUA-DYNAMIC
Ice Maker Connector Kit
Format 1/2x1/2x1/4" 10'
Details
Article #01735520
Refrigerator with Wi-Fi - 22.5 cu. ft. - Black Stainless Steel
is rated out of
5
by
195
.
Rated

5

out of

5
by
Inalem999
from
Very pleased!
[This review was collected as part of a promotion.] I just cannot get over how amazing this refrigerator is! First, the color "Tuscan Stainless" is STUNNING! Matches with all of our decor! As you open the double doors, be prepared to be amazed at how roomy it is inside! There is literally a spot for everything! I love that the icemaker does not dispense water or ice while the doors are open! Makes wiping it down/cleaning it up a breeze! The freezer is a little deceiving. I truly thought we might struggle with organization, being used to a side by side model before. I was COMPLETELY wrong. So spacious, and yet so easy to see everything that is inside! Highly recommend!
Date published: 2019-09-23
Rated

4

out of

5
by
n8pwnsu
from
Good Solid Fridge that is almost perfect.
[This review was collected as part of a promotion.] I have been really enjoying the fridge since arrival coming from a much smaller capacity fridge. The interior space addition has been great for storing food for my growing family. The build quality seems good but not great. There were some initial issues that I believe is more due to the installers and not the actual fridge itself as I found steps in the manual to fix them. Initially had a water drip from the dispenser but once I released the air in the line the drip went away. I also had a bad seal around the freezer drawer which created ice and frost buildup in the freezer. I used the steps to make sure the drawer face was on correctly to fix the seal portion for the moment. Still keeping my eye on it though. I would also have liked a little more flexibility with the shelf positions in the fridge but the actual adjustment options are pretty low. Overall I would say a good mid-level plus fridge and good value for MSRP.
Date published: 2019-11-06
Rated

5

out of

5
by
Mallies84
from
Almost Perfect
[This review was collected as part of a promotion.] Trusted Appliance from a trusted brand. Well designed and neat. I appreciate the alert when the door is left ajar for too long. Ice/Water dispenser is fresh and helps save time and space. Lock makes the appliance child friendly. Ample refrigeration space. Doors open and close with ease. Freezer compartment space helps, but is limited. This is my only issue with the unit.
Date published: 2019-09-16
Rated

5

out of

5
by
Billy1973
from
Great fridge
[This review was collected as part of a promotion.] I didn't think I needed a new fridge till I got this one. I like that I can be anywhere and check on my fridge from my phone. I set alarms to go off if the doors are left opened to long or if the temps change. No more worries about the kids leaving the door open some. The ice maker works good and having filtered water is nice. And the system doesn't take up as much room in the fridge as I thought it would. It seems to be pretty quite over all and is more efficient then my old one. The stainless steel is nice, and is for the most part fingerprint resistant and wipes really easy. Having shelves that can adjust and even have one that can fold up to make room for tall items is great. French doors seal nice and make it easy to store big items. Freezer space is plenty and it being pull out is actually better then I thought it would be. Things are stored better and easy to find. Over all I am happy with this fridge.
Date published: 2019-09-10
Rated

1

out of

5
by
Nick
from
Not pleased
i had this refrigerator for exactly a year now and i own 7 samsung products am convinced not to buy samsung products again. the refrigerator looks stunning, fits perfect in our space, works like it is supposed to but it is loud. making this loud clicking noise every time its in heating or cooling cycle. sometimes the noises are really loud as if something fell. had a samsung tech come and check and he said that is normal for samsung refrigerants. and recently we started hearing like a vehicle acceleration sound from the compressor. and forget ordering water filters,in the day and age of overnight and two day shipping and i waited three full weeks and after three phone calls each one over 45 mins and one chat conversation i finally gave up and asked the ordered to be canceled.
Date published: 2021-01-28
Rated

1

out of

5
by
Janjan
from
Serious buyers remorse
Who ever design this obviously doesn't care to ever clean it. Yes, it keeps your food cold, but its so difficult To remove shelves. The freezer is giant, but the drawer but I can hardly put a1/2 gallon ice cream in the freeze without opening the fridg doors. THe door with the ice maker and water is a joke. My last fridg (Maytag) had the water inside and the ice in the freezer... I wish I got another one like that. I'm currently trying to put the big bottom drawer back and and can't figure it out. Seriously crappy design and shame on me for not doing more research. Next time I'll take the dang thing apart before buying it.
Date published: 2020-08-24
Rated

3

out of

5
by
Mark
from
Nice Refigerator, WIFI leaves much to be desired
overall, the fridge works. purchased on dec 9th, installed on jan 5th. first issue -attempting to adjust freezer/fridge temp. manual doesn't explain panel lock/unlock procedures well. second wifi set-up fails at 39% asks for wifi password, enter the one given to me by smartthings, gives authentication error. started with chat support, completed entire trouble tree checklist, all failed, then referred to a "live person" via phone, did all the steps again all failed i now have a ticket for "expert" to call me in 7-11 business days to assist me with my issue. really frustrating. will update as the situation unfolds...
Date published: 2021-01-10
Rated

5

out of

5
by
Addyrae
from
Practical and Sensible
[This review was collected as part of a promotion.] We are extremely happy with the new refrigerator. It is very spacious and the easy adjusting shelves come in quite handy. It easily accommodated what we had in our previous fridge with plenty of room to spare. The easy sliding drawers make it a breeze to work with. The freezer is more spacious than it looks , to our surprise, it held everything we had previously with a bit to spare. The digital temperature control settings and Alexa compatibility make this an A+ in my book and something I would definitely recommend to others.
Date published: 2019-08-30