Description
Powerful with a stylish look, this 36-inch 5-burner gas cooktop by Samsung makes it easy to prepare delicious meals. The cooktop is equipped with a high power 22,000 BTU Dual Burner that quickly goes from a high heat to a true simmer and has a Power Boost function that can reduce cooking times with an extra boost of heat. Plus, a precise 5,000 BTU simmer burner is perfect for gently simmering and melting delicate food without burning it. The cooktop has LED backlit ergonomic knobs that offer precise temperature control and it includes a wok grate and a cast iron griddle for even more cooking possibilities. Wi-Fi connectivity lets you monitor the cooktop remotely, set the cooking timer and receive alerts on your smartphone and you can automatically sync the fan and lights from a Samsung hood with the burners through Bluetooth for ultimate cooking convenience. This cooktop is fully compatible with Samsung built-in ovens for a perfect, elegant combination.
Product specifications
5 sealed burners: Left Front: 9,500 BTU - Left Rear: 9,500 BTU - Right Front: 13,000 BTU / Right Rear: 5,000 BTU, Precise Simmer / Centre: 22,000 BTU, Dual
Wok grate, cast iron griddle, LP conversion kit
Cast iron grates (3 pieces)
Hot Surface Indicator Light (Y/N)
Number of Burners/Elements
Frequently bought together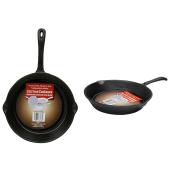 Cast Iron Frying Pan - 10.5"
Details
Article #97737723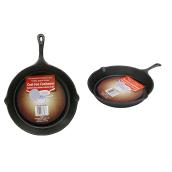 Cast Iron Frying Pan - 12"
Details
Article #97737726
Samsung - Gas Cooktop - 59,000 BTU - 5 Burners - 36" - Black Stainless Steel
is rated out of
5
by
9
.
Rated

4

out of

5
by
BrentAlumni
from
Connected Gas Cooktop
We did not buy the hood, so we are not using the Bluetooth, but having all of our kitchen appliances on the Samsung Hub is amazing. My only complaint is this puts out too much heat, especially compared to our old cook top. My wife got in the habit of always cranking the temperature all the way up and now she is overheating our cookware. Nice problem to have. This cook top is very easy to clean, has space between the burners for the pots and handles, the grid is very stable including for the griddle and our wok. We both like to cook and this cook top make it very easy to produce complex meals. I like it a lot.
Date published: 2017-10-09
Rated

5

out of

5
by
Speakerboy
from
Best cooktop in its class
This cooktop out ranked everyone else in the latest testing so I decided to go with it. I've read a couple of the bad reviews and felt the need to comment. If you are replacing an existing cooktop and do not think you will have some retrofitting to do you are "special" If you are buying one of the most powerful cooktops available and don't expect it to get "hot" you might be special. If you think a 36" cooktop can fit multiple 12" pans you might be special. This thing cooks awesome. From a high heat with the center burner to a low simmer this thing works to perfection. The Bluetooth hood feature is a nice add also. The huge griddle is perfect for pancakes. The knobs light up Blue when the burner is on so that's also a plus and looks pretty cool to boot.
Date published: 2018-03-31
Rated

5

out of

5
by
kmark
from
good design
well-designed cooktop, easy to clean, heavy duty grates, good burner layout. I can't review the Bluetooth, as our space didn't have room to keep it attached to the unit.
Date published: 2017-11-29
Rated

3

out of

5
by
Just a normal Guy
from
great but with a major flaw
This is a great cooktop with great cooking power, the only MAJOR flaw is that it was not designed with cooking with medium sized pots in mind. You can comfortably cook with 3 of the burners, one on each side and the middle. if you add any other pot, unless it is less than 6 inches in diameter, it will touch one of the pots that is already on the burners to the left and right. If they offset the burners just a bit, it would fix this design flaw (like the GE profile collection). The other option is to carefully hang the pots over the edge and deal with the uneven heating and the fact that the burner fire may come up from the side of the pot because it is not centered. Or having to cook at a low temperature to keep the fire from coming up from the side because it is not centered, all of which is hindrance when cooking.
Date published: 2018-11-09
Rated

5

out of

5
by
JeffB
from
Wonderful Gas Cooktop
We purchased this gas cooktop to replace a 20 year old 36 inch flat surface electric cooktop that had cracked. This unit easily installed without issues. We did have to adapt it to propane (instructions and kit included), as it comes defaulted for natural gas. This involved adjusting the included regulator and replacing the burner orifices. The burners ignite quickly and provide even heat. I like the very heavy duty grates and the included wok and griddle grates. The control knobs light up blue when turned on, which helps keep track of which burners are actually lit. The unit is very easy to clean and the black stainless control panel is nice. (Note that the majority of the stove is black enamel, not stainless; only the control panel is black stainless). One piece of advice that the installation instructions don't actual cover: if you convert this stove from natural gas to propane, be sure to adjust the simmer set screw inside each control knob. If you don't, the lowest setting will still be way too high and you'll have no variation in the flame anywhere between the medium and high settings; we didn't do this at first and noted that the stove seemed to burn very hot, even at lowest settings. I read someplace online about making this adjustment. It is very easy to do. Simply turn on a burner, set it on the lowest setting, and pull off the knob. Then take a very tiny (but long and thin) flat blade screwdriver and carefully insert it into the set screw located inside the control knob stem. Turn the screw clockwise a small amount until the flame becomes very low. Be sure not to make it too low, or you run the risk of the flame extinguishing while the burner continues to deliver unburned gas, causing a potential explosion hazard. A good rule of thumb is that if you can blow out the flame from a reasonable distance with your mouth, it is set too low. Then return the knob to the stem and you're done. You'll now note that the control provides nice variability from high to low. At the lowest setting, the flame will be quite low, great for simmering. I can't speak about the smart connected features, as we don't use them. In fact, we had to remove the module that protrudes out the back right-hand edge of the cooktop because it was interfering with our downdraft exhaust system. The stove does come with instructions on how to remove the module and replace it with an included flat plastic cover. If you want to use the smart connected features, be sure the cooktop will fit your counter properly with the module protruding out the back. We actually got a great deal on this stove at our local Lowe's, as it was on special returned clearance (still brand new, in original box, never opened). In summary, we couldn't be happier with this gas cooktop. If you want a heavy duty cooktop that works and looks great, buy this unit.
Date published: 2018-04-08
Rated

4

out of

5
by
SCFresident
from
Very good cooktop, App need work.
The Samsung cooktop performs very well, is easy to clean due to the sloped sides. The simmer feature is great - I haven't had one before. The blue lights showing the gas is on is useful. The wifi is connected to show me burners that are on. The timer feature on the Samsung Smart App counts down, but doesn't have an alarm. So if you aren't staring at your phone you don't know the timer has gone off. Samsung needs to fix this feature on the App.
Date published: 2018-11-01
Rated

1

out of

5
by
Deew1
from
Heat too high,hard to clean
I am so very disappointed. I burned my first few things that I cooked. Medium heat is really 1/3 of the way from medium to low. Also, this is so hard to clean. Grates are heavy and the stainless can be scratched. It looks like most other manufacturers have similar design. Don't know why every manufacturer moved away from the black glass gas range top that was so easy to clean and medium was medium.
Date published: 2018-08-20
Rated

5

out of

5
by
Wok cooking
from
wok cooking is priority
knobs placed in the front allow enough width for standard 14" wok in the center and small/medium size pots on the side. griddle saves time by being able to cook more with larger areas, [This review was collected as part of a promotion.]
Date published: 2020-03-19