Description
This amazing dryer from Samsung combines two dryers in one, a large capacity dryer for everyday clothes and a smaller compartment that does not tumble for clothes and other items that need gentle care. The MultiSteam(TM) technology can reduce and remove wrinkles, odors, bacteria and static. A vent sensor detects dust blockages and reminds you to clean your vent. With the Wi-Fi connectivity option, you can monitor remaining cycle time, receive alerts when the cycle is complete and schedule cycles from anywhere, using your smartphone. This appliance is also equipped with moisture sensors that protect clothes from heat damage by stopping the cycle when clothes are dry. The Smart Care option interacts with your appliance to perform an immediate diagnosis and send quick solutions to your smartphone.

Ecological Attributes
This dryer is ENERGY STAR® certified to save up to 20% in energy.
Product specifications
Flexible Aluminum Duct (12245451/FX0456MC); Steam Dryer Connector Kit (01735521/3244-920) - Items sold separately
Tumble dryer: (12) Refresh, Wrinkle Away, Steam Sanitize, Normal, Heavy Duty, Towels, Permanent Press, Active Wear, Bedding, Delicates, Time Dry, Air Fluff - Delicate dryer: (4) Wool, Shirt/Blouse, Undergarment, Accessory
Tumble dryer : (11) Eco Dry, Adjust Time(Up/Down), Anti Static, Mixed Load Bell, Smart Control, Smart Care, Drum Light, Child Lock, Sound, Wrinkle Prevent - Delicate dryer : Time+, Super Speed, Air Dry, Smart Control, Smart Care, Child Lock, Sound
Reversible Door Swing (Y/N)
Washer Capacity (Cu.Feet)
Frequently bought together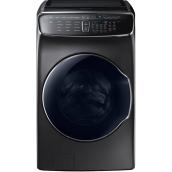 SAMSUNG
Electric Washer with FlexWash(TM)- 6.9 cu. ft. -Black Steel
Format 6.9CFT
Details
Article #22945122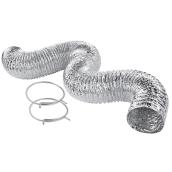 IMPERIAL
Flexible Foil Ducting with Clamps - 4" x 8'
Format 4x8'
Details
Article #12245451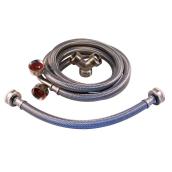 AQUA-DYNAMIC
Steam Dryer Connector Kit - 3 Pieces
Format 3PC
Details
Article #01735521
are these stackable?
No, as each machine has door openings on the tops
Date published: 2018-05-04
Is the white color cheeper than the dark one shown in your website?
What is the height with pedestal, without pedestal. Clearance needed to open top dryer?
Electric Dryer with FlexDry(TM) - 7.5 cu. ft. - Black Steel
is rated out of
5
by
157
.
Rated

2

out of

5
by
Mom
from
Do not purchase this washer!!!!
Washer makes a terrible loud banging noise when it changes cycles. At other times sounds like a plane is landing in my home. I contacted Samsung. They sent out a technician who "educated" me on how to properly load a washing machine. He instructed me to get out my owners manual and follow the instructions on load size. He ran the washer once with no clothes in it and found nothing wrong. I am a 44 year old, mother of two. I have owned a whirlpool top loader and a bosch front loader. Would love to trash this Samsung for my old washers. I currently turn on the washer and leave the house because it infuriates me that I have paid so much money and am stuck with this piece of junk.
Date published: 2018-05-05
Rated

5

out of

5
by
MelSmetana
from
This Dryer is Better than its Reviews!
When I purchased this dryer I was so excited, only to have my excitement dashed upon reading more reviews! However, I must say that my experience is quite the opposite of what others have said! When this dryer was installed I put it straight to work, and let me tell you it was efficient, quiet, and got the job done. My clothes came out fresh every time, and the steam cycle is to die for! This dryer really is worth every penny and I would recommend it to any and everyone who is looking to upgrade their laundry experience!
Date published: 2018-01-16
Rated

1

out of

5
by
Anonymous
from
Overpriced garbage!
Don't waste your money on this piece of garbage! Not only does it have major issues but Samsung has no clue how to fix. If you enjoy wasting your money to buy a pretty machine that does not work and spend your afternoon is in the laundry mat then go ahead and buy this piece of junk! I've had the repair people out at least five times and no one has ever fixed the machine. This machine never worked properly since the day I bought it, End it always has the same code. [This review was collected as part of a promotion.]
Date published: 2019-06-29
Rated

5

out of

5
by
MelSmetana
from
This Washer is the Real Deal!!
I purchased this washer and have been nothing short of completely satisfied! The delivery and install was smooth, professional, and quick. Now that I have been able to get more use into the washer, I have seen that it really is incredible! There are so many options and cycles that you are able to wash your clothes any way you want. The cycles are efficient and the machine is so quiet I can barely tell it is running. I love this product and would recommend it to any and everyone looking to upgrade their laundry experience.
Date published: 2018-01-16
Rated

1

out of

5
by
Flygirl
from
OMG..THE NIGHTMARE CONTINUES..on my 6th service ca
Please listen to all the 0ne-star reviews. I'd give this No Stars, if possible.This is the most expensive mistake I've ever made. It should be recalled/pulled off the market. The Water Sensor design is faulty. Samsung knows this. If you try to run the upper and lower at the same time, it triggers the Sensor and locks up both. Error code 1LRC will flash and lock up the machine. This is a DESIGN FLAW. Samsung's tactic is to run out the warranty with pointless service appointments, instead of replacing the unit. To replace the sensor board, a complete tear-down of the machine is required. Obviously, they won't authorize this. The customer service is a joke. RUN AWAY FROM THIS LEMON.
Date published: 2020-06-13
Rated

1

out of

5
by
BLKMEP
from
Not happy!
Had this sset delivered and set up and started washing the same day. First thing I noticed about the washer, once the load was complete, I opened the door and water was everywhere on the front of the washer. I took the clothes (t-shirts and jeans) out and placed them in the dryer. I put them on a normal cycle, medium heat, dry cycle more.... I had to run it 3 times before my clothes actually came out dry. Not happy at all. Additionally, put dress clothes in on Perm Press cycle with the wrinkle prevent on; when the cycle was done, all the clothes were in a big knot and wrinkled to no end.....
Date published: 2019-04-28
Rated

5

out of

5
by
Amber
from
Samsung Flexwash 6.0
I recently decided to update my washer and dryer, I had my current Frigidaire model for 12 years and was ready for something new. I did a lot of research on the new models and features that were out and let me tell you things have definitely changed. We finally settled on the Samsung Flex Wash and Samsung Flex Dryer, so far I have not been disappointed. I love having the access to run 2 separate loads of wash at one time. I can do a normal load with the all of the dark clothes in the main wash tub but also be running a load of delicate in the top wash. This has been a real time saver. There is also enough settings that you can make sure you are running the right temperature and time for all materials to extend the life of your clothes.There is even a sanitize setting so you can feel comfortable after an illness runs its course and you wash the laundry you will not have to worry about re-contamination. I am also really impressed with the Samsung smart home system, this allows me to connect my washer and dryer to iPhone and get notifications when the was cycle has completed. If I am away from the house I can set from my phone to run an additional rinse so the clothes do not sit in the washer and get stale. I am very impressed with all of the functions and would recommend this to everyone that is looking to purchase a new unit.
Date published: 2017-10-06
Rated

5

out of

5
by
Laelia
from
The best washer ever
I had one of the Samsung recalled top loaders, when I researched which new Samsung washer to replace it, all the other washers had horrible reviews. Being that at this point I was already disappointed with Samsung but knew my rebate required me to buy a new Samsung only washer I waited for this one to hit the market. Well I had it delivered today and LOVE IT not only can you do 2 loads at once (delicate or small load and large load) but I find it uses way less water than my old top loader. And the time of a washer has been cut in half. I used to have to put my old top loader on the longest wash to ensure clean clothes. This washer does a better job with less water and less time. It's a bit exspensive but now that I have used it, would not hesitate to buy it.
Date published: 2017-04-11