Description
The Dremel 4300 is the first Dremel rotary tool to allow tool-less and collet-less accessory changes with the inclusion of the three-jaw chuck. The chuck accepts all Dremel accessory shank sizes for fast and convenient accessory changes without ever using a wrench. Featuring the all new Pivot light, your projects are well-lit with an optimum line of sight since the light pivots to direct illumination where you want it. Experiencing the full range of Dremel rotary tool applications is easier than ever because the 4300 offers our most powerful motor with built-in variable speed and electronic feedback circuitry. And the slim, ergonomic body design provides a comfortable 360° grip zone no matter how you hold it for extended ease of use. The completely redesigned airflow system lets the Dremel 4300 run cool, quiet, and smooth so completing projects are more enjoyable than ever. Serarate on/off switch and speed control dial for added convenience between jobs. Replaceable motor brushes extend tool life. Cool-running ball bearing construction for smooth and quiet operation. 2-year limited warranty.
Product specifications
Rotary tool, 40 Dremel accessories and storage case
Rotaty tool with accessories
Frequently bought together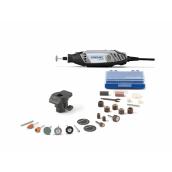 DREMEL
Rotary Tool with accessories
Format 1.2AMx24PC
Details
Article #19165106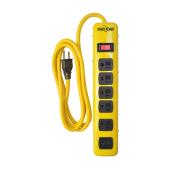 YELLOW JACKET
6-Outlet Power Bar with Surge Protection - 6' - Yellow
Format 1.8M
Details
Article #32045053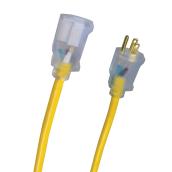 WOODS
12/3 Extension Cord - 25' - Red
Format 12/3 25'
Details
Article #74045239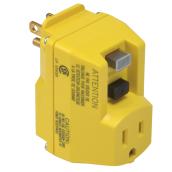 YELLOW JACKET
Single Outlet Portable GFCI Adapter - 1800 W - 15 A
Details
Article #32045050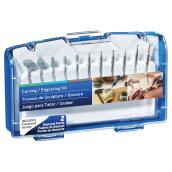 DREMEL
Carving/Engraving Mini Accessory Kit - 11 pieces
Format 11PC
Details
Article #19835917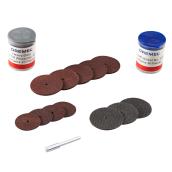 DREMEL
CUT OFF WHEEL
Format ST/69
Details
Article #1916247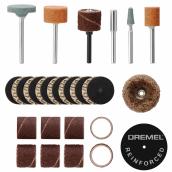 DREMEL
SANDING ACCESSORIE.
Format ST/31
Details
Article #1916246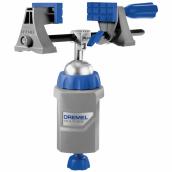 DREMEL MULTI-VISE
PORTABLE VISE
Details
Article #1916283
Does 4300 kit come with a wood router attachment.
It comes with a couple of router bits and this guide piece https://www.dremel.com/en_US/products/-/show-product/tools/565-multipurpose-cutting-kit
Date published: 2019-07-08
I am unable to find a description of the 40 accessories that are included.
From Lowes USA: Includes: Rotary tool, pivot light, A550 shield attachment, A576 sanding/grinding guide attachment, 565 cutting guide attachment, 675 garden tool sharpener, storage case and 40 additional accessories with mini case. Accessories Carving/Engraving: 107 - 1/8" Engraving High Speed Cutter, 191 - 1/8" High Speed Cutter Cutting: EZ456 - Metal 1-1/2" Cut-Off Wheel (x3), 561 - Spiral Bit Grinding/Sharpening: 8193 - 5/8" Aluminum Oxide Grinding Stone, 84922 - 3/16" Silicon Carbide Grinding Stone, 932 - 3/8" Aluminum Oxide Grinding Stone Cleaning/ Polishing: 401 - Mandrel, 403 - Brush Wheel, 428 - Carbon Brush Wheel, 414 - Felt Polishing 1/2" Wheel (x2), 421 - Polishing Compound, 429 - Felt Polishing 1" Wheel (x2) Sanding: 407 - 1/2" 60-Grit Sanding Drum, 408 - 1/2" 60-Grit Sanding Bands (x3), 432 - 1/2" 120-Grit Sanding Bands (x4), 445 - 1/2" 240-Grit Sanding Bands (x4), EZ411 - EZ Lock Coarse Sanding Disc (x3), EZ412 EZ Lock Medium Sanding Disc (x3), EZ413 - EZ Lock Fine Sanding Disc (x3) Misc: EZ402 EZ - Lock Mandrel, 150 - 1/8" Drill Bit Attachments Pivot Light, 675 Lawn Mower & Garden Tool Sharpener, A550 Shield Rotary Attachment, 565 Multi-Purpose Cutting Kit, A576 Sanding/Grinding Guide
Date published: 2019-04-10
I was interested in purchasing a Dremel tool and was referred to Lowes as a representative of their product. I went to your site and you show the product but with a disclaimer "This item is not for sale". Going somewhere else.
Rotary Tool Kit - Variable Speed - 41-Piece
is rated out of
5
by
117
.
Rated

5

out of

5
by
Sabrina
from
Great Tool!
We bought this tool to help remove carpet from a double wide home where the walls were installed on top of the carpet. We use one of the blades to cut through the carpet fibers to get a cleaner cut near the walls. Although we damaged a couple of blades doing this, I would still rate this tool at 5 stars because that was not the original intended use of these blades. Before using this tool, my husband was having to (painfully) pull the carpet fibers with pliers and it would have taken hours or even a couple of days for it to be removed in preparation for the new floor. This tool is awesome. [This review was collected as part of a promotion.]
Date published: 2018-09-18
Rated

5

out of

5
by
Moose
from
The best one yet!
I've been using Dremel rotary tools for many years for both business and hobby work and I must admit I'm pretty hard on them but they hold up well. Like anything else sooner or later they need replacement. I asked Santa this year for a new Dremel and happily I found a 4300 47-Piece unit under the tree. It comes with a number of great features and attachments including a light assembly to help see while doing close work. I't a variable speed unit so it works with a broad range of cutters and various bits. As the title says...This is the best one I've owned yet and I look forward to many gears of service just like it's predecessors. [This review was collected as part of a promotion.]
Date published: 2018-12-31
Rated

4

out of

5
by
ginoe
from
awesome power tool (kinda)
I received my 4200 dremel for christmas and was very excited. I had a 8220 but to be honest, i wanted a 4200 because the battery life on my 8220 was too short. That being said, i was very happy with my new corded 4200. Until it all of a sudden, after about 3 weeks, it just would not turn on. I checked the brushes and they seemed to be fine. I went to the store where it was purchased, and luckily for me, it was still under store warranty. Good for me, yes; good for dremel, not so much, because it broke within the 30 days return policy. Overall, i am very pleased with my dremel tool with its versatility and the attachments it comes with.
Date published: 2014-02-18
Rated

5

out of

5
by
Mtop
from
Fabulous product and "WOW" customer support
I could not figure our how to sand tight corners (working on a Classic yacht), as the tool body would not allow me to get in close enough. Dremels customer support pointed me towards the 'right angle' accessory. They were prompt with their help and provided great advice. I'm a big fan!!
Date published: 2017-12-31
Rated

3

out of

5
by
DMAC
from
Switch problems
This is my 3rd 4200 that I have replaced in the last 5 months. The first two just stopped working. No overload, nothing, just stopped working and I seldom use the tool. Sales rep said it was probably the switch. The first one stopped the same day I purchased it. The second one stopped the second time I used it. Hopefully, the third one will last. It is a great tool so long as it turns on.
Date published: 2014-02-28
Rated

4

out of

5
by
Shavingsflyer314
from
My Most Powerful Dremel Rotary Tool
I bought this machine as part of the 4200 action kit. At the time I bought it, I did not know of the quick change feature this machine features over the previous Dremels I have owned. It took me a while to get used to the "quick change" as I was used to the captured collet method of bit attachment. I used the machine twice and then it died. The rotary tool quit working and flip-ped the circuit breaker. I visited the Dremel website and learned I could package my machine and send it to Racine, Wisconsin to be repaired. My Dremel is "in the shop" as I am writing this review.
Date published: 2014-03-20
Rated

1

out of

5
by
Dsmith
from
4300 will not power on
I bought the most expensive Dremel kit several years ago. I used it a couple of times for no more than a total of 15 minutes. Last week, I got it out to try and get some paint off a small metal handle. I used it another 15 minutes. After getting set up today NO POWER. The dremel had been stored inside. Apparently, this happens a lot. Unfortunately, warranty is not valid at this point. I am out a 4300 dremel.
Date published: 2019-09-08
Rated

5

out of

5
by
Snuffy
from
Great Product!
My husband says that in our 30 years together this is the best gift I have given him. The original one retired after about 15 years so this was purchased to replace that one. The versatility is what he loves about it. It has so many attachments - it is his "go to" tool for many home and auto projects.
Date published: 2018-05-26