Description
Protect your investment and improve your home's resale value with this affordable, double-layer laminate shingle. The « Mystique 42 » shingles are uniquely designed with oversized tabs, feature dramatic 3-dimensional shadow bands to create a sharp, slate look, both eye-catching and strikingly elegant. With Weather-Tite® 2-band high-tack adhesive technology, the roofing shingles block out water and stands up to high winds and rain. Made from a fibreglass mat with a mineral-granule surface, this laminate asphalt shingle covers a larger area to reduce the number of shingles required per square foot. This product is backed by a limited lifetime warranty.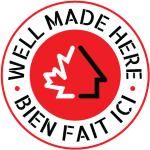 Product specifications
Limited lifetime warranty
CSA A123.5, CSA A123.51, CSA A123.52 ASTM D3462, ASTM D3018, ASTM D7158, Classe D ASTM D3161 / Classe F UL 790 Fire Resistant Class A
what is a limited lifetime warranty on the shingles?