RONAvantages
program
The Program will allow you to get an annual cash back, AIR MILES
®
Reward Miles, and take advantage of various financing options.
Learn More
Apply now
Apply now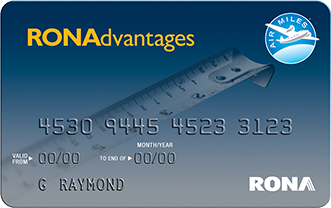 Annual cash back Get up to 5% cash back annually in rona gift card
All net transactions charged to the RONA card are eligible for cash back in gift card.
Cash back scale
$2,000 to $5,000 = 2%
$5,001 to $7,500 = 3%
$7,501 to $10,000 = 4%
$10,001 OR MORE = 5%
(ANNUAL MAXIMUM AMOUNT: $1,000)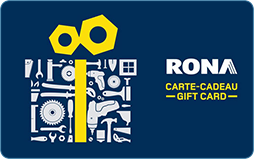 No annual fees

Competitive annual
interest rate of 19.9%

Flexible
payments

Exclusive
for members
Calculate your advantages
AIR MILES advantages
You get

Miles
upon presentation of your RONA and AIR MILES cards
conditions
Annual cash back
You get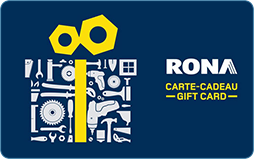 Your annual
cash back in RONA gift card
conditions
Monthly instalments
You pay

Pay in equal monthly instalments

conditions
*Value is for information purposes only. The annual cash back value may vary at the time of purchase based on the applicable taxes.
Deferred payment plans
when you pay in

0% on purchases of $100 or more

0% on purchases of $300 or more
Multipurchase plan
get
2
months
interest free
Consolidate the transactions for your project into one financing plan. Take advantage of 2 months at 0% interest to accumulate all purchases and returns related to your project. At the end of this period, the total will be payable in equal monthly instalments.

4% for purchases totalling $2,500 or more
13,5% for purchases totalling less than $2,500

6% for purchases totalling $2,500 or more
13,5% for purchases totalling less than $2,500
Equal instalments plan
up to
60
equal monthly instalments
Applicable on transactions of $1,500 and more. Choose between 48 and 60 instalments.
8,9% interest for purchases of $1,500 or more

8,9% interest for purchases of $1,500 or more
Learn more
Apply now for the RONAdvantages card
When you apply online, by mail or by fax, you can start making purchases only when you receive your RONA credit card and get your 10% cash back on your first transaction.
When you apply in-store, you can make purchases the same day you apply.
Learn More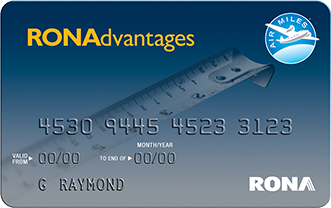 Here is a simple explanation of your statement
If you have questions, please call Desjardins cards Customer Services at 1-800-363-3380.
Making a payment or a principal payment
Account payment options
Types of financing plans
Only one credit card for your purchase
The RONA card is accepted at all participating RONA,, RÉNO-DÉPÔT stores and all other participating banners.
~AIR MILES ® cash is offered at participating RONA stores and other AIR MILES Sponsors. Redeem AIR MILES reward miles in the Cash balance of your AIR MILES Collector Account in increments of 95 reward miles for $10 off your purchases to a maximum of $750 per day. AIR MILES cash cannot be used to pay online purchase on rona.ca, the purchase of gift cards, the donation or to apply to credit account payments or other. All Rewards offered are subject to the Terms and Conditions of the AIR MILES Reward Program, are subject to change and may be withdrawn without notice. For complete details, visit airmiles.ca. ®™Trademarks of AIR MILES International Trading B.V. Used under license by LoyaltyOne, Co. and RONA Inc.