Description
Bathroom cleaner. 946 ml. Non-toxic and efficient biodegradable cleaning product according to OECD 301 D standard. This ready-to-use bathroom cleaner removes soap residues, suntan and body oils/lotion, lime, water scale and rust deposits on porcelain, ceramic tiles and fiberglass surfaces. It also gets rid of stains and brightens toilet bowls. Does not damage materials. This product is safe on porcelain enamel, painted surfaces, aluminum, chrome and stainless steel, without etching or damaging surfaces.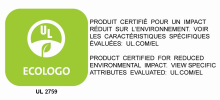 Ecological Attributes
This cleanser is certified by ECOLOGO® (UL 2759: Hardsurface Cleaners), which attests that it is formulated without certain harmful chemicals to human health. It does not contain phosphates or ammonia, and is biodegradable under the OECD 301 D biodegradation standards, which helps reduce the impact on ecosystems and water. Since it contains less than 12% volatile organic compounds (VOCs), this product affects human health less than conventional products.