Description
This refrigerator from Frigidaire Gallery features self-closing French doors and offers a 27-cu. ft. capacity. It has a Cool-Zone(TM) drawer and 2 humidity-controlled crisper drawers that can be placed side-to-side or stacked on top of each other. The refrigerator has 4 Store-More(TM) shelves which include a flip-up shelf that allows you to store taller items. The Even-Temp(TM) system keeps an even temperature throughout the refrigerator, while corner-to-corner LED lighting provides great visibility. The freezer features a Quick Freeze option and allows for easy organization with an adjustable divider and 2 Effortless(TM)Glide drawers that glide out smoothly and fully extend for easy access to your items. An optional second ice maker can also be added.


Ecological Attributes
This refrigerator is ENERGY STAR® certified to save up to 10% in energy.
Product specifications
6 door bins, 4 shelves, 2 humidity-controlled crispers, 1 Cool Zone™ drawer
2 baskets, 1 drawer, 1 pizza pocket
Reversible Door Swing (Y/N)
4 Store-More™ glass shelves ( 3 half-width, 1 flip-up)
Frequently bought together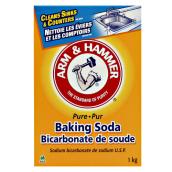 ARM & HAMMER
Baking Soda
Format 1KG
Details
Article #53975001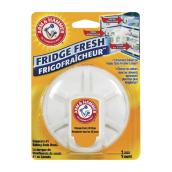 ARM & HAMMER
"Fridge Fresh" Refrigerator Air Filter
Details
Article #53975000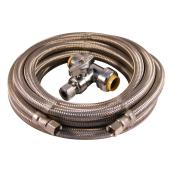 AQUA-DYNAMIC
Ice Maker Connector Kit
Format 1/2x1/2x1/4" 10'
Details
Article #01735520
How wide is this fridge?
Hi, Pamelad! This fridge is 36" wide. ~ Brandi
Date published: 2018-12-03
Refrigerator with Water/Ice Dispenser - 27 cu. ft. - Black Steel
is rated out of
5
by
2437
.
Rated

3

out of

5
by
Nccc
from
Good, but not great
[This review was collected as part of a promotion.] I wanted to love this refrigerator, but I dont. We had a frigidaire side by side that was awesome so I was expecting the same from this one. Not the case. The freezer is a pain. Digging through everything to get to the stuff on the bottom is annoying. The ice maker freezes up and you have to go in and manually spin the silver coil to get it moving again. My biggest complaint is the water dispenser. It is NEVER cold. Not even after letting the water run for a while. If you dont like ice in your water to make it cold, look elsewhere because you wont be getting cold water from this refrigerator.
Date published: 2019-08-24
Rated

3

out of

5
by
Kay17
from
Ice maker problem
[This review was collected as part of a promotion.] This refrigerator is nice except for a couple of things. I like the space inside, and the freezer has a large capacity. I am, however getting used to searching the bottom freezer for what's in there! The first disappointment with the ice maker was the size/shape of the cubes. They are small, so they melt quickly. However, they are square enough so that I cannot fit them into my Manna stainless steel water bottle. ☹️ Finally, the refrigerator is somewhat noisy - especially the ice maker. I find myself wondering who is in the kitchen when the ice cranks out and I am sitting in the next room watching tv.
Date published: 2020-05-20
Rated

3

out of

5
by
dais50
from
Just Okay.
[This review was collected as part of a promotion.] We love the look and feel of the refrigerator. There is more than enough space from everything you need. Unfortunately, we were not made aware that there is no cooling tank in this refrigerator, so that water comes out "room temperature"; however, it's much warmer than room temperature because the heat from the back of the refrigerator makes the line warm. By the time we fill a glass of water, the ice cubes are melted. Additionally, the water comes out extremely slow. It's over a minute to fill up a regular glass of water. We followed all the instructions to have this fixed, but so far there is no solution.
Date published: 2019-04-03
Rated

5

out of

5
by
CindyMR
from
Love my new refrigerator
[This review was collected as part of a promotion.] In this time of uncertainty, it's nice to know that there are some things we can trust. My Frigidaire appliances is one. We recently replaced our old refrigerator with a new Frigidaire! With the factory shutdowns our wait was long and tedious. Not knowing when the pandemic would end and life would start again. Thankfully Frigidaire started back up and our beautiful new Frigidaire Gallery is in our kitchen and is a beautiful and functional addition to our home. Love all the features, especially the small ice cubes and all the convenient adjustable shelves and drawers.
Date published: 2020-08-14
Rated

5

out of

5
by
Acarter
from
Such an upgrade
[This review was collected as part of a promotion.] Recently replaced my circa 1990's fridge with this behemoth, and I mean that in the most loving way possible. I fit my entire stuffed freezers worth of food into the top shelf of the freezer drawer! The upper doors hold my glass half gallon dairy delivery milks with no problem or worry that they will fall through and smash. Everything is easy to clean inside. The drawers are huge, I fit all of my deli and packaged dairy in the big bottom one. Love the fold up top shelf, fits wine bottles like a champ. Don't even get me started on having an ice-maker now... I'm in love.
Date published: 2019-01-18
Rated

5

out of

5
by
Karen1969
from
Great features and longevity
[This review was collected as part of a promotion.] I bought my appliances about 3 weeks ago and I am so satisfied with the product, it has a refine look with all the features I needed, a small sound to alert me when my Frigidaire is open too long, spacious compartments for my food and beverages and non smudge features that help you not have to worry about those annoying smears we sometimes have to deal with, with other products. Most of all I am 50 years old and as a child I always remembered Frigidaire product in my parents home, which speaks a lot about the longevity of Frigidaire. Thank you
Date published: 2020-01-31
Rated

4

out of

5
by
spess
from
Fridge to fill!
[This review was collected as part of a promotion.] I purchased this fridge to replace my original no frills Frigidaire fridge purchased in 2002. The original fridge is still running strong ( now housed in the garage and keeping beverages only cool) but the new fridge gives me food stocking options for days. Seriously, the inside of the fridge is huge and allows for so many configurations with the shelving and door trays. I have come close to capacity but not yet experienced there being "no room". With 4 males in the home... I need every nook and cranny available fir food. This Frigidaire Fridge does not disappoint.
Date published: 2021-02-08
Rated

5

out of

5
by
Joann D
from
So Happy!
[This review was collected as part of a promotion.] It took us 2 months to decide on our replacement and we couldn't be happier. It was the only brand that had all the features we wanted and some extra's we love. It's only 3 inches wider than our previous fridge but it's so big inside we still haven't filled it. Was a little concerned about the black stainless making our small kitchen feel even smaller but it looks great. Our favorite feature is the ice & water in the door! We use it every day and even more on the weekend & haven't run out of ice yet. Love the crushed ice option, great for smoothies. Frigidaire is now our go to brand!
Date published: 2018-05-12