Description
The interior dispenser on this Whirlpool French-door refrigerator gives you easy access to filtered water and ice. The Accu-Chill(TM) system monitors temperature to create an optimized environment, while adaptive defrost runs only when needed. The Energy Star refrigerator offers plenty of storage with adjustable frameless shelves, a temperature-controlled deli drawer, and humidity controlled crispers with produce preserve to keep veggies and fruit fresh. LED lighting effectively brightens up the interior, and the large-capacity design lets you stock up on groceries.

Ecological Attributes
This refrigerator is ENERGY STAR® certified to save up to 10% in energy.
Product specifications
Number of Refrigerator Shelves
FreshFlow(TM) produce preserver
2 fixed full-width gallon bins, 4 adjustable full-width bins
2 humidity controlled crispers, 1 temperature controlled pantry drawer
5 interior shelves, 2 humidity controlled crispers, 1 pantry drawer, 6 door bins
1 full-width upper wire drawer, 1 full- width lower plastic drawer
Reversible Door Swing (Y/N)
Frequently bought together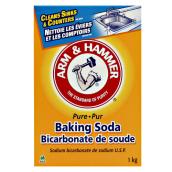 ARM & HAMMER
Baking Soda
Format 1KG
Details
Article #53975001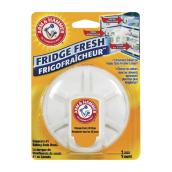 ARM & HAMMER
"Fridge Fresh" Refrigerator Air Filter
Details
Article #53975000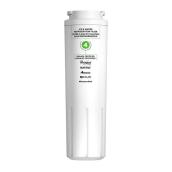 EVERYDROP
Refrigerator Water Filter - Everydrop(TM) #4
Format #4
Details
Article #30005202
Does this model come with icemaker or icemaker ready?
H Kevin Campbell, the refrigerator model comes with a factory installed icemaker in the freezer. It also allows you to store more items on each shelf with wall-to-wall frameless glass shelves, which offer greater storage flexibility. Thank you for your question!
Date published: 2018-11-29
Refrigerator with Interior Dispenser - 25 cu. ft. - White
is rated out of
5
by
4291
.
Rated

2

out of

5
by
rcm999
from
Not up to Whirlpool standards
This was our second fridge in as many weeks. The first was a Frigidare that had issues, so we opted for this new Whirlpool. It will be going back too. It is very loud, the compressor runs almost constantly. The temperature controls are numbered 1-7, and Whirlpool tech support informs me that each number is a 5 degree range for the fridge, 3 degree range for the freezer. I like setting the specific temperature. Temperature in the fridge varies about 5-7 degrees. Bins and drawers are flimsy. The gallon bins barely hold a gallon jug, and absolutely will not hold two gallon jugs. This would be a good started fridge for a single person or a couple on a strict budget. But beware, it has problems.
Date published: 2017-09-21
Rated

1

out of

5
by
Cheryl T
from
water dispenser leaks no stop
I bought this fridge in June & after 2 months the water dispenser drips through the fridge onto the *new* hardwood floors in the kitchen. Service came,the water filter was replaced, the valve at the back of the fridge was replaced, air was removed from the reservoir and the fridge still leaks. Service came back again and changed the check valve on the reservoir tank, fridge still drips. For now I have had to make my own container inside the fridge to catch the drops so my floor are not ruined . The other option would be to shut off the water to the fridge which defeats the purpose of having paid for a water dispenser and ice maker....very disappointed!.
Date published: 2019-10-08
Rated

2

out of

5
by
JK
from
After 6 months, not that great.
After about 6 months with this fridge I wish we had selected something else. The wide drawer is a little annoying as you need to open both doors to open it even a little bit. The left produce door also needs both doors opened to use. The door shelves are a little small and sadly one of them is not able to be moved due to a small tab on the back. This is annoying because it limits the height of stuff you can put in the very bottom door shelf. The absolute most annoying thing is the ice maker. Every single time I pull out the upper freezer drawer ice falls behind and gathers at the bottom or slides out on the floor. Simply terribly designed.
Date published: 2020-05-08
Rated

2

out of

5
by
DISAPPOINTED
from
BIG DISAPPOINTMENT
[This review was collected as part of a promotion.] I waited to write a review until I've had the product a while. I purchased it in 2017 and have had it 2 years. The pluses: Good size, easy to open and close french doors, convenient bottom freezer. Negatives: the 2" gap in the back of shelves, the flimsy cheaply constructed meat tray, the occasionally noisy motor. The biggest disappointment is never being able to have a clean outside refrigerator. I cannot get the darn thing to be smudge proof. I wish I had bought a better refrigerator. This is NOT FINGER-RESISTANT. The owner's manual does NOT suggest anything to clean it other than a soft cloth and dish soap. THAT DOES NOT WORK.
Date published: 2019-07-04
Rated

3

out of

5
by
Maxxxi
from
So far ok
[This review was collected as part of a promotion.] I bought this french door fridge over a month ago, so far it has been good, but I've noticed the condensation builds up between the 2 doors. If I don't turn on the moisture control, in a few hours the "sweat " shows up again...I normally keep 3-5 items in the fridge so it's pretty empty most of the time. And during a day i get max 2 cups of filtered water from inside of the fridge. So I really dont know where is all that moisture from. Loose gasket maybe? Right now I have to keep moisture control on all time, if not, the water would even go through the bottom gasket and leak to the freezer.
Date published: 2018-05-16
Rated

2

out of

5
by
Sassy
from
Loud
Not impressed with how loud the refrigerator is, there is a constant loud hum. Everything else seems to be ok. We have only had it for a day though. Our last refrigerator was an LG, it was quite, but ice broke after 3 months and it died after 3 years. I hated the front door and the water dispenser of the LG, water everywhere. After buying all new appliances in new home in the last three years, I'm pretty much sure they all suck at varying levels. No faith at all in the appliance companies putting out a good product. I hope I can live with the noise, not sure though.
Date published: 2017-11-17
Rated

3

out of

5
by
Nan4
from
Spits frost in freezer
I have had the refrigerator for a few months. Within these few months the freezer has frosted over two times. It happens all the sudden. Like within an hour of when I last opened it. So strange. Have to wipe it all down and throw away the ice that has what looks like snow all over it. I don't have the ice maker or the water line hooked up. We have always used trays, so it has nothing to do with that. Also makes a lot of noises, more so than my old 18 year old fridge. Other than that, I love the size, style and the fingerprint resistant features. The meat/deli drawer is really nice. My cheese and meats last much longer than my other fridge. I can live with the noises, but the freezer frost is just really irritating. Photo attached from today.
Date published: 2019-09-24
Rated

5

out of

5
by
LauraL856
from
Tons of room
[This review was collected as part of a promotion.] Was hesitant to order online without going to see it in person first but I was pleasantly surprised. The fridge is extremely roomy and very nice-looking. Love the smudge-free stainless steel - my old GE Profile side-by-side didn't have this and I was constantly cleaning/wiping fingerprints. I also love that the water dispense is inside. The water is very cold and it doesn't take up so much space on the outside door. Never again will I purchase a refrigerator that has a water/ice dispenser on the door. This model is a little deep so be sure to measure before purchasing. The ice maker is a little on the loud side but it doesn't run that often. Highly recommend!
Date published: 2018-10-16
Rated

4

out of

5
by
Anonymous
from
First one had problem with doors
[This review was collected as part of a promotion.] The first one that was delivered had a problem with the right door not completely closing. Even after leveling the refrigerator the right door stuck out further than the left door. The appliance store brought out a new door and installed it but the problem still existed so there was obviously something wrong with either the frame or hinge when it was manufactured. They ordered me an entire new refrigerator and so far so good. Love all the storage in the refrigerator part. We don't keep much in the freezer part as we have another freezer that we use for most of our frozen foods.
Date published: 2017-10-21
Rated

3

out of

5
by
fairly disappointed
from
Annoying noise
I have had this fridge about a month now. It's a nice fridge however when the ice maker fills the cube tray with water, which is often in my house, it makes a noise that sounds like a pump...it cycles 7 times! I have had several fridges with ice makers and have never heard this on another fridge. Everyone that comes to the house hears it and looks at me in surprise wondering what the noise is. And my master bedroom is just off the kitchen so you hear it about hourly all night long. Super annoying. And there is about a 3" gap between the back of the shelves and the fridge. Often smaller items fall into this gap, even water bottles. Bad design in my opinion.
Date published: 2019-07-02
Rated

2

out of

5
by
Nichole101010
from
Disappointed
[This review was collected as part of a promotion.] We have had this fridge for a couple weeks and it's the first appliance I've ever been disappointed with. The freezer continues to frost over and we finally figured out that the seal doesn't shut completely. When I called customer service they told me that they can't come out until the end of the week and there would be a charge if it wasn't something that was not covered. There's frost all over everything in our freezer and I have to continue to wipe it down. Then, all the boxes are wet and food is beginning to thaw. Overall, we are very disappointed. I did give the fridge two stars because I like the aesthetics of it.
Date published: 2020-03-17
Rated

5

out of

5
by
avidwalker
from
Great value. Great style.
It may be because I'm replaced a 12+ older black fridge that came with the house when we bought it. It still worked well, so why replace it? But, to be proactive and avoid having to deal with a broken refrigerator we jumped on this one when it was on sale. Why didn't we do this sooner?!!! This fridge is lovely. Sleek lines. Tons of room inside. I am a very avid cook and always have lots of leftovers in my fridge - no problem. Tons of room for everything. I love the simplicity of it; I didn't want to pay a lot for a refrigerator and I don't need any bells and whistles. We don't use the water dispenser or ice maker, even. I am just so happy we bought this fridge. (By the way, other reviewers have said it was loud, but I don't know if I would have noticed that if I hadn't read those reviews. Again, I'll take a little noise for a lower price.)
Date published: 2018-03-26
Rated

5

out of

5
by
jmein
from
Beautiful!
[This review was collected as part of a promotion.] My husband and I were searching for a new oven and microwave and wanted to wait a bit for a fridge. We saw this fridge and based our oven/microwave purchase on it, planning to get the fridge in a few months. After a couple days (still waiting to get the oven delivered), we went back to this this. It was too beautiful to wait. We love the black stainless steel! It doesn't get too dirty at all and cleans up nicely. The fridge is very spacious. The freezer seems to be a little smaller than expected given the overall size, but we've never had a bottom drawer appliance. We absolutely love it!
Date published: 2019-07-08
Rated

3

out of

5
by
Chris
from
No faults so far, but is noisy.
I bought this thinking it would be the successor to the fridge recommended by the Wirecutter, but am disppointed by the noise it makes. The ice maker is very loud when it feeds in water. Once you fill up the reservoir you won't hear it often, but when it does run, you'll hear it. My previous apartment fridge was completely silent so it's pretty ridiculous that a fairly nice fridge like this would make so much noise. For the first few days, the fridge will hum pretty much nonstop, at an audible but not high volume. It'll go away after a while but it will come back every now and then afterwards. If you have music or a TV on you... probably... won't hear it at all. But in a quiet room you will. Otherwise, it's a pretty decent unit, it just makes too much noise.
Date published: 2018-03-09
Rated

5

out of

5
by
Jeri
from
Great Fridge!
I love this refrigerator. It's roomy and easy to manipulate the shelves to any configuration. The freezer is roomier than I expected and the ice maker works like a champ. I don't miss having ice and water in the door and the filtered water dispenser inside the fridge is great. I would definitely recommend this fridge!
Date published: 2018-06-25
Rated

5

out of

5
by
Crispy
from
Love this refrigerator!
The style, the look, the quality, finger print resistant -- this is a great refrigerator! Many refrigerators today have thin, cheap plastic drawers and side shelves -- but not this one! It's the 2nd one I've owned. I left the first one in a house I sold, and I was fortunate to find another one -- actually an update of the old one. This one comes with a fresh water dispenser inside. The large/long crisper/meat drawer under the 2 drawers for veggies and fruits is the most important feature I love about this refrigerator. It keeps things nice and cool and fresh (meat and veggies) much longer than other refrigerators. Love, Love, Love my Whirlpool French Door Refrigerator -- quality made with an A+ rating! The price at Lowes for this refrigerator is incredible! Thank you, Lowes!
Date published: 2018-05-21
Rated

5

out of

5
by
Anabas
from
For long haul
[This review was collected as part of a promotion.] I did my research before buying whirlpool 36 inch French door refrigerator and I settled on this for the reasons below: 1. Spacious - need lots of space 2. Did not consider water tap in front door as the space is taken away to provide that feature. 3. We do not use front water tap in any way - it is occasional so we are ok to open the front door to get the water. It also means that less parts that can go wrong. 4. I like simple conventional temp control instead of fancy controls that Samsung etc provides - it is an Appliance and I just need it to work for long rather than fancy controls that have chance to go faulty in long run.
Date published: 2019-10-01
Rated

4

out of

5
by
Buguy5940
from
Very good but not perfect refrigerator
Quiet, with mostly good features. Owned almost year and does have no issues, keeping food and freezer at set temps. Shortcomings are doors not self-closing and way water is dispensed. Design makes it easy to not close doors completely which is really a problem with the freezer section. The water dispenser on inside of refrigerator more space saving than outside water dispensers. i would have preferred that they put the button to turn on above water outlet necessitating two hands to use. Had they put the button under the water outlet one hand operation would have possible by using pressed against button to get water. Not a big negative, but an annoying design flaw in my opinion.
Date published: 2020-12-16
Rated

3

out of

5
by
Joe Ski
from
Nice Refrigerator
[This review was collected as part of a promotion.] I got this about a month ago. It seems to work well and I like all the features. I am disappointed in the finish of the shelves inside as I cut myself reaching for an item. The corners of the shelves are very sharp. After all these years of building refrigerators it amazes me that someone could lack the ability to build shelves that don't cut people when reaching for the milk. I also have a LG at the other house and all the shelves are well protected and smooth. I chose Whirlpool this time to buy American. Fix this Whirlpool!
Date published: 2018-06-28
Rated

3

out of

5
by
Steve
from
Like the look, but not the noise.
[This review was collected as part of a promotion.] I purchased this blindly due to limitations during Covid lock down. Our previous unit was 16 years old May Tag that we were very happy with. The layout of the 2 units was the same.. A couple of disappointments. Did not realize that it didn't have a butter tray as our dis our previous unit. The compressor is load and sometimes seems to have an annoying rattling sound. You can see where costs have been cut and quality lowered on the interior. Example the foam piece by the water chiller is exposed versus a cover in the older model.
Date published: 2020-06-10
Rated

4

out of

5
by
SusanA
from
Works well, but...
I've had this refrigerator about 9 months now. It works very well; however, I am not happy with the french doors. You must open both doors in order to pull out the bottom meat tray which can't be very energy-efficient. Also, I find that the door doesn't close tightly with out an extra push. I have reached in for an item and walked away only to come back later to find the door slightly ajar. I would buy a Whirlpool again, but not a french door model.
Date published: 2017-11-04
Rated

5

out of

5
by
Refrigerator review
from
Better than reviews..so far
[This review was collected as part of a promotion.] By reviews of any refrigerator I wasn't comfortable buying any..lol. so Googled top brands and whirlpool was one of them so took a chance on this one since I liked the price with features I wanted, inside water dispenser (has way better filter than last fridge), and gives more room inside, and don't have to clean catcher under like on the door type. I like the humidity control I didn't know I wanted since it helps with mold and moisture on door seals that I had a problem with on previous fridge. I did buy warranty just incase because of reviews. It's not loud at all to me like in reviews and ice is normal size if not bigger like in reviews. It does scratch easy so only soft clothes. I had to use a baking soda paste and rub with grain, it's not as noticeable now. Love it so far!!
Date published: 2019-09-10
Rated

5

out of

5
by
yeahdudeman
from
Just what we needed
It's really not that loud in my opinion. I just got it a week ago and was worried it would be because of all the reviews. It's slightly louder than my old Kenmore but nothing annoying. You can just hear a low hum when it's running. Great storage space inside. Really like the big tray on bottom of fridge.
Date published: 2017-12-14
Rated

3

out of

5
by
Mb
from
Whirlpool French door
Had a total of 3 if these delivered to my house. First one the water was leaking the whole time, second one the freezer was frosted over everywhere and it was so bad the light was completely covered in ice and didn't work anymore. 3rd one is much better, makes a weird nocking noise every once in a while but overall it works and keeps food froze/cold. Have had it now for about 3 weeks. Ice maker seems to do very well keeping up with 4 people in the house. My 3rd one is working but had a huge dent in the side of it about 12" long but I am keeping it because I am sick of having to tear apart my house week after week and unload and load a fridge. I am just sick of it
Date published: 2017-10-02
Rated

5

out of

5
by
Cory
from
Amazing fridge! Wouldn't change a thing.
First of all the top refrigerator is huge with no wasted space from an ice maker or water maker. The lighting is very nice and looks like it's a showroom. I didn't need much freezer space but it's plenty and the upper and lower level with a drawer is convenient. The outside design upgraded the look of my kitchen especially since I had a white side by side before. I would highly recommend this refrigerator to anyone the only thing is that I highly recommend measuring your space and comparing it carefully to the specs of this fridge. Keep in mind the height of the doors is a couple of inches taller than the fridge itself. I almost didn't buy it until I realized that.
Date published: 2020-11-20
Rated

2

out of

5
by
Disappointed
from
Compressor Runs Constantly
Would not recommend! Compressor runs constantly. Very loud compared to other Whirlpool products I've owned. I've always bought Whirlpool, but I may no longer do so
Date published: 2017-09-23
Rated

4

out of

5
by
UTjake
from
Love the new design
[This review was collected as part of a promotion.] Purchased this about a mon ago and so far im very happy with the unit. The fridge room is great and I love the primary center drawer. I was however disappointed in how small the freezer section actually is compared to my side by side fridge/freezer unit I had previously. Also the water dispenser is inside the fridge so whenever you need a glass of water your having to open up the fridge which in my opinion is a waste of energy letting all that cold out for a simple glass of water. Other than those to things I'm still happy with the unit. Time will tell how it holds up to my large household.
Date published: 2019-09-30
Rated

5

out of

5
by
Sheik of Dry Gulch
from
Easy access, spacious storage, optimum food temps.
[This review was collected as part of a promotion.] We're very pleased with our purchase; it's so much easier to access crispers with the freezer down below. No more juggling items to make space for large casserole dishes and there's plenty of room for milk jugs and other large containers in the doors. Delivery persons were on their game with the installation and leveling. Froze 6 chicken breasts hard as rocks in 30 minutes and I was using ice cubes in less than an hour after the refrigerator was plugged in. We're on our 3rd month with French doors. Considering our last Whirpool fridge lasted well past warranty we'd buy WP again without reservation. Opening one side to grab a jug is … cool!
Date published: 2018-09-09
Rated

1

out of

5
by
Patman
from
A couple issues
A couple issues make me regret the purchase. The two crisper drawers are hung on a plastic center rail, that broke after 6 months. Looking for the part on the internet, numerous people have said they had to replace this part up to 3-4 times. One lady said she buys extras because the only last a few months. Poor design. Other plastic parts seem cheap too. The fridge is also extremely noisy at times, like when its in defrost mode or something. I mean loud... clunking noises.
Date published: 2020-12-07
Rated

3

out of

5
by
JB777
from
Dissapointed. Noisy.
When the compressor comes on it has low pitched hum that is noisier than I expected. We can be watching TV 20 ft away and we have to turn up the volume a little bit. Annoying. I didn't expect this. I would return it if I could.
Date published: 2018-02-21