Description
The interior dispenser on this Whirlpool French-door refrigerator gives you easy access to filtered water and ice. The Accu-Chill(TM) system monitors temperature to create an optimized environment, while adaptive defrost runs only when needed. The Energy Star refrigerator offers plenty of storage with adjustable frameless shelves, a temperature-controlled deli drawer, and humidity controlled crispers with produce preserve to keep veggies and fruit fresh. LED lighting effectively brightens up the interior, and the large-capacity design lets you stock up on groceries.

Ecological Attributes
This refrigerator is ENERGY STAR® certified to save up to 10% in energy.
Product specifications
Number of Refrigerator Shelves
FreshFlow(TM) produce preserver
2 fixed full-width gallon bins, 4 adjustable full-width bins
2 humidity controlled crispers, 1 temperature controlled pantry drawer
5 interior shelves, 2 humidity controlled crispers, 1 pantry drawer, 6 door bins
1 full-width upper wire drawer, 1 full- width lower plastic drawer
Reversible Door Swing (Y/N)
Frequently bought together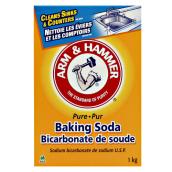 ARM & HAMMER
Baking Soda
Format 1KG
Details
Article #53975001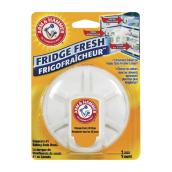 ARM & HAMMER
"Fridge Fresh" Refrigerator Air Filter
Details
Article #53975000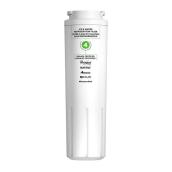 EVERYDROP
Refrigerator Water Filter - Everydrop(TM) #4
Format #4
Details
Article #30005202
Does this model come with icemaker or icemaker ready?
H Kevin Campbell, the refrigerator model comes with a factory installed icemaker in the freezer. It also allows you to store more items on each shelf with wall-to-wall frameless glass shelves, which offer greater storage flexibility. Thank you for your question!
Date published: 2018-11-29
Refrigerator with Interior Dispenser - 25 cu. ft. - White
is rated out of
5
by
4189
.
Rated

3

out of

5
by
swschult
from
Leaking water after three weeks
PROS: - It makes ice cubes reliably, even if they are a bit undersized. - It holds a lot of stuff in the fridge section, since there is no through-the-door ice maker to waste space. CONS: - The main freezer tray is not on rollers and is a little hard to slide out. - After 3 1/2 weeks, it is leaking water onto the floor. The source of the leak does not appear to be the water supply hose, but rather, somewhere in the fridge itself. I'll call a repairman today, and report my findings (if Lowes allows for editing prior submissions). I would tentatively recommend this product to others, but may change my view in the future.
Date published: 2017-09-25
Rated

1

out of

5
by
LR
from
Don't buy this product
Within the first 2 months we had warranty work done twice to correct the gasket seal on the freezer. It would leak and the freezer would frost up to the point that the freezer light switch would freeze in the off position. Today we tried to remove the bottom freezer basket to remove ice cubes that frequently fall out of the ice container. No instructions in the users manual how to remove the freezer basket. Went to google and found that it requires tools to remove the top basket. Could not get the tabs to release the gears that hold the upper freezer basket in. This is the worst refrigerator I have ever owned. Don't make the same mistake I did buying this one.
Date published: 2018-11-20
Rated

2

out of

5
by
RealDeal
from
Temperature Control Issue
Had it for 3 months no issue then I noticed fridge was not getting cold and all the heater coils were frozen solid. At the same time the control board started flickering and will not let me set it. I defrosted coils and ordered a new control board. I live in a different country so trying to get resolved with manufacturer would be extremely difficult. So by the time I got new control board delivered (2 weeks later) the coils were frozen solid agian. I defrosted coils and replaced control board. Everything seems fine now (2 weeks later) except for sliight frost build up on food so I lowered temperature in freezer and so far so good....?
Date published: 2020-01-10
Rated

4

out of

5
by
Beesley
from
Sleek Refrigerator
Only had this refrigerator about a week; love how sleek it looks! The french doors are the easiest ones to open, i.e. you don't have to use two hands to open a door (like I've had to in the past). Doesn't mean it doesn't seal tight - it does! Plenty of room in the freezer with the pull out top tray that has the ice bin. Like the way I can just flip up the lever to pause ice-making - I never liked the "in the door" water and ice. Speaking of water, found that a bit cumbersome, to be honest, so I don't use it. Overall, great fridge for a great price! Thanks Whirlpool! [This review was collected as part of a promotion.]
Date published: 2018-10-30
Rated

1

out of

5
by
Anne844
from
Not working properly
This refrigerator will not keep ice cream frozen hard as it should be, therefore it is not functioning properly. Sometimes even the bread in the freezer is soft. It also has no butter keeper on inside of door. We chose this model refrigerator because it had the water on the inside and no water/ice on the outside of the door. If it kept the ice cream frozen hard, we would be satisfied with the refrigerator, but we are going to have to contact the dealer or manufacturer about the problem. We have to keep ice cream in our 16 year old refrigerator in the garage. Any help would be appreciated. [This review was collected as part of a promotion.]
Date published: 2018-09-25
Rated

3

out of

5
by
Alisa
from
Freezer issues from the start
The refrigerator itself is fine. We downgraded from a smart Samsung we had for 5 years when the heating element went out, so it took a little adjustment but a day after it was delivered, the freezer light went out and it completely iced over. We called to have it serviced but there was some issue and we were able to get the light back on after removing items from the freezer. Essentially adding an ice pack or a baby teether can send this freezer into overdrive causing it to freeze over and the light to go out. We've had to purchase a separate freezer for the garage to place anything more than what's in the photo. It's disappointing because Whirlpool is supposed to be a solid product.
Date published: 2018-01-06
Rated

2

out of

5
by
rcm999
from
Not up to Whirlpool standards
This was our second fridge in as many weeks. The first was a Frigidare that had issues, so we opted for this new Whirlpool. It will be going back too. It is very loud, the compressor runs almost constantly. The temperature controls are numbered 1-7, and Whirlpool tech support informs me that each number is a 5 degree range for the fridge, 3 degree range for the freezer. I like setting the specific temperature. Temperature in the fridge varies about 5-7 degrees. Bins and drawers are flimsy. The gallon bins barely hold a gallon jug, and absolutely will not hold two gallon jugs. This would be a good started fridge for a single person or a couple on a strict budget. But beware, it has problems.
Date published: 2017-09-21
Rated

1

out of

5
by
Cheryl T
from
water dispenser leaks no stop
I bought this fridge in June & after 2 months the water dispenser drips through the fridge onto the *new* hardwood floors in the kitchen. Service came,the water filter was replaced, the valve at the back of the fridge was replaced, air was removed from the reservoir and the fridge still leaks. Service came back again and changed the check valve on the reservoir tank, fridge still drips. For now I have had to make my own container inside the fridge to catch the drops so my floor are not ruined . The other option would be to shut off the water to the fridge which defeats the purpose of having paid for a water dispenser and ice maker....very disappointed!.
Date published: 2019-10-08