Description
Keep food fresher for longer with this KitchenAid French-door refrigerator that features an ExtendFresh(TM) Plus sensor that monitors and optimizes temperature. It has great storage capacity with adjustable shelves, humidity controlled crispers and a temperature-controlled pantry to keep groceries organized. The produce preserver in this Energy Star refrigerator extends the freshness of your fruits and vegetables, while the ice maker and interior dispenser provide easy access to cool, filtered water and ice.
Product specifications
Number of Refrigerator Shelves
2 crispers, 1 temperature-controlled full-width pantry
1 adjustable full-width shelf, 1 tuck shelf, 3 adjustable half-width shelves, 2 crispers, 1 temperature-controlled pantry, 1 dairy compartment, 5 door bins
1 full-width lower wire basket, 1 full-width upper wire basket
Reversible Door Swing (Y/N)
Frequently bought together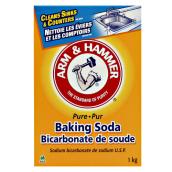 ARM & HAMMER
Baking Soda
Format 1KG
Details
Article #53975001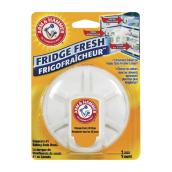 ARM & HAMMER
"Fridge Fresh" Refrigerator Air Filter
Details
Article #53975000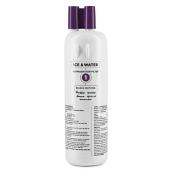 EVERYDROP
Refrigerator Water Filter - Everydrop(TM) #1
Format #1
Details
Article #30005203
Refrigerator with Interior Dispenser - 22 cu. ft. - White
is rated out of
5
by
870
.
Rated

1

out of

5
by
RG
from
deli drawer doesn't fit
I bought this 2 weeks ago and after it was delivered, I was putting away my food, and when I opened the deli drawer the top came off in my hands. I called the service department and someone came out. He said he has seen this a few times and ordered an entirely new drawer and brackets. When he came back and opened the box the cover was cracked. The new parts didn't fit either. If you read the reviews for this refrigerator you can see that this is a common complaint. Maybe someone should look into this problem and come up with a much needed fix. I am not happy with Kitchenaide and would never buy another appliance made by you. [This review was collected as part of a promotion.]
Date published: 2017-07-17
Rated

3

out of

5
by
Gmland1
from
Not what I expected
We needed a frig to fit into our existing built in cabinetry. We measured and studied every website, and settled on Kitchenaid because an American product and our family's past history with product. When the frig was delivered, it was just 3/8 of an inch too tall to fit. So I had to pay a carpenter to shave down the cabinet. Very disappointing the dimensions are not exact on website. Also the quality of the interior is not good. The cover of the horizontal drawer in the bottom comes off in my hand nearly every time I use it. It is easy to fix back, but I should not have to. I do like the look of the frig in our kitchen. [This review was collected as part of a promotion.]
Date published: 2016-12-15
Rated

4

out of

5
by
Litz
from
Pretty design
The space that we have for a refrigerator is limited and so I really thought that I would have to sacrifice features and design when I needed to purchase a new refrigerator. However this is a very attractive refrigerator with features such as full length produce drawer and filtered water dispenser. My only issue so far is that the crisper drawers tend to catch on the humidity control sticks when closing the drawer. When this happens the drawers can be difficult to open. I am concerned that the sticks will eventually break off. Otherwise, I do like the refrigerator and like the way that it looks in kitchen. [This review was collected as part of a promotion.]
Date published: 2016-08-01
Rated

1

out of

5
by
Supertedhawk
from
Don't chance it
I bought this in April, delivered and after 21 hours connected the refrigerator temp finally dropped to 63 degrees. Seller brought a new one several days later, it cooled rapidly to 48 degrees in 4 hours. Couple of days later the freezer door handle came loose. Seller came back in several days tightened handle. Two days later handle came loose again. Several days later seller brought the third unit (all in three weeks) and after unpacking it had a dent in freezer door. After much consultation they determined the door was bad not handle do they took door off 3rd unit and handle from second unit. Three new refrigerators in three weeks. Who would have thought [This review was collected as part of a promotion.]
Date published: 2017-05-19
Rated

4

out of

5
by
MAAF
from
Very organized and customizable!
We had a standard side by side fridge that everything fell out of and this one is so much better! I wish there were a few more compartments in the freezer to separate food but it does a great job and the fridge is completely customizable. Literally, every shelf can move where you need it to. One thing I will mention is it is NOT fingerprint resistant. It wipes down easily though. The only other thing to remember is that the doors are easily left open...it has a door alarm, but my kids definitely don't realize when they haven't closed it all the way. We are pleased with this purchase! [This review was collected as part of a promotion.]
Date published: 2017-12-21
Rated

4

out of

5
by
Ellie in the Kitchen
from
Good Frig
We moved into a house that had a small opening for the refrigerator and this model fit well. (I owned a larger French-Door KitchenAid in our previous house). I like the style and it's a quiet-running refrigerator. My only disappointment is the poor quality drawers. The tab that controls the humidity on the drawer snapped off in the first week of owning it. The plastic is thin; the drawers don't glide in smoothly. We haven't hooked up the water dispenser yet, but from past experience, I like the KitchenAid interior dispenser because it allows for more storage inside. [This review was collected as part of a promotion.]
Date published: 2015-12-31
Rated

3

out of

5
by
Mary
from
It's an okay fridge.
I bought this fridge a month ago. While overall I am satisfied with it, I also have a couple of issues. The thing I love most are the French doors. We have a small kitchen and that makes a huge difference. It does not have a deli drawer, but a cold storage drawer at the bottom of the fridge. It is as wide & deep as the fridge, so I tend to lose items in the back of the drawer. It has an ice maker, but you can't adjust the size of ice it makes, & it has jammed up a couple of times. Basically, it's a fridge & it does what I need, but I am not totally thrilled with the overall design. [This review was collected as part of a promotion.]
Date published: 2015-08-04
Rated

5

out of

5
by
Bill & Karin
from
Perfect fridge for two.
Only one problem area; the two top shelves do not go back against the rear wall, creating a gap of nearly 2 inches, large enough for water bottles and soda cans to fall into. It's easy for small items to be pushed to the rear and fall in the gap. We found two water bottles jammed against the rear wall, luckily they didn't leak. I recommend Kitchen Aid have a "stop" or "ridge" to clip on the rear of these shelves to help prevent items from being pushed off the edge, or, make the shelves 2 inches longer to fill that gap. Otherwise the refrigerator is perfect for us. I really love the water dispenser. [This review was collected as part of a promotion.]
Date published: 2017-01-23