Description
This French-door refrigerator from Maytag has a bottom freezer and a capacity of 20 cu. ft.. Featuring FreshFlow(TM) technology, it uses an air filter which is 15 times more effective than baking soda to reduce odors, as well as a produce preserver which can extend the freshness of fruits and vegetables up to 25% longer. This appliance is also equipped with highly robust Strongbox(TM) door bins and its high-gloss interior lining improves lighting conditions for great visibility.
Product specifications
Number of Refrigerator Shelves
French doors, 3 shelves, 2 humidity-controlled crisper drawers, 1 temperature-controlled crisper drawer, 6 door bins
Bottom drawer, 2 full-width baskets
Reversible Door Swing (Y/N)
Frequently bought together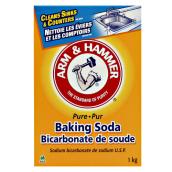 ARM & HAMMER
Baking Soda
Format 1KG
Details
Article #53975001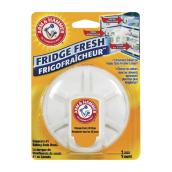 ARM & HAMMER
"Fridge Fresh" Refrigerator Air Filter
Details
Article #53975000
What is the width?
30 1/8"
Date published: 2020-06-20
Does this fridge have a water dispencer?  If not what is the purpose of the water filter and filter indicator?
There is no water dispenser, ice maker or water filter the data on the product page is incorrect
Date published: 2019-04-01
C I access the crisper by penning only one door
Yes you can
Date published: 2018-04-23
Is there an option for an ice maker 
Yes there is an optional ice maker that can be purchased for this fridge
Date published: 2018-07-02
What is the width of this fridge?
Does the ice maker have to be hooked up?
Refrigerator with FreshFlow(TM) - 30" - 20 cu. ft.- White
is rated out of
5
by
109
.
Rated

2

out of

5
by
Judes
from
I would not buy this exact model again
very difficult to fit anything tall on the shelves....even a litre of milk is too tall....you can tuck in one of the shelves to make it half as deep and then tall items can go there....but this really limits the amount of surface space the fridge to put items....so anything tall needs to go in the door..anything really tall like a 2 litre bottle of pop has to lie down on a shelf ......I love the freezer...lots of space....I wish it came with an ice dispenser....we were able to order a kit so that we can install one on our own....but this is going to be a lot of work...love the look of the fridge an the meat, vegetable and fruit drawers....l
Date published: 2017-09-18
Rated

4

out of

5
by
Maytagd
from
Good design features.
Have owned Maytag range and dishwasher for 18yrs so we knew Maytag makes a quality product. While we've only had the fridge for 2wks we are very happy with the design and quiet operation (no knocking), only when fridge is cooling and in the kitchen do we hear anything. Deciding between French door or single door was difficult as each has their benefits. Tall items storage in door is somewhat limited in French door design. Love the bottom freezer storage space as accommodates varied size items nicely. All in all, very happy with our choice and Black Friday price was right on our budget. (This review was collected as part of a promotion.)
Date published: 2018-12-03
Rated

5

out of

5
by
Avamaria
from
Beautifully designed
I love this refrigerator! I bought it two months ago and wish I had bought it sooner! It has a ton of room. I love the cheese drawer, I have to admit. Things are so easy to find in this refrigerator because it's so well designed. The freezer divides into several sections so I have divided my frozen foods into categories and never have to search for anything, it's always right there at my fingertips. My adult daughter lives with me, and this freezer is roomy enough that she can have her own drawer section. The special system for keeping fresh food fresh in the bins works really well too. This appliance gets my top marks. (This review was collected as part of a promotion.)
Date published: 2018-01-22
Rated

1

out of

5
by
AmyJon
from
Hate this Fridge
I bought this fridge just over a year ago and tried to return it right away. I hate the configuration of the shelves. The full retractable shelf is useless because you lose so much space when extended, leaving no place for tall milk containers, bottles, etc. I only have one fridge in my house and have so much less room than my previous fridge that I often run out of room after a full grocery shop. The freezer is faulty. Ice maker is constantly malfunctioning and leaking. My hardwood floors are now stained and the surrounding cupboards have water damage. I wish I could rate this fridge as a zero. I am seeking ways to get rid of it.
Date published: 2020-02-27
Rated

5

out of

5
by
Alex in Tor
from
Excellent Refrigerator
I bought this refrigerator on a boxing day special. The fridge looks great in my condo, lots of compliments, and the fingerprint resistant stainless steel is fantastic. Lots of freezer space, and easy to adjust shelves in fridge to suit your needs. However, the fridge could use a bit more space. Most of the time it is very quiet, but sometimes it makes noise, but it isn't loud and doesn't last long. When cleaning the stainless steel, use stainless steel cleaner and a soft cloth, wipe with the grain, otherwise small scratches will appear. So far, I am very happy with the purchase.
Date published: 2017-02-28
Rated

1

out of

5
by
masher
from
Dissapointed with purchase.
Lack of shelf space as compared to a standard 18cu ft fridge.Main shelf at bottom,1 at top-small space here,mid self useless as it is very small.Veggie bin on left comes off the slide track on a regular basis,fridge is noisey,runs alot and must be kept on humidity mode all the time as there is moisture on the door center bar when i check.Freezer too big,fridge space too small and doors open make it a squeeze to get food in and out.Stainless steel ok but grey sides(which are exposed in my kitchen) are ugly,wish i had of bought white.Very dissapointed with my purchase.First Maytag product,likely my last.
Date published: 2018-09-12
Rated

4

out of

5
by
CurlyK
from
So far, so good (it's been two weeks)!
We've wanted a bottom freezer fridge for a long time and are happy with our choice. I love that it is truly "stainless" since fingerprints don't show. The features are very good including the "moisture control" button and the middle shelf that splits downward and pushes back so that I can accommodate a large pot. We are two adults who eat lots of fresh food so while the fridge is full, we still have room to spare. However, for a family larger than three, it may not be big enough. Also, we're still getting used to the two doors that slam shut a little too easily.
Date published: 2017-08-29
Rated

4

out of

5
by
bwcrobinson
from
Sleek and easy to Clean
We bought the fridge a month ago. We are vegetarian so it is very handy to have the crispers. We find there is lots of room for smaller bottles and condiments. However, we should have bought the fridge with split shelves as we are having trouble with larger bottles and jugs. We have tried many different shelf heights and will continue to reorganize to get the best use of fridge. The freezer is extremely cold even on three, it popped the ice out of the tray. Really easy to clean outside stainless. (This review was collected as part of a promotion.)
Date published: 2020-06-25