Description
The interior dispenser on this Whirlpool French-door refrigerator gives you easy access to filtered water and ice. The Accu-Chill(TM) system monitors temperature to create an optimized environment, while adaptive defrost runs only when needed. The Energy Star refrigerator offers plenty of storage with adjustable frameless shelves, a temperature-controlled deli drawer, and humidity controlled crispers with produce preserve to keep veggies and fruit fresh. LED lighting effectively brightens up the interior, and the large-capacity design lets you stock up on groceries.

Ecological Attributes
This refrigerator is ENERGY STAR® certified to save up to 10% in energy.
Product specifications
Number of Refrigerator Shelves
FreshFlow(TM) produce preserver
2 fixed full-width gallon bins, 4 adjustable full-width bins
2 humidity controlled crispers, 1 temperature controlled pantry drawer
5 interior shelves, 2 humidity controlled crispers, 1 pantry drawer, 6 door bins
1 full-width upper wire drawer, 1 full- width lower plastic drawer
Reversible Door Swing (Y/N)
Frequently bought together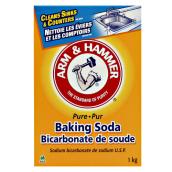 ARM & HAMMER
Baking Soda
Format 1KG
Details
Article #53975001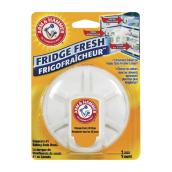 ARM & HAMMER
"Fridge Fresh" Refrigerator Air Filter
Details
Article #53975000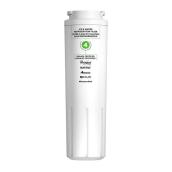 EVERYDROP
Refrigerator Water Filter - Everydrop(TM) #4
Format #4
Details
Article #30005202
Does it have an ice maker?
Hi Krisdrak, Yes this model has a factory installed icemaker. Thanks
Date published: 2018-05-28
Refrigerator with Dispenser - 25 cu. ft. - Black Stainless
is rated out of
5
by
766
.
Rated

3

out of

5
by
fairly disappointed
from
Annoying noise
I have had this fridge about a month now. It's a nice fridge however when the ice maker fills the cube tray with water, which is often in my house, it makes a noise that sounds like a pump...it cycles 7 times! I have had several fridges with ice makers and have never heard this on another fridge. Everyone that comes to the house hears it and looks at me in surprise wondering what the noise is. And my master bedroom is just off the kitchen so you hear it about hourly all night long. Super annoying. And there is about a 3" gap between the back of the shelves and the fridge. Often smaller items fall into this gap, even water bottles. Bad design in my opinion.
Date published: 2019-07-02
Rated

5

out of

5
by
jmein
from
Beautiful!
My husband and I were searching for a new oven and microwave and wanted to wait a bit for a fridge. We saw this fridge and based our oven/microwave purchase on it, planning to get the fridge in a few months. After a couple days (still waiting to get the oven delivered), we went back to this this. It was too beautiful to wait. We love the black stainless steel! It doesn't get too dirty at all and cleans up nicely. The fridge is very spacious. The freezer seems to be a little smaller than expected given the overall size, but we've never had a bottom drawer appliance. We absolutely love it! [This review was collected as part of a promotion.]
Date published: 2019-07-08
Rated

5

out of

5
by
anephets
from
So far so good
I bought this refrigerator 1.5 months ago and so far it is working great. Temperature seems to be fairly constant in the refrigerator and freezer compartments. It is very quiet. There are a variety of sounds and some are more noticeable than others, but the volume is very low. It is much larger than our previous one. The ice maker does not produce a container full of ice in 1 day but it is close and good enough. If it holds up for a long time, I will be very happy with it. My previous refrigerator was 38 years old when it quit working. I was told that newer ones only last half that long. [This review was collected as part of a promotion.]
Date published: 2018-01-27
Rated

4

out of

5
by
MarissaG
from
Good starter fridge
This model came with the home we purchased. The size is amazing with plenty of room in the fridge and freezer for all of my grocery needs. There is a condensation control for the fridge section which I needed to engage and have no issue with the French doors accumulating condensation anymore. The water dispenser is inside the fridge, but I need to use two hands to activate. This wouldn't be a problem but I usually am carrying a baby now a days, so it has become an inconvenience. Sometimes the ice tray is too full and when I go for ice a few pieces drop to the bottom of the freezer and on the floor. Overall a good product. [This review was collected as part of a promotion.]
Date published: 2018-07-02
Rated

1

out of

5
by
Unpleasantly surprised
from
Regret
I have had this refrigerator for about a month and it has leaked water since the first day I had it delivered. There is always water on my floor and I'm constantly cleaning it up. It also takes a long time to make ice. I now have to figure out a day to take off from my job and call for a repair appointment. I was initially going to buy the Frigidaire. Maybe I should have done so. I am really disappointed with this product. It's not like I bought a $40.00 toaster. This is a major purchase. I paid cash for this refrigerator and this is what I have to show for it. [This review was collected as part of a promotion.]
Date published: 2019-07-09
Rated

5

out of

5
by
kathym653
from
Lots of ROOM!!
Bought this right before Thanksgiving because I need more fridge space than my other unit had. I LOVE IT. Lots of door shelves because the water dispenser is INSIDE instead of through the door. Still getting used to having a bottom freezer after so many years but I really love this refrigerator. It has the space I wanted and needed without the expensive add-ons that I didn't want or need. My last refrigerator before we moved was Whirlpool, and it was 20 years old, never a problem. My new stove is Whirlpool and as the appliances age and fail they will be replaced with Whirlpool. [This review was collected as part of a promotion.]
Date published: 2019-12-24
Rated

4

out of

5
by
Papawheelie204
from
Large fridge with easy access.
We've had this for a few weeks and like it overall. The fridge is large, with plenty of usable space, which is why we purchased it in the first place. We like the indoor water dispenser as it provides us with filtered water when we want it, but doesn't take up too much room. The only downside to the fridge part is if you only open the left double door, you have to make sure that you push it closed because it won't just close and seal on it's own because of the flap that seals the doors is on that side. The freezer is on the small side, but we are learning to like the drawer style after having a top freezer. [This review was collected as part of a promotion.]
Date published: 2018-02-22
Rated

5

out of

5
by
Sheik of Dry Gulch
from
Easy access, spacious storage, optimum food temps.
We're very pleased with our purchase; it's so much easier to access crispers with the freezer down below. No more juggling items to make space for large casserole dishes and there's plenty of room for milk jugs and other large containers in the doors. Delivery persons were on their game with the installation and leveling. Froze 6 chicken breasts hard as rocks in 30 minutes and I was using ice cubes in less than an hour after the refrigerator was plugged in. We're on our 3rd month with French doors. Considering our last Whirpool fridge lasted well past warranty we'd buy WP again without reservation. Opening one side to grab a jug is … cool! [This review was collected as part of a promotion.]
Date published: 2018-09-09