Description
Keep groceries fresh and tasting great with this Whirlpool French-door refrigerator that features an Accu-Chill(TM) system that automatically adapts to optimize temperatures. Stock up and organize your favourite items with flexible storage options such as adjustable frameless shelves, a temperature-controlled pantry drawer and numerous door bins. Veggies and fruits stay fresher with humidity controlled crispers that feature a FreshFlow(RM) produce preserver. The LED light on this Energy Star refrigerator ensures your food looks as good as it tastes.

Ecological Attributes
This refrigerator is ENERGY STAR® certified to save up to 10% in energy.
Product specifications
Number of Refrigerator Shelves
FreshFlow(TM) produce preserver
2 fixed full-width gallon bins, 4 adjustable full-width bins
2 humidity controlled crispers, 1 temperature controlled pantry drawer
5 interior shelves, 2 humidity controlled crispers, 1 pantry drawer, 6 door bins
1 full-width upper wire drawer, 1 full- width lower plastic drawer
Reversible Door Swing (Y/N)
Frequently bought together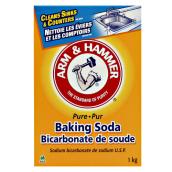 ARM & HAMMER
Baking Soda
Format 1KG
Details
Article #53975001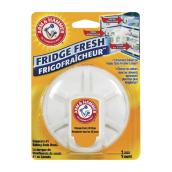 ARM & HAMMER
"Fridge Fresh" Refrigerator Air Filter
Details
Article #53975000
Does the model have an ice maker?
No
Date published: 2018-12-13
What colour are the sides of the fridge? Black or grey?
Sides are gray
Date published: 2019-03-04
WRFA32SMHZ Is it normal for the right door of this model a little bigger than left, are all the 33 model French Door have the same design, what's the purpose of it?
Hi Peacemaker, all our our 33 inch french door bottom mount fridges are designed like this. It gives you the flexibility of having two different door bin sizes. Thanks
Date published: 2019-05-15
why does the picture for this fridge say Whirlpool...and its actually a Kitchenaid fridge?
How easy is it to remove the doors so I can get the unit through a 30.75" doorway?
Refrigerator with Accu-Chill - 22 cu. ft. - Black Stainless
is rated out of
5
by
165
.
Rated

5

out of

5
by
Marion Grant
from
Very spacious!
I had this installed a few weeks ago and it's just perfect. It's everything one wants in a fridge. I actually have limited cupboard space and the fridge is so big that I end up keeping non-perishable items in it because I can. Like dog food--keeps my hungry hound from digging at the cupboards and wrecking the paint. People ask me why I don't have a separate freezer until I show them how much my fridge/freezer holds. (This review was collected as part of a promotion.)
Date published: 2019-01-30
Rated

2

out of

5
by
NFLa
from
Good size and layout, cheap materials
I bought this fridge because it was one of only 3 that fit the space where my old fridge was. The shelves and drawers are similar to the one in my old fridge, so I thought it would work well. They are made from xheap pkastic, one drawer was cracked when I got it. I still haven't received the replacement part. It does do the job of keeping food cold. I like the layout of the freezer better than my old one. It is quiet and easy to clean. But I cringe every time I have to open a drawer because it feels like it is going to break. (This review was collected as part of a promotion.)
Date published: 2019-10-17
Rated

4

out of

5
by
mrsKHK
from
love love love it
We bought this end of December 2018 but just had it delivered 2 weeks ago.....had done a huge kitchen reno to fit a large fridge in (all our other fridges had been 14.8 cu. ft.) I love the fact that I dont have to practically lay on the floor to get anything from bottom and back of fridge and that I can see right down into the drawer of freezer.....was shocked to find magnents still stick to it and was happy that they do....doesnt show fingerprints, easy to clean and runs very quietly....only complaint is that I cant find anywhere that explains how to use the two veg and fruit drawers with the sliders or how to use temperature control on the long bottom drawer and would like to move racks in top freezer basket but cant figure out how.
Date published: 2019-03-22
Rated

4

out of

5
by
cat54
from
good design
we have used this for a couple of months and it seams to be good. I feel that some of the plastic parts may break easily so I am being very carefuI with the dawers I dont believe it would hold up very long with children using it daily. Also it would have been nice if when you opened the frezzer drawer that the top basket came out also so you dont have to reach in to pull it out.but overall I believe it is very comparable to other makes on the market. I do like the fact 5hat it is american made. (This review was collected as part of a promotion.)
Date published: 2020-01-30
Rated

5

out of

5
by
Phil & Ingrid
from
Worked Well For 3 Years And Counting
We bought this Whirlpool 22 cubic foot model fridge 3 years ago and had no problems with it at all in that time. We have now moved into a new house and are buying this exact fridge once more to go into the new place as well. Its not very often that I will unreservedly give my approval to a product, but based on what I have experienced to date I have no hesitation recommending this particular fridge. We never had the optional ice maker however as it seems any fridge with water lines running to them have issues no matter what the brand.
Date published: 2018-06-18
Rated

5

out of

5
by
Squangan
from
Perfect Size & Features
This is our second fridge of this model, and I think it speaks for itself that we bought another one of the same exact type after moving to a new house. The only difference we noticed between this one and the previous one we had owned for 3-4 years is that the doors and shelves seem to open/close and slide slightly easier on the newer fridge. Reliability is not an issue as we did not experience a single problem with the last one over our years of ownership, however if I had designed the fridge I would added a door alarm to round out the features. I have no hesitation recommending this fridge to anyone in the market for a quiet 33 inch wide French door fridge without an ice maker or water dispenser. (This review was collected as part of a promotion.)
Date published: 2018-10-10
Rated

4

out of

5
by
Shadevarr
from
Have to hold the doors.
When you open the fridge doors , you have to guide the right side with your hand so it doesn't slam open and the you have to hold the left side open so it doesn't close on you while your getting something from the fridge. This is really annoying. We bought this fridge June 2018 . The floor model didn't have this problem. I've checked it front to back and side to side and it's level. Is there a way to maybe tighten the door swings ? You should be able to open the doors and let go to get whatever you want from the fridge ....not stand in front of the left side to hold it open with your back or shoulder. I will be going to where we bought it and ask a salesperson about it . It does keep things cold and the freezer works great so fingers crossed this can be resolved.
Date published: 2018-10-19
Rated

5

out of

5
by
Cheryl 63
from
French door stainless still refrigerator
I have this refrigerator for a few weeks. There is a lot of storage space on the shelves. My old fridge had only one door so I had more space on the door than this French door model has, however the interior space is good. The freezer has dividers which is very practical . I like the smudge free stainless steel . The vegetable drawers are light weight and I have to be careful when I open them as I can pull them out too far . So far I am happy with my purchase . (This review was collected as part of a promotion.)
Date published: 2018-08-10