Description
This round Redibase footing concrete form tube is made from recycled plastic. It's a simple, functional and cost-effective option. One size fits all 8-inch, 10-inch and 12-inch tube sizes, thanks to unique flaps and tabs designed to tightly snug around different sized tubes. The installation takes only 1 minute: simply place the base over the tube's end, slide the base down the tube, click it into the right tab and tighten around the flaps.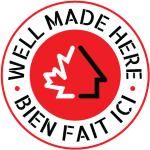 How much concrete do these redibase forms use
2 cubic ft per base
Date published: 2021-05-06
Redibase Footing Concrete Form Tube - Round - 8-in to 12-in diameter - Plastic
is rated out of
5
by
6
.
Rated

5

out of

5
by
Yves
from
"Simple and Efficient" as promised
Despite being told that the product couldn't be delivered in less than a week...my order arrived in 3 days! Our project was challenged by boulders in our excavation holes making our bottom surface uneven. Due to the flexibility of the taped collar we were able to make the slight adjustments in levelling our columns without having to resort to extensive excavation in removing the boulders to create a flat surface. The flexibility of the taped collar is definitely an asset and something to consider in a footing form system. From my experience, any of the other footing systems would not have been as versatile as this footer. We give Redibase two thumbs up!!!
Date published: 2018-06-04
Rated

5

out of

5
by
Greg
from
Poured concrete supports for my house
This is not really the intended use of the base, but we were able to use them as a way to get a nice wide base for the concrete supports for my house within a 4 ft crawl space. When not surrounded by ground to support them, you have to secure them to the floor so the forces of the wet concrete won't push your whole column up and out of alignment, but after we did that, they worked pretty well.
Date published: 2019-07-13
Rated

2

out of

5
by
G2Jim
from
Don't use for 12" tubes!
I tried using these with 12" dia form tubes exactly as instructed, cutting off every other tab, and 2 of the remaining tabs snapped off as the tube was inserted, making it unusable! On the second one I even heated it up first in the sun to make it more pliable, and two of the tabs still cracked part way through, but I was able to duct tape it together well enough to use. I then bought a competitor's base which is much sturdier. The attached picture shows both side by side with the same size tubes.
Date published: 2020-07-13
Rated

4

out of

5
by
MrSluggo
from
Product Good
I'm going to be pouring some 12" piers using cement tubes. By code in our area, I have to go 30" deep and the footing has to be twice the diameter of the tubing, so I needed to use a footing of at least 24". One advantage of the Redibase is that you only need to dig a circular hole slightly larger than 24". The Redibase footing is only 24" wide by 8" deep, so it only takes about 260 pounds of cement to fill. Attaching the tubing to the base is relatively easy and straightforward and requires no tools, only duct tape. While those factors are an advantage over other types of concrete footing forms, it should be noted that the Redibase footing won't be as much of a "Rock of Gibraltar" as some of those other types. For instance, some forms have a square configuration. One in particular, whom I won't name, has a 'square foot" of 32" and is 20" deep. The form itself takes approximately 500+ pounds of cement. That form requires you to dig a 3' square hole. That's one heck of a lot of dirt to move, even if you're using a powered post hole digger like I am. Is that form more "robust" than the Redibase ? Yes, but it also is quite a bit more expensive. BTW, the concrete foot form for that brand that fits a 12" tube also 14" and a 16" tube. Under the rule that the foot has to be twice the size of the tube, you wind up with a 32' square footing. I have a 15' x 20' deck that is presently being supported by three 6"x6" posts ( deck front is attached to the house). Those posts were buried in concrete back in the day. The concrete piers must have cracks in them, because the posts wick water after it rains. I'll be replacing those three posts with five 6"x6" posts on top of the concrete pier which will be 8" above grade (code says a minimum of 6"). The post-to-pier connections are going to be made with OWT Laredo Ornamental Wood Ties (Store SKU #1001595911. These things are bodaciously stout and put other post-to-piers to shame. Straight up; if you hold one of those in your hands, and one of the other types in your hand, you'll see the huge difference. If you can afford those, do it. Your house may blow down in a hurricane, but the deck will still be standing.
Date published: 2017-07-16
Rated

4

out of

5
by
Billy
from
a little brittle
[This review was collected as part of a promotion.] some of the fingers broke off, this was my first time using these so there was a little learning curve. I would use them again.
Date published: 2019-06-26
Rated

5

out of

5
by
Anonymous
from
Easy Install with BASKET BALL
Me and my grandchildren used a bakery ball to keep the tabs spread open and slide it over a 12" sonatube, no problem, with all the tabs in place.
Date published: 2021-09-03