Description
This premium quality pearl gloss recycled paint is washable, provides superior hiding power and has excellent adhesion. A resin is added to make the product more resistant. This low-VOC paint can be used indoors and out, on walls, floors and patios. ECOLOGO certified.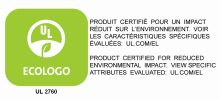 Ecological Attributes
This paint is certified by ECOLOGO® (UL 2760: Surface Coatings - Recycled Water-borne) for products made using a minimum of 50% recycled post-consumer paint. It allow to preserve non renewable resources and improve indoor air quality. This certification also ansure that the volatile organic compounds (VOCs) content for this pain is under 150 g/l, which allows for better indoor air quality and reduces the negative impacts on human health.
Product specifications
To touch: 30 to 60 min, to recoat: 6 to 9 h