Description
This RONA Eco velvet-finish premixed interior paint is made of recycle latex. Easy to apply, it is washable and achieves high hiding power. Recycled from quality latex paint, it generates low greenhouse gas emission, low VOC and is EcoLogo certified.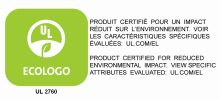 Ecological Attributes
This paint is ECOLOGO® certified (UL 2760: Surface Coatings - Recycled Water-borne): it contains a minimum of 50% recycled paint and less volatile organic compounds (VOCs) than conventional products.

The use of recycled materials decreases the environmental impacts associated with extraction of raw materials and landfilling. Moreover, by reducing the level of harmful substances in your home, you improve the quality of air and decrease the adverse impacts on human health.
Frequently bought together