Print
Vinyl flooring
Unquestionably, vinyl is one of the floor coverings that has seen the greatest improvement over the last decade. Long-lasting and easy to maintain, vinyl (or resilient flooring) comes in an array of textures, patterns and colours. Capable of imitating the look of natural materials, such as wood or stone, vinyl offers countless possibilities and remains one of the most affordable and maintenance-friendly flooring options.

Easier to lay and, if need be, to replace, vinyl tiles and planks now join the traditional supple vinyl sheet to offer new formats and laying techniques. We have every room covered!
Choosing the right vinyl flooring for your needs
UNDERSTAND YOUR NEEDS
In which room is the flooring to be laid?

What surface is the vinyl to be laid on? What is the subfloor made of?

What is my DIY profile: experienced or beginner?

Is the flooring to be laid in a high-traffic room?

Does my flooring need to be particularly robust, durable and easy to clean?
Show All Steps
Close All Steps
Vinyl is constructed of layers of synthetic materials, unlike linoleum which is made of natural materials.
The number of layers varies from one manufacturer to another but, generally speaking, the thicker the vinyl, the better the acoustic and thermal insulation. For low-traffic rooms, opt for a floor covering with a total thickness of up to 2.5 mm. For high-traffic areas, a product at least 3 mm thick with a wear layer greater than 0.25 mm is best.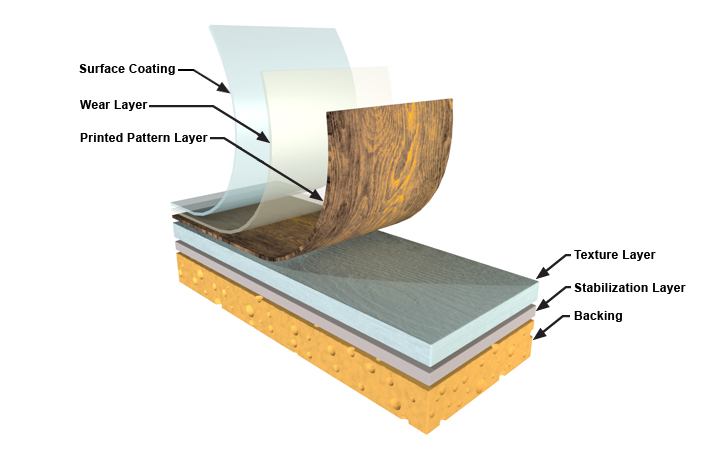 1-Backing
The bottom layer, or backing, gives vinyl flooring its reputation for underfoot comfort and springiness, and increases the flooring's sound and thermal insulation. It is what will determine how the flooring is installed, depending on the existing floor covering, the room itself and the subfloor. Felt and fibreglass are the two most commonly used materials for this layer which adds structural strength to the product, making the flooring last longer.

Vinyl sold in rolls usually has a felt backing, whereas tiles and planks use a vinyl or fibreglass backing to combine stability and strength.

2- Stabilization Layer
The stabilization layer provides sturdiness, insulation and comfort. It helps prevent tearing and ensures flexibility. The thicker and denser the layer, the better the floor covering quality. The layer differs according to the vinyl's format, whether tiles, planks or sheets.

3- Texture Layer
Vinyl flooring is often embossed or "granulated" to imitate, for example, the grain of a hardwood floor. The result is impressive and produces a natural-looking effect that, even a few years ago, would have been unrecognizable as vinyl flooring.

4- Printed Pattern Layer
The printed pattern (or decorative) layer, contains the flooring's pattern, such as mock ceramic tiling, stone, marble or wood. A texture layer may be applied to obtain a desired effect. The process normally used to apply the design is called rotogravure printing.

5- Wear Layer
The wear layer determines the flooring's durability and protects against nicks. The thicker the wear layer, the harder-wearing the floor covering will be. The average thickness of the wear layer is 10 mils; as a reference, 1 mil is the thickness of a page of a telephone directory or a human hair. 10 mils is roughly 0.25 mm.

6- Surface Coating
The surface coating protects the flooring from scuffs and scratches and makes cleaning easier. Layers of urethane are applied to the surface and protect the vinyl; the thicker they are, the greater the flooring's ability to cope with everyday wear and tear. Surface coatings differ, depending on where the vinyl is to be laid and the manufacturer's specifications.
Non-slip
Antistatic
Anti-mould
Stain-resistant
Antibacterial
Scratch-resistant
UV protection

Manufacturers offer three types of finishes:
No wax: stain-resistant and maintenance-friendly. Does not require wax but is less shiny and more prone to show scuffs and scrapes.
Urethane (PVC) coating: stain-resistant and maintenance-friendly. Does not require polishing and is much more shiny.
Enhanced urethane coating: superior quality finish with greater scratch-resistance and guarantees the product's extreme durability.

The ubiquitous vinyl that once graced the floor of almost every household has undergone a facelift in the last few years. While it retains the qualities on which its reputation was built, today's new vinyl has shifted its focus to the future. While still available in sheets (on the roll), it is now also sold in "smart" formats – tiles and planks – that are extremely versatile and easier to lay. With the exception of sheet vinyl, laying a vinyl floor is easy and requires no particular expertise.

Sound preparation of the substrate is essential. The substrate is the surface over which the vinyl flooring will be laid. It must be flat, clean, dry and dust-free. Vinyl can be installed over concrete, floating floor underlayment, flexible floor coverings bonded to the subfloor, and ceramic or marble tiles. However, vinyl must not be laid over particleboard panels, cushioned springy surfaces, carpets or hardwood flooring that has been laid directly onto concrete. It is not recommend to install vinyl flooring over an under-floor heating system because of possible fumes from the floor covering.

The laying procedures for vinyl flooring depend largely on the substrate or subfloor surface, the backing of the floor covering and the size of the room. Always follow the manufacturer's guidelines to determine which laying method best suits the flooring you have chosen. To lay the vinyl in the most environmentally friendly way possible, use an adhesive with a low VOC (volatile organic compound) content and ensure the working area is well aired during installation.
Laying procedures
Description
Use for:
Advantages
Disadvantages
Glue-down or
Full-spread

An adhesive is spread over the entire floor surface, holding the flooring in place.

Sheet vinyl or tiles.
Recommended method.
Ideal for large, heavy-traffic rooms.

Extends the life of your flooring.
Does not shift.

More complicated laying technique.
Difficult to remove.

Self-adhesive

The back or edges of the flooring are pre-applied with glue, which is covered by a protective paper.

Vinyl tiles and planks.
Suitable for normal traffic rooms.

Relatively fast to lay.
Holds the flooring well.
Adjustments and corrections possible

May ripple with time.

Double face adhesive tape

Double face tape is placed around the perimeter of the floor surface and holds the flooring in place.

Sheet vinyl and vinyl tiles.
Suitable for normal traffic rooms.

Relatively fast to lay.

May ripple.
Cost of the adhesive tape.

Loose-lay or Floating

The vinyl sits freely on top of the floor surface.

Sheet vinyl.
Ideal for small, low-traffic rooms.
Secured, as a minimum around the border of the room.

Very fast and easy to lay.

May ripple with time.
Cannot be used if more than one strip of floor covering is required.

Floating or "click lock" method

The planks have interlocking edges.

Available only for planks.
Suitable for any room.

Very fast to lay.
Lays like laminate flooring.


Harder to cut.
To calculate how much sheet flooring and adhesive will be needed, first calculate the floor area of the room.
Draw a floor plan on squared paper (one square = 1 sq. ft.). Note the length of each wall, taking any storage areas into account.
Bear in mind that the walls might not be entirely parallel along their whole length.
Add 3" to each of the measurements to give a certain leeway when installing.
Calculate the surface area.
To calculate the number of tiles needed, work out the surface area and decide on the laying procedure.
Draw a floor plan on squared paper (one square = 1 sq. ft.). Note the length of each wall, taking any storage areas into account.
Bear in mind that the walls might not be entirely parallel along their whole length.
Calculate the surface area.
Add 5% for right-angled seams or 10% if laying at other angles.
To calculate the number of planks needed, calculate the surface area.
Draw a floor plan on squared paper (one square = 1 sq. ft.). Note the length of each wall, taking any storage areas into account.
Bear in mind that the walls might not be entirely parallel along their whole length.
Calculate the surface area.
Add
No specialized tools are needed to lay a vinyl floor covering, except for a floor roller in the case of sheet vinyl. The following tools are needed to lay tiles and planks:
Utility knife
Measuring tape
Metal rule to ensure a straight edge
Carpenter's square
Today's vinyl offers a flooring solution for any room of the house. Its durability and ability to withstand moisture make it a firm favourite, often found in kitchens, bathrooms and laundry rooms. And yet it is equally suitable for all other rooms, such as the bedroom or playroom where it is particularly child and pet friendly. Vinyl flooring is less hard underfoot and represents an excellent alternative to more traditional materials.

Before choosing patterns and colours, consider the size of the room you want to floor. Light colours can make a small room look larger whereas darker colours lend a cosier look. Flooring with small patterns may suit small spaces while a more dominant pattern can visually increase the size of a room.

When choosing a design, remember that sheet vinyl is like wallpaper in that the pattern is repeated. This might end in a fair amount of wastage yet it is an important point to bear in mind in order to achieve a great result. The same restriction does not apply to tiles and planks.
A vinyl floor in one or several rooms will automatically simplify your cleaning tasks. Follow the few precautions below and all that will be needed is regular maintenance to keep your floor's newly laid lustre. Choosing a product with an adequate wear layer and protective finish will also prolong the flooring's lifespan.
Sweep or vacuum regularly to pick up dust, sand and other abrasive particles
Avoid wet-mopping; use a clean floor cloth or a sponge moistened with a product recommended by the manufacturer
If possible, wipe up spills straight away
A special vinyl "shinekeeper" product or a wax recommended by the manufacturer can restore a floor's faded sheen
Likewise, special vinyl cleaners can remove any build-up of film left by excess wax or revitalizing products
If the flooring tears or a seam opens, cover it and call a specialist to carry out the repair
When moving furniture or heavy appliances, protect the floor by sliding something underneath, such as a piece of inverted
N.B.: Do not use abrasive cleaners, soaps, paste wax and solvents, which damage the vinyl.
Helpful Information
Related projects and Guides
© RONA 2021, All Rights Reserved