Print
Roof coverings
When the time comes to install or replace your roofing, you'll have a huge variety and number of products to choose from. Although asphalt shingles may be the most common, roofing sheets and plastic tiles are on the rise. Your decision should be informed by your geographical location, roof slope, budget, and aesthetic considerations.

The purpose of this guide is to provide an overview of the various features, benefits and drawbacks of each roof covering, and thus help you make an informed and durable choice.


Choose the appropriate covering for your roof
UNDERSTAND YOUR NEEDS
What are the weather conditions in my area? Cold, snow, rain, wind?

What is the pitch, or pitch angle, of the roof slope?

Who will be installing the roof covering? A specialized company, or will I?

What is my budget?

Are there any restrictions in my city or community?
Show All Steps
Close All Steps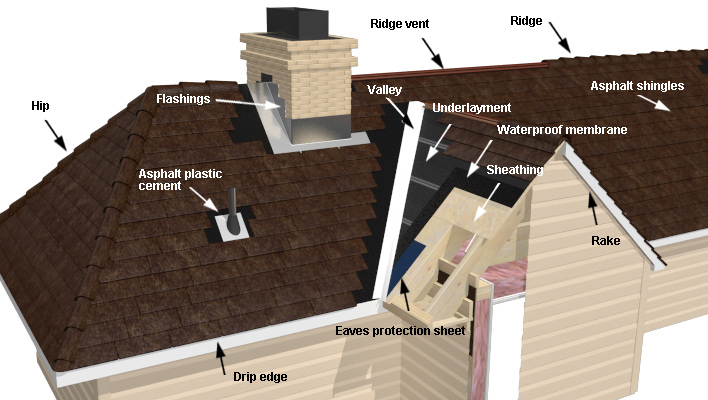 Roofing is composed of several elements. The roof covering is one of these elements. Here is a list of elements and a brief description of each one.

The roof structure is composed of rafters and other solid materials that support the roof covering. Before you install a new roof covering, you must make sure the structure is sound, without any structural weaknesses and completely rot-free. If you want to install a heavy roof covering (ex.: slate or concrete tiles), your roof structure must be able to support the extra weight. If you have any questions or doubts, consult a structural engineer, who may advise you to reinforce your roof structure.

The sheathing is the layer of a roof that is used as the base for roof coverings to be nailed to. It's underneath the underlayment, the eaves protector and covering. It generally consists of 5/16 to ½'' plywood. Panels are nailed to the rafters and supported with metal H-clips. It also acts as another layer of protection for the roof.

The drip edge or edge treatment is a metal edge that must be installed on the roof's perimeter, on the sheathing (for efficient water shedding at the roof's edge).

Flashings are metal treatments designed to protect those areas vulnerable to leaks and installed around skylights, vents and chimneys. They are set, or embedded, with plastic glue or asphalt plastic cement.

Waterproof membranes, eaves protection sheet and underlayment are intended to waterproof the roofing. The eaves protector and underlayment are installed before the roof covering is installed over the entire roof surface. The eaves protection sheet protects the eaves against water infiltration. It should be installed first. Next is the underlayment, which is placed over the eaves protection sheet.

The membranes used on a flat roof constitute the roof covering. For asphalt flat roofs, several membrane layers are necessary (built up flat roof felt). Only one membrane layer of TPO membrane is required, however, since TPO is a single-layer roof covering.

Ridge vents are installed along the roof peaks for the purpose of ventilating the roof timbers and attic space.

Asphalt plastic cement is the glue used to set the flashings and to waterproof effectively around those areas vulnerable to leaks.

During the preparation stage before installing the roof covering, several elements are already present on the roof. Following is a brief description of each:

The valley is the internal angle formed when two roof slopes meet. Valleys that are called "open valleys" are typically lined with sheet metal, with the flashing exposed. "Closed valleys" are valleys covered with shingles.
The hip is a peak of the roof where two sloped roof planes meet at the top at a projecting angle more than 180o.
The rake is the cut end of a roof above a gable end.
The ridge is the top of the roof, where the rafters meet.

The covering is the product that covers the roof and protects it against weather conditions. Roofing options include asphalt shingles, sheet metal, plastic tiles, concrete tiles, copper and aluminum.

There is a range of roof coverings for sloping roofs. The choice of covering changes the appearance of your home. Most people are used to seeing roofs covered with asphalt shingles; there are, however, other possibilities. The table below provides an overview of these roofing options.


Model
Features and Composition
Benefits, Drawbacks, Guarantee/Warranty
Types and colours

Asphalt Shingles

Two compositions: organic covered in crushed stone, or fiberglass.

Benefits:
Economical and popular;
Require minimum maintenance;
Easy to install.

Drawbacks:
Some models are less resistant to heavy rains and strong winds;
Guaranteed for 20 to 40 years according to the model

Three-tab shingles;
Architectural shingles;
Laminated shingles;
Starting shingle;
Shingles for peaks and ridges.
Colours available vary according to brands, from 4 to 20 colours

Cedar Shingles

There are two kinds of wood shingle available: cedar and pressure-treated wood, cedar being the more wide-spread.
Different finishes: natural, pre-stained, and pre-aged. The weathered look of pre-aged shingles adds old-world charm to a home, something many home owners are looking for.

Benefits:
Attractive and natural;
Rot-proof;
Naturally insect-resistant;
More common in warmer climate zones;
Extra-A Grade used for roofing;
You can use an oil to whiten or age the cedar;
Can be factory-stained;

Drawbacks:
High installation costs;
Require periodic maintenance
Flammable material.

Guaranteed 30 years

Available in many shapes:
rectangular, round, diamond, hexagonal

Natural: grey, white, sand, beige, red
Stained colour: blue, red, green, light blue,

Fiberglass Shingles

Constructed with a combination of clay, resin and fiberglass. Imitates cedar roofing shingles without the risks associated with fire.

Benefits:
Damp-resistant;
Zero maintenance;
Good durability (more than 50 years);

Drawbacks:
Relatively expensive.

Metal Tiles

Made chiefly of steel sheeting, (galvanized or stainless), copper sheeting and tiles. The cost of a steel roof varies according to the sheet profile, paint used, and shape of the roof.

Benefits:
Very good durability (more than 100 years);
Does not rust;
Available in steel, galvanized steel, titanium, galvalume, copper, aluminum;

Drawbacks:
Must be installed by roofing specialists
Guaranteed 50 years

Types:
Sheets with standing seams;
Roofing panels without screws;
Sheets with rods.

Rectangular, square, or diamond-shaped;
Can be embossed or stamped with the design of your choice (ex.: fleur de lys);
Some products imitate slate, shingles, clay roof tiles;
Blue, red, silver

Copper

Associated with luxury roofs and expensive homes;

Benefits:
Oxidation produces a characteristic pale green patina over time;
Excellent durability;

Drawbacks:
Installation should be entrusted to professionals

Lifetime Warranty

Available as copper sheeting or tiles,

Natural copper colour only

Galvanized Steel

Galvanization protects the metal against corrosion. There are various processes: galvalume (registered trademark) is covered with zinc to improve its weathering capabilities, and galvanized steel is made by passing it through a bath of molten zinc.

Benefits:
Good durability (approx. 50 years);
Corrosion-resistant;
Does not crack, split or break;
Light-weight;

Zero maintenance
40-Year Limited Warranty

Available in large sheets or tiles

Many colours available
(ex.: blue, red, grey, green)

Stainless Steel

Benefits:
Attractive;
Doesn't rust;
Extremely durable (50 years or more);
Light-weight;
Does not crack, split or break;
Lifetime Warranty

Square, rectangular or diamond-shaped

Many colours available (blue, red, copper, etc.)

Plastic Tiles

Imitates the appearance of slate, but it's a lot less expensive and less fragile during installation. Installation is fairly simple, and an underlayment is not required.

Benefits:
Extremely resistant to wind;
Does not ripple;
Resistant to temperature extremes;
Water, damp and mould-resistant;
Light-weight and easy to install;

Drawbacks:
Original colour may fade over time
Limited Life Warranty

Imitates slate, cedar shingles, clay tiles

Many colours available

Slate

Natural stone (shale clay) extracted directly from the earth.
Split into perfectly flat thin layers.

Benefits:
Extremely durable (more than 100 years);
Rare as a roof covering in our climate;
Does not fade with exposure to the sun;
Heavy product and therefore resistant to strong winds.

Drawbacks:
Caution is required during installation due to the fragility of the product.
Must be installed by roofing professionals.
Lifetime Warranty

Limited range of colours, variations on blue-grey

Clay Roof Tiles

Product more widely used in Mediterranean climates;

.

Benefits:
Extremely durable;

Drawbacks:
More rare in our climate, since it adapts poorly to cold conditions and changes in temperature.
Roof structure of an existing house may need reinforcing due to increased weight.

Resembles a cylinder cut length-wise

Natural clay colour

Concrete Tiles

Concrete tiles have many interesting features;
Most tiles are installed using a specifically designed system of fasteners;
The fastener is attached to the roof and not the tile directly.

Benefits:
Attractive;
Very resistant to changes in temperature, rain, hail, fire;
Although appropriate for northern climates, it's not common;
Extremely durable (100 years);

Drawbacks:
Roof structure of an existing house may need reinforcing due to increased weight;
Guaranteed for approximately 50 years

Manufactured using a mould, which makes it possible to create various sizes and shapes of tiles

Many colours available
There are three different types of roof coverings for flat roofs: the traditional asphalt covering, the Elastomeric Membrane EPDM, and the Thermoplastic Olefin Membrane (TPO). Over the past number of years, elastomeric membranes and TPO membranes have become very popular, since installation costs have gone down and compared to asphalt, they have a superior life span. Their popularity is due in part to the fact that some municipalities now call for light-coloured roof coverings to reduce urban heat islands.

Model
Features and Composition
Benefits, Drawbacks and Warranty
Colours and Types

Asphalt Covering

Multilayer roofing including three layers of organic felt combined with molten asphalt; a final coat of gravel is poured on top

Benefits:
Very popular due to its low cost;
Requires the addition of gravel to protect the surface from UV rays;

Drawbacks:
Risk of fire during installation;
10-year warranty

Black, grey or white gravel covering (white gravel is mandatory in some municipalities to reduce urban heat islands)

Elastomeric Membrane

Made of synthetic rubber, this is a smooth membrane not covered with gravel.
M-CAP is a SBS modified bitumen sheet, incorporating a polyester-fiberglass combination saturated with a blend of SBS (styriene-butadiee-styrene), rubber and asphalt. It is finished with fine ceramic granules similar to what is found on asphalt shingles.

Benefits:
Good durability (40 to 50 years);
Protects surface from UV rays;
Resistant to tears, punctures, and impact damage;
Easy maintenance;
Tears easy to repair;
Recyclable.

Drawbacks:
Risk of fire during installation due to the use of a blowtorch (SBS membrane);

10 to 15-year warranty

Two types: EPDM and modified bitumen membrane (SBS)

Many colours available: black, white, green, grey

Thermoplastic Olefin Membrane

Constructed from ethylene propylene rubber and filler materials (ethylene and propylene are bonded together with the rubber); available in panels up to 10' wide, thereby reducing the number of joints during installation; installation options include hot air welding (without a blowtorch), which makes it feasible to install under variable weather conditions.

Benefits:
Good durability (40 to 50 years);
Protects the surface from UV rays;
Resistant to tears, punctures, and impact damage;
Does not shrink;
Easy maintenance;
Tears easy to repair;
Recyclable.

Many colours available
Other more specialized roof coverings are also available: the green roof and solar roof. You may need to reinforce the structure of an existing house before installing a green roof. You may also need to call on green roof specialists for help and advice when you install the waterproof membrane and when you develop the landscape design of the roof. Solar roofs come in many variations (photovoltaic shingles or solar panels) and also require specialists' help to install. More than simply a roof covering, it is an energy generating system.
Roofing quantities vary according to the product. Generally-speaking, you need to measure the total surface area of the roof and note how much surface each package of roofing product will cover. This information is given on the packaging. By dividing the total surface by the surface covered by one product package, you will know how many packages you will need to cover the entire roof surface area.
The installation of roof coverings varies according to the product. Tile-based products (shingles, concrete tiles, plastic tiles, etc.) are laid in straight rows, starting at the bottom of the roof and often nailed to the sheathing. Other products such as copper or steel sheet are laid in large panels on the roof and secured with nails or the appropriate fasteners. Certain sloping-roof coverings can be installed by the home owner (such as wood shingles, asphalt shingles, plastic tiles), whereas others should be entrusted to professionals (such as slate, clay tiles, copper, concrete tiles).

All types of flat-roof coverings must be installed by roofing specialists.
Measuring tools:
Tape measure
Chalk line
Square
Cutting tools:
Utility knife to trim the underlayment, protection sheet and shingles (in the case of asphalt shingles);
Metal snips for flashings and certain types of roof coverings (ex.: metal sheet).
Specialized cutting tool for heavy roof coverings (ex. slate, concrete tiles)
Installation tools:
Hammer or pneumatic nailer
Caulking gun
Trowel
Gloves
Safety equipment:
Safety harness with snap link
Strong nylon rope attached to the snap link
Helmet
Ladder, secured to the roof top and on the ground
Some roof coverings are more environmentally-friendly than others. For example, steel often contains a good percentage of recycled material and is 100% recyclable. The same holds for EPDM elastomeric membranes and TPO reinforced roofing membranes. The opposite is true for asphalt shingles and flat-roof asphalt covering, which are non-recyclable petroleum-based products.
Sloping roof:

Inspect your roof every two or three years, though not more often since every time you walk on the roof you cause some damage;
Inspect the roof timbers, and check that the insulating wool is dry, as well as the wood. Humidity may be due to inadequate attic ventilation.
Check that the plastic cement under the flashings is intact.
If you see cracks or a joint without caulk, use a caulking gun with a tube of plastic glue to do the necessary waterproofing.

Flat roof:
Clean the roof drain regularly, removing any debris that could clog the drain and impede the flow of water;
Verify the condition of the membrane and make sure there are no cracks. Make repairs where needed with the appropriate product;
For asphalt and gravel roofing, make sure there is a uniform gravel cover. Add gravel where and if necessary to ensure coverage. The gravel protects the membrane against the effects of UV rays, which can dry out the membrane and cause cracks to appear.
Check the joints. Apply caulk (or tar, depending on the roofing) where and if there are any cracks.
Helpful Information
Related projects and Guides
Your store :
Fort Erie RONA
584 Garrison Road,
Fort Erie, Ontario, L2A 1N4

Details
|
Change store
Call your store
Phone : (905) 871-3648
Customer Service
Monday - Friday: 8 AM - 9 PM (Eastern Time)
Saturday - Sunday: 8 AM - 5 PM (Eastern Time)
© RONA 2018, All Rights Reserved