Print
Outdoor patio and garden storage
Outdoor storage solutions provide the homeowner with an increased convenience for lawn and garden work, play and entertainment. The storage options vary from the larger sheds to small shelving units including a floating decorative shelf. Storage bins that are both horizontal and vertical with doors are great options for patio furniture cushions or knick knacks suitable to outdoor leisure and entertaining. The materials vary greatly for the outdoor storage options. Each storage item can be purchased to match each other as a coordinating set and to match the style and coloring of the decorative setting. Explore the many different suggestions for patio/deck and garden storage solutions.
Practical and affordable outdoor storage solutions
UNDERSTAND YOUR NEEDS
What outdoor items need storage? Furniture, tools, gardening items, kids toys?

Which specific areas can be used to store items? Garage, shed, patio, backyard?

Will storage areas be used seasonally or year-round?

Are you storing items in the garage that could be more conveniently stored outdoors closer to where they will be used?

Do you want to create an outdoor storage system whereby your various storage containers are aesthetically coordinated?
Show All Steps
Close All Steps
It's a lot more practical to store items close to where they'll be used, so designate patio and deck storage space for entertainment items, cooking utensils and sports toys. Use shelving to store items such as outdoor candles and decorative potted plants. Don't forget: practical can be attractive, so look for storage that will enhance your decor. Things like sports equipment, toys, hammocks, art supplies, books, pool supplies, plant food and kitchen items can be stored in handy containers, cabinets, or shelves around the patio and deck.
Storage containers
Patio furniture often includes cushions which will need their own storage when the weather turns nasty. Items such as outdoor candles and table umbrellas are integral to entertaining on the patio; keep the patio neat and tidy by creating storage areas for them.
Outdoor storage bins are great options for patio and deck storage.
Coordinate them with other patio and garden storage bins to create a more uniform decor.

Materials to choose from include resin wicker, molded plastic, and wood.

Sizes range from approximately 22 gallons to 99 gallons.

Colours vary, but they are generally muted neutrals that blend well with the natural environment.

Horizontal models may double as seats, with the possibility of matching seat cushions.

Lockable doors are an option.

Vertical units may have doors and shelves inside.
Items to store outdoors

Storage solutions

Extra suggestions

The outdoor shed is ideal for storing patio furniture, garden tools, and the lawn mower.

Although patio furniture frames are weather-resistant, they should be stored during the winter.

Decks can include built-in benches with storage space under the seating suitable for cushions.
Deck and patio storage bins such as long and short bins are ideal.
Some patio kits have storage carts or side tables that are designed to store cushions.

Keep patio furniture cushions as clean and dry as possible when not in use.
Always size the storage bin carefully regarding the size and number cushions you want to store.
Store cushions as close as possible to your patio seating, according to your summer arrangement.
Ideally, storage solutions should be waterproof.

Vertical storage bins are ideal for patio furniture umbrellas.
Outdoor sheds are also adequate.

Table umbrellas can fly away in a gust of wind, so keep them closed when not in use.
If you decide to remove and store your umbrella, storage located close to the table would be ideal.

Smaller items can be stored in either horizontal or vertical bins, on outdoor bookshelves, floating shelves, or on decorative bookshelves with doors.
Frequently used smaller items can easily be tucked into storage bins or bench bins.

Consider how many of these items can be decorative as well as useful.
Find storage space for them within handy reach of where they will most often be used.

Potted plants, seeds, and plant food with simple garden tools can all fit nicely on one bookshelf.

The potted plants utility shelf can be located alongside the patio, next to the garden shed, in the garden shed or against the garage wall if there is a roof overhang.

Towels can be rolled up and stored in wicker baskets or vintage buckets.
If you have more than a few to put away, place them on a shelf.
Patio furniture sometimes includes large drawers that can be used for your rolled towels.

Store towels of similar sizes together in separate locations.
Make sure towels are dry so they don't develop mould and mildew.

Categorize toys per play area, age, or size before selecting appropriate bins.
A variety of balls can be stored in a horizontal bin.
Larger toys such as a croquet set can be stored in the shed or decoratively next to the patio/deck.
Sandbox toys can fit into a small container near the sandbox.

Kids toys need to be both easily accessible for little hands as well as located in safe areas.
Kids also need to be able to reach for their toys close to play areas.

Kitchen and dining items may be stored on small decorative storage shelves and in drawers.
Outdoor carts and kitchen cabinets are ideal.
Patio side tables may also be appropriate.

Storage size required depends on your entertaining requirements (how often and with how many guests).
If most cooking is done outside and often, an outdoor kitchen would get a lot of use.
Outdoor carts are convenient because they run on wheels.

A floating shelf located near the grilling area may be ideal, with hooks underneath to hang utensils.
Some grilling units have storage both below and on the sides of the unit.
An outdoor kitchen will also include storage space for grilling supplies and utensils.

Make sure your charcoal supply and eating utensils are clean, dry, and safely stored out of reach of children.
Lockable doors for the cabinetry may be worth considering.
Outdoor kitchen storage is an integral part of outdoor cooking, grilling, and serving. The outdoor kitchen may be purchased as a kit to be assembled at home, as a do-it-yourself project, or as a combination of both.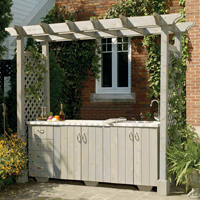 Outdoor kitchen storage cabinets
Cabinet materials consist of plastic polymer, stainless steel, wood, or masonry.

Regardless of style and material, look for durable outdoor cabinets and high-quality hardware that are both weather-resistant and corrosion-resistant.

Accessories may include adjustable legs for uneven flooring, toe kicks, roll-out trash bins, roll-out trays, and extra drawers.

Kitchen carts are available for areas such as the deck and patio where a permanent installation may disturb existing outdoor structures.

Countertops are not always included with storage cabinet kits; if that is the case, choose a counter with the same quality standards of durability and corrosion-resistance.
While garden tools can just as easily be stored in the garage, some homes have large expansive yards that make garage storage less convenient. Garden sheds are also suitable for homes with very small garages.
Garden tools, lawn mowers, and children's toys are all suitable for storage in a garden shed. When the kids are still small, store their toys in a separate bin with a door or lid that they can easily access and manoevre. Certain garden tools can be hung on the outside of the shed for easier access. Garden hoses are best stored on a hose reel.
Sheds
Différents modèles et tailles de remises de jardin sont disponibles pour le rangement d'outils, de matériel de jardinage, de vélos et autres équipements sportifs.

Types

Features

Materials

Extra features

large, open, roomy
one or two doors
can be purchased as a kit
lockable doors for safety; variety of locks and bolts depending on level of security.

wood, vinyl, or steel walls
flooring can be concrete or wood, or a reinforced floor suitable for storing large machinery such as tractors (may or may not be included)
roof is either metal for enhanced durability, or standard asphalt shingles

variety of neutral colors available
decorative windows that let in natural sunlight to reduce the need for electricity
wide choice of handles including a universal design option

tall, narrow
located adjacent to an exterior wall
one or two doors
lockable doors for safety; variety of locks and bolts depending on level of security.
Can be purchased as a kit

resin or plastic walls, UV-treated
Weather and rust-resistant

Available in different colours

a compact half shed
Single slope roof
The design is practical for snow build-up and can be located adjacent to a garage or exterior home wall

usually vinyl
weather and rust-resistant materials are available

accessories are usually required in addition to the purchase of the shed
Integrated vents regulate the interior temperature
Hose reels and hose containers
Garden hoses are often stored in wall-mounted hose reels, enclosed hose containers, and hose reel carts.

Other options include hose hangers that have stakes driven into the ground. Hose reels can be made of plastic, metal, resin, or wicker resin.

Hose reel styles include basic or ornate designs, from simple geometries to reels with decorative leaf and bird designs.
Certain hose reels match other outdoor storage containers and outdoor storage benches.
When you have accommodated most of your outdoor storage needs, consider supplementing with shelving units or single shelves. You could add shelves designed specifically for particular items. In addition to open shelving, closed shelving units and hanging units with doors can be very useful.
Materials used can be enameled metal, wood, or PVC veneer.

Shelves can be open grate or solid panels.

Mix decorative and practical items on your shelves, such as candles and potted plants among patio supplies.

Floating shelves may be attached directly to the exterior walls of either the garage or the home next to a deck or patio.

Outdoor shelving can have pegboard backing suitable for peg hooks. Pegboard backing can be paired with wood or metal shelving. Most pegboard is easily compromised if left open to harsh weather conditions.

Small wood shelves may be set into nooks and crannies on the house exterior, garage, or garden shed.

A vine climbing up a side or back of the shelf enhances the overall aesthetics of your outdoor decor.
Storage accessories will complete your deck, patio, and backyard storage solutions. Certain accessories are designed to complement storage containers and sheds.
Extra storage accessories

Outdoor storage hooks can be installed on the side of the garage or shed to hang up heavy and extra-large objects. Outdoor storage hooks are corrosion-resistant, and they can be inexpensive, convenient solutions for storing certain garden tools, particularly if the home does not have a garage.

Attach galvanized steel planters to the side of your garage or shed to store compartmentalized items. Screw the bottom of the planter to the side of the wall.

Find old or vintage baskets and wooden crates for convenient storage of small items.
Backyard storage is most useful for garden and entertaining tools and supplies. Begin by selecting your large containers or sheds. Plan for enhanced storage needs by purchasing storage units that can hold up to 25 percent more than what you currently need. Complete your outdoor storage plan with smaller, convenient, and attractive items.
1. Select a shed for larger garden tools such as the lawn mower, rakes, chain saw, hedge trimmer and edge trimmer.

2. Use smaller shelving units or storage bins for small garden tools such as hand clippers, gloves, and planting supplies.

3. Use a garden hose reel to properly store your hose; it can be highly decorative or strictly utilitarian.

4. Decorative storage solutions are ideal for potted plants and outdoor candles.

5. Outdoor storage benches and bins are perfect for storing cushions, toys, and sports equipment.
Any backyard storage solution may be achieved through a do-it-yourself option. RONA provides a few outdoor storage projects for those who want unique solutions that serve specific backyard needs.
Look for RONA's build-it-yourself backyard storage projects, such as: a shed, service cart, or outdoor kitchen island.

Decorative storage boxes may be made with new wood or recycled storage crates and other salvaged items.

Elongated deck benches with storage inside or below the seating can be built using materials that match the deck or patio. Customized deck benches may also make more of your outdoor space.

Select shelving materials such as wood, salvaged pails, and galvanized metal that withstand extreme weather conditions.

A wood garden cubby shelving unit is useful for storing a variety of tools and materials such as plant supplies and seeds. Tilted shelving allows water to drain out backwards through the shelving system.

Put up decorative shelves designed for specific tools or items

Creative shelving units can be designed to double as decorative items on the patio, deck, or in the garden. Consider brightly colored exterior paints. Decorative shelving can also be used as a wall to divide social gathering areas.
Helpful Information
Related projects and Guides
© RONA 2021, All Rights Reserved