Print
Outdoor lighting
Think about lighting the home's beautiful features and its elegant landscape in terms of nightscaping; how are the home and landscaping seen at night. Outdoor light fixtures are selected based upon the type of fixture, their intended locations, and the elements they illuminate. Coordinate the lighting with the landscaping plan for enhanced aesthetics. Design the lighting to secure the property. Plan your nightscaping and then look for the fixtures to accomplish the vision. Fixtures come in a variety of shapes, finishes, and other accessories. Uplights, pathlights, wall lights, downlights, and subterranean fixtures all are designed to achieve different light effects.
Choose the right type of outdoor lighting for your needs
UNDERSTAND YOUR NEEDS
What areas of the home should be lit at night?

Are there areas around the home that need light for safety and security reasons?

When and how do we envision the light fixtures turning on and off?

Do we need professional help or can the design be accomplished as a DIY project?

In addition to creating a nightscape plan, is there a need to create a new landscape plan or to revitalize the current design?
Show All Steps
Close All Steps
The exterior design of the home and its surrounding landscape often includes a design for a nightscape plan. With such, the home with an outdoor lighting system stands out amongst the rest during the evening hours. The outdoor lighting illuminates the home's most beautiful features as well as the landscape's signature foliage pieces. When lit at night, the home is both more inviting and more secure.
With so many different fixture options from which to choose, each fixture should be selected specifically for the element it is intended to light. In addition to selecting the type of fixture, there are accessories, lamp types, and even fixture styles from which to select. All of these decisions are focused on the element that the fixture illuminates. Below we have provided several different resources from which a homeowner can use as tools to begin to design the nightscape plan.
| Fixture Category | Description | Recommended design location | Strength of light | Tips |
| --- | --- | --- | --- | --- |
| | *Can be bullet, flood, or wash type lighting effects. The fixture is located on the ground on a rotating stand or flush-mounted to the ground surface. | Can light the corners of the home and main architectural features. A soft uplight fixture placed 8" - 12" from a stucco wall will make an elliptical scallop pattern on the wall. Also appropriate for trees, shrubs, and other large foliage. | Soft or super soft | Do not install near ground cover plants as they will overtake the fixture. Some fixtures have broader angles to cover larger structures and spaces. |
| | Small fixtures that direct light downward to light pathways. Sometimes referred to as "garden lights." | For narrow planters along pathways or in pots. | Strong light in a small fixture or a gentle light. Low-lying plants appear to dance in the moonlight. | A pathlight could also be purchased in a bollard type fixture. No matter the manufacturer or level of durability, these fixtures cannot withstand mowers, fertilizers, and excessive irrigation. |
| | An under-the-cap masonry fixture that illuminates the wall's texture and can serve to light pathways and stairs. | Surface-mounted to a wall or within the wall. | Strong; search for fixtures that are appropriate for stairways so the glare is minimized. | These are durable fixtures that come with PVC protective housing for in-wall installations. Some manufacturers provide covers that are designed to be plume adjustable in case the fixture is installed crooked within the wall. |
| | Lights that are either mounted in a tree or high on a structure. The fixture is attached to a wooden structure such as a trellis or a tree. It can be either like an interior "track light" or a moonlighting effect. | Walkways, stairways, decks, lawns, pathways, or a tree's own foliage. Task lighting fixture could be installed between the beams of a trellis system for a BBQ area or an overall moonlighting affect if the fixture hangs from a tree. | Strong or soft | The fixture can be attached to a tree with a clip or a hook rather than a permanent screw. Smaller lights can hang as close as 24" from the ground. If installed in an arbor, the mounting hardware is hidden. Choosing durable lamps is highly recommended to limit the need for frequent maintenance. |
| | Also known as a "well light;" the fixture is buried in the ground within a PVC protective sleeve. | Light is projected upwards onto plant foliage, at the base of a wall, or behind a potted plant. Use sparingly and only within turf areas. | Strong or soft | The fixture is installed within a protective PVC sleeve in gardens, planters, or gravel locations. Do not install near ground cover as plants will overtake the fixture. These fixtures present the greatest amount of long term maintenance requirements. |
| | There are a variety of other specialty lights available. One such variation are the flooring lights that can be recessed into the surface of a deck or stairs. | These lights illuminate the walkways primarily, but can also provide ambient lighting for entertainment. | Soft | If installed on a walking surface, keep them on the edges and out of heavy traffic areas. |
*Definitions for types of uplight fixtures.
Bullet: Strong, narrow beams that project directly onto house features, tree trunks, and garden structures.
Wash: A soft, diffused light that is ideal for brightening flat facades, privacy fences, and garden walls.
Flood: Light that casts a wider beam than bullet fixtures, but is brighter than wash lights. These fixtures are recommended to be used sparingly.
In addition to selecting fixtures and lamps, there are accessories available such as color filters and baffles to further customize the lighting source.
Baffles alter the intensity of the light beam. Additionally, baffles provide fire protection by preventing debris from resting directly onto the lamp.
Other lamp accessories include: integrated frosted lens, parabolic reflectors that maximize lighting efficiency, tempered glass diffusers that soften the light, frosted lens, and diffuser cones.
Light splice kits consist of a gel, baggie, and clench tie. This type of kit is used to connect the supply cable to the fixture with a tight, waterproofed connection.
The fixture itself has accessories such as rings that alter the shape of the light. Silicone rings are useful in damp conditions because they create watertight enclosures. Some fixture mounts are adjustable so the light beam's projection can be customized.

Lamp types are selected based on their color, intensity, cost, and energy-efficiency. Lamps are selected based on the desired outcome or based on their location. For example, some lamps emit a soft light that would not be strong enough to light up the home's corner façade. Some lamp colors are selected to achieve certain specific effects such as a moonlight effect.
Lamp colors: green, blue, amber, warm, cool, and natural color rendition. Manufacturers will provide information about which lamp is appropriate for different application.
Multifaceted reflector light bulbs (MR), commonly referred to as halogen bulbs, cast a strong light beam. MR bulbs are energy efficient, but not quite as efficient as LEDs. There are some outdoor lighting effects that rely on the strength of an MR bulb.
Light emitting diodes (LED) bulbs are the most energy efficient option.

LEDs cost more than most bulbs, but they last up to 40,000 hours or approximately 20 years of regular use compared to halogen bulbs.
Likewise LEDs use 1 to 11 watts of power versus 20 to 60 watts for halogens.
They require smaller transformers and cables, which reduces installation costs.
Considering all costs associated with using LEDs versus halogens, a 50-percent savings is expected within 15 years.
Still, LED technology has not quite progressed enough yet to provide a wide range of colors and light intensity.

Other lamp types may be selected based upon specific needs such as intensity, color rendition, and longevity.

A fixture's finish depends on the homeowner's preference. For example, perhaps it is desirable to think of the fixtures as small ornaments amongst the foliage to be enjoyed during the day as well as at night. Or perhaps, the fixture is designed to blend into its surroundings. Even yet, some materials are specifically designed to protect fixtures in extreme moisture and heavy foot traffic locations.
Example finishes include:
Black
Bronze
Brass
Speckled metal
Copper (Pairs well with redwood.)
Stainless steel
Iron
Nickel
Granite-replica
Powdercoated aluminum alloy (Pairs well with painted wood structures.)

The style of the home should guide the homeowner towards selecting the style of the outdoor lighting fixture. Some home styles are not entirely distinct. If this the case, then think about choosing a fixture style that complements the landscape. Some fixtures, such as those with sleek lines and stainless steel material, are designed for the modern home and its typical features such as stainless steel railings. Other fixtures are similarly designed to be as neutral as possible. When in doubt, select the neutral style and allow the landscaping and the light itself to be the main design feature of the outdoor lighting system.
Modern
Country / Traditional
Flashy
Camouflaged
Angular
Circular

Selecting fixtures based on home or landscape features.
When designing the outdoor lighting system based on the features on the home and within the landscape, perhaps our tips related to commonly lit features below will become helpful. There are many different ways to approach an outdoor lighting system's design. Some homeowners may think of the feature and then look for the best fixtures for that particular feature. Using a variety of different design approaches will help the homeowner to achieve their ultimate vision for the nightscape of the home.

| Feature | Type | Tips |
| --- | --- | --- |
| Tree | Subterranean, bullet uplight, flood uplight, downlight | When aiming light up into a tree, make sure to light the trunk. If lighting from above pointed downwards, select two 30-watt downlights and place them as high in the tree as possible. |
| Planting Beds | Pathlights | Place fixtures no closer than 20' apart. Light should be scattered enough so as to not produce a continuous stream of light. |
| Home Facade | Bullet uplight and wash uplight | Select bulbs that have 12-degree beam spreads. Aim the light at the corners of the home or at architectural details. Fill in with softer wash lights to fill in the space between the bullet fixtures. |
| Focal Points | Flood, bullet, wash uplights | Highlight a notable element by aiming two or more lights at it. Crossing beams reduces the harsh shadows that form when only one shines on an object. |
| Garden | Pathlights | Canopies on top of 18"- to 24"posts can be used to highlight planters and pathways. |
There are many different types of switching options available. Each switch type is related to the design intent. For example, a fixture used for security might have a photocell or a timer so that it comes on without relying on the user to remember each evening. The types of switches vary with levels of complexity as well. The most simplistic is the manual on/off switch as opposed to the smart home switching feature that is controlled with the use of a computer online system.
| Switching Options | Best Use | Considerations |
| --- | --- | --- |
| Manual | Select for areas that are used occasionally such as: dining, sports, and recreation. Can be combined with an automatic off with the daytime control. | The occupant must remember to turn the switch off. |
| Photocell/Timer | This combination is used for general landscape lighting applications. It is easy to set, easy to use, and inexpensive. | The timer must be reset after a power outage. One combination switch can control several transformers together. |
| Manual Override | This switch is used to turn the transformer on or off. | Typically, a "3-way" switch is used for this option. |
| Photocell | Use in areas to provide a security buffer. These are dependable and inexpensive. | Use one photocell per multiple transformer zones. This switch can potentially cause excessive electrical usage. |
| Smart Home | This system is all controlled together and can be accessed online. This system provides superior security control. | It can be quite expensive and is likely installed professionally. A computer board is installed, so a static discharge could create extensive damage. |
| Timer | The most straightforward low-tech way to control lights. | The timer must be adjusted regularly because dusk and dawn times continue to change throughout the year. Use one timer per multiple transformer zones. The timers usually work on 15 minute intervals. |
| Dimmers for low voltage systems | The dimmer is installed on the 120 volt side of the transformer. | Timers and photocells cannot be dimmed. This can be a tricky application so professional advice is likely needed. |
| Motion Detector | Use this system on security lights and in areas where guests are not typically invited. A timer can be combined as well so that it will not function until after midnight. | Could cause light pollution issues if not properly installed in the right areas. |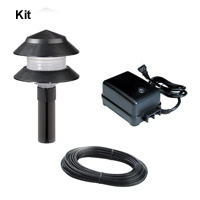 Selecting fixtures for using light as a safety mechanism is an important aspect of a nightscape plan.
Make an effort to keep lighting within the property and to be sensitive to light pollution sustainability issues.
Fixtures need to be kept free and clear of leaves and debris. Replace the bulbs quickly so that the others in the chain do not extinguish too quickly.
Warranties are typically set from 1 to 10 years. However, brass, copper, and stainless steel materials should shine for as long as the design satisfies the homeowner.
Homeowners can accomplish the work in a weekend.
Elaborate systems may need the help of a professional. Search for a professional via the Association of Outdoor Lighting Professionals that is serves both the U.S. and Canada.
Fixtures often come in a kit including the transformer. Sometimes, however, the transformer is purchased separately.
Helpful Information
Related projects and Guides
© RONA 2021, All Rights Reserved