Print
Medicine cabinets
A stylish new medicine cabinet is a great alternative to a decorative mirror over the bathroom sink. Select a unit that is right-sized and coordinates with the new or existing plumbing fixtures, floor tile, and other accessories. Perhaps the existing medicine cabinet shows signs of wear and tear, needs to be upsized, or could add to the bathroom's functionality. A medicine cabinet can be either wall-mounted or recessed depending on ease of installation, the mounting wall's construction, and the homeowner's preferences. Medicine cabinets add interest and convenient storage space to the bathroom.
Choose the right medicine cabinet for your needs
UNDERSTAND YOUR NEEDS
Does the wall construction lend more to a wall-mounted or a recessed medicine cabinet?

How much storage is needed?

What features are desirable such as mirrors and shelving?

Which is more desirable; a longer-lasting model or one that is more economical?

Are there supplemental features that would be beneficial such as integrated outlets and lighting?
Show All Steps
Close All Steps
Most medicine cabinets are purchased in the store and come pre-assembled. While installation can be a DIY project, occasionally a professional may be needed if there are electrical and plumbing systems that need to be diverted if they are in the way of where the recessed medicine cabinet will be installed.
Some homeowners choose to design and build their own medicine cabinet so that it perfectly suits the users' needs. DIY medicine cabinets can also be sized to fit a specific space. Also an economical option, our website has a sample construction plan available.
While most medicine cabinets can either be wall-mounted or recessed, a few models are versatile such that they can be either wall-mounted or recessed.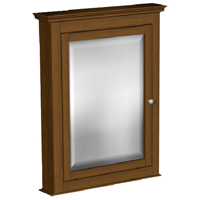 Wall-mounted medicine cabinet
Wall-mounted medicine cabinets extend 4" to 8" outward from the wall. The installation is simple. In addition to a door and shelving within the cabinet, the wall-mounted model can also easily have shelving integrated to the sides of the cabinet.


Recessed medicine cabinet
Recessed medicine cabinets fit within the interior wall. Installation is dependent upon the construction of the wall. The size of the medicine cabinet may be dictated by the studs spacing within. Recessed medicine cabinets often have deeper shelving options and optimal space.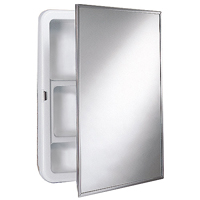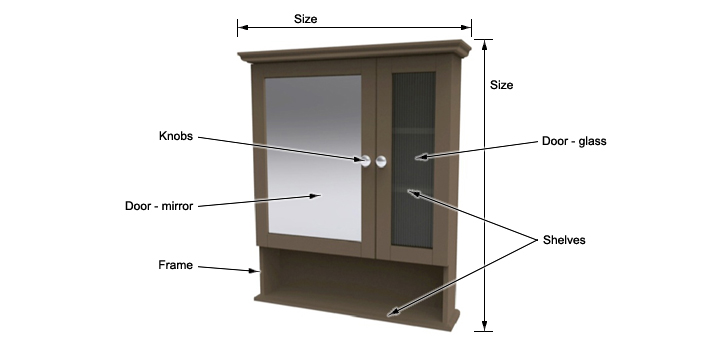 Sizes
The size of a medicine cabinet varies greatly depending on the space and needs. Medicine cabinets range in sizes and generally fall between 14"W x 22"H and 80"W x 40"H.
Determine the right size:
Analyze the storage needs;

Check the wall's construction and the bathrooms sizing;

Consider the size of the medicine cabinet in relation to the sink and/or vanity so that the medicine cabinet doesn't detract attention away from the overall bathroom design.

Since storage spaces tend to fill quickly, consider selecting the largest size cabinet that is both affordable and right-sized for the space.

Consider the sizing of the mirror and whether or not it would be beneficial for it to illuminate the face only or a larger area for grooming needs.
Materials
Plastic such as melamine, PVC, and thermoplastic films are often shrink-wrapped over MDF or wood frames. The colors can vary from white, black, bright colors, to faux wood prints. Plastic is easy to clean and economical. The longevity may be compromised because plastics dry overtime and could become cracked.

Wood is a stable material that can last a long time especially exposed to moisture and even water droplets. Wood is a warm, inviting material that has incredible strength and easy maintenance. Several different wood colors and wood grains are available to match any bathroom's decor. Select a model that has a lacquered finish if durability is a priority.

Metal, often steel, requires very little maintenance and is incredibly durable. Not exactly a warm-feeling material, metal invokes a more modern and contemporary style. Metals tend to corrode after prolonged exposure to humidity. If needed, maintain metal and steel surfaces with a corrosive-inhibiting paint.
Shelves
Most medicine cabinet shelves have one or more adjustable shelves. Occasionally, a cabinet will have a combination of one permanent and multiple other adjustable shelves. Shelves are composed of wood, plastic, steel, or glass. Shelving can be molded plastic as well rather than simple, straight shelves. One model has a molded plastic shelving frame that includes round spaces to store extra rolls of toilet paper.
Doors
While medicine cabinet doors are typically mirrors, they can also be solid, frosted glass, or clear glass. When shopping for the right model, take note of which side of the cabinet the door swings. Some models are designed such that the door can be attached on the right or on the left side of the cabinet.
Recent door innovations include a "soft close" or a "spring touch" feature. When pressed gently, the door springs open easily. This new option avoids the need for a knob or handle located on the door. Some models have concealed hinges for a streamlined appearance. A modern, European-inspired design may include a sliding mirror door.
Most medicine cabinets have either a framed or unframed mirror door. A beveled edge lends more to a traditional style, though can be subjected to nicks when exposed to some wear and tear. Solid, non-beveled edges, lend to a more contemporary style and longevity. Occasionally, a mirror will also be located within the cabinet on the back panel of the frame. Extra features may include an automatic mirror defogger or one that magnifies. If the unit has 3 doors, they can be used to view the back of the body for improved grooming. The mirror door may be rectangle, oval, have chamfered edges, and beveled edges.

Glass doors and shelving can be clear, frosted, or decorative with etchings. Though fragile, glass has excellent durability and ease of maintenance qualities.
Hardware
Differences in hardware types, finishes, and durability are available to suit different homeowner's preferences.
Durable hinges typically have five knuckles and three screws. Mortised hinges allow for a tight door fit. Hinges may need to be oiled occasionally to counteract the effects of having moving parts grind after prolonged exposure to humidity.

If the door has a latch, it could have a rounded shape designed for a comfortable hand touch. Some latches are drop forged for superior durability.

Knobs and door handles are also designed either for a soft, rounded touch or as long, slender contemporary versions. The style of the knob or handles varies. Metals such as brass and chrome with brushed or shiny finishes are available.

Depending on the types of contents stored in the medicine cabinet and whether or not children are in the home, purchasing a medicine cabinet with a lock may be a favorable option. Typically, a keyed lock is located on the side of the cabinet, out of reach of the children's reach.
Weight
The weight of the medicine cabinet can make a huge difference when installing the unit. Heavier units tend to be more durable, while lighter units are the right option for a quick, easy renovation project. Lighter units are more economical. Seek professional help if unsure about how to hang a heavy unit securely. The installation and hanging hardware is not always completely included with the pre-assembled packages.

Wall-mounted medicine cabinets are fairly simple to install. While mounting hardware may be included, often the homeowner needs to select the appropriate type of hardware for the wall's construction type. Take care to also purchase mounting hardware that is suitable to the unit's weight.
Recessed medicine cabinets may present some tricky construction issues if there are any wires or pipes within the wall cavity in the same location as the installation point for the cabinet. If needed, consult a building professional for help when relocating plumbing and electrical systems. As with the wall-mounted unit, purchase mounting hardware suitable for the wall construction and the unit's weight.

The frame of the cabinet itself may be composed of a variety of materials, sizes, and styles. Medicine cabinets have one to three doors with each door either the same size or varying sizes within one unit. Some unique units include a corner cabinet and his and hers side-by-side cabinets. Perhaps the most outstanding cabinet is one that has a refrigerated compartment for medicines and cosmetics that benefit from constant chilling.
Frameless cabinets consist of the door as a mirror that swings open. Regardless of the configuration and numbers of doors, some cabinets have incorporated shelving and drawers flanking the frame. Occasionally, higher-end cabinets also have integrated outlets and lighting fixtures combined with the cabinet itself.
General style types are as follows: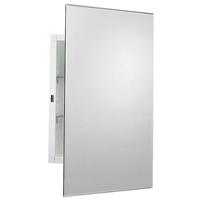 No-nonsense: A no-nonsense medicine cabinet is provides for the basic needs and is economical. These cabinets will likely have only one mirror and could be either wall-mounted or recessed. Edge-less mirror doors preclude the need for a frame or handles.

Traditional, classic: Medicine cabinets with a traditional or classic style will often have framed mirror doors made with painted white, black, or a type of natural wood. Picture frame doors, oval-shape doors, an arched-top door are common features. Some traditional cabinets may have crown molding on top or bead board lining the cabinet's frame and backboard.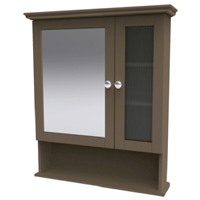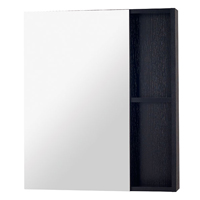 Contemporary: Medicine cabinets with a contemporary style rely on simple designs so that there is not much elaborate decoration. The choice of material makes contemporary cabinets stand out with sleek metals and refined wood grains such as beech and maple. The mirror may be a picture frame or frameless.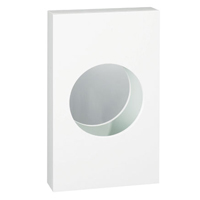 Modern, European: A medicine cabinet with a modern, European-influenced style soon becomes the focal point of the bathroom. Nearly like artwork on the wall, these cabinets have unusual features such as a sliding glass door or a door that has a perfectly round circle in the middle. These are fun cabinets that can upgrade the style content in the bathroom.
Consider purchasing a new light vanity fixture at the same time as the medicine cabinet purchase so they are coordinated. Some medicine cabinets have companion light fixtures.

There are medicine cabinets available for handicap accessible bathrooms where the viewing area reaches lower and opening the cabinet is accessible.

Select the cabinet's wood color so that it coordinates with other wood in the bathroom.

Reuse the old medicine cabinet in another part of the home. The older unit can become part of the home's key and mail storage system. The old medicine cabinet's door can be painted with chalkboard paint to serve as a message board.
Helpful Information
Related projects and Guides
© RONA 2021, All Rights Reserved