Print
Kitchen faucets
The humble faucet has evolved from a common necessity into one of the most prominent design features of modern kitchens. From the most basic, inexpensive models to the most sophisticated and stylish, the options in kitchen faucets have grown tremendously in recent years.

One of the most popular styles is the single-handle faucet, with or without a pull-out spray, which can be installed on the kitchen countertop or island. This guide presents the main characteristics of kitchen faucets and the important aspects to consider when making a decision on which model to purchase for your new or renovated kitchen.
Choose the right kitchen faucet for your needs
Your kitchen transformation starts with a good plan. Download our planning guide and leave nothing to chance.
UNDERSTAND YOUR NEEDS
Are you buying a faucet for a brand new kitchen or replacing one in an existing kitchen?

If you are replacing a faucet, make sure the new faucet is compatible with the existing mounting holes.

Where will the faucet be mounted? On the sink or on the countertop?

Who will mostly be using the faucet – elderly people, people with reduced mobility, children?
Show All Steps
Close All Steps
Faucets are valves that deliver water to a sink, basin or tub. Kitchen faucets mix hot and cold water in one of two ways.

Single-handle (also called single-lever or single-control) faucets have garnered a large share of the market over the years. Water flow and water temperature are controlled by moving the single lever up and down, or to the left and right, respectively. This type of faucet is ideal for anyone with reduced grip or physical disabilities, since the water volume and temperature can be controlled easily with one hand.

Two-handle faucets have two separate handles – one for hot water and one for cold water – and a common spout. Water flow and temperature are controlled by turning both handles, which allows for accurate adjustment.

The valve mechanism inside the faucet controls the hot and cold water flow. This mechanism can take the form of a compression washer, a washerless cartridge (reliable and easy to maintain), or ceramic discs (requiring virtually no maintenance).
The style of the kitchen sink, countertop, island or work surface will all influence your choice of faucet. Some materials, such as granite, are difficult to drill holes in, which means if you are updating your kitchen you will probably need to use the existing mounting holes.

Faucets come in three styles for mounting: single-hole, centre-set and widespread.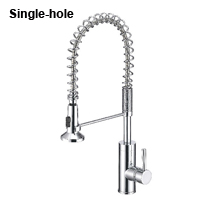 Single-hole
As their name suggests, single-hole faucets require just one hole for mounting on a sink or counter. They have a spout and usually one handle (but sometimes two) on a single base.






Centre-set
Centre-set faucets have a base plate that supports the handle or handles as well as the spout. Centre-set, single-lever faucets require just one mounting hole, whereas two-handle models require two holes with a spread of 8". These faucets can be either deck mounted or wall mounted.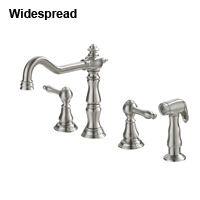 Widespread
Available in both contemporary and traditional styles, this type of faucet is becoming increasingly popular. On a widespread faucet set, the hot and cold water handles and the spout are each installed separately, which requires at least three mounting holes. Models with a side spray will require four holes. The centrespread generally varies from 8" to 20", although some models, called "mini-widespread", have a smaller, 4" spread. Slightly more expensive than centre-set faucets, widespread faucets offer more flexibility in terms of mounting options.

Handle
The handle allows you to adjust the water temperature and the flow rate. When choosing a faucet, it's important to consider the ergonomics of the handle, or how it feels in your grip. There are three types of faucet handles:
Lever: found on both single-handle and two-handle faucets, levers are a popular option because they are so easy to use. Simply move the lever up, down, backwards or forwards, depending on the model. Lever handles are especially useful for people with a weak grip or who suffer from arthritis.
Cross: whether made in a contemporary or traditional style, cross handles are enduringly popular. This style is found only on two-handle faucets.
Round: round or oval-shaped handles are the classic handle style. They are found on both single-lever and two-handle faucets.


















Spout
The most prominent part of the faucet, the spout is either cast onto a part of the faucet body or an integral part of the whole faucet body (which makes it easier to clean). To work effectively, the spout should reach over the bowl so that water is directed into the centre of the sink. Spouts can be up to 14" long and can swivel up to 1800. Shape, height and swivel action are all important features to consider when buying a faucet.
Spout shapes are often described as "high-arc" or "low-arc". The most common shapes are those in the form of a U, L or C. Spouts with a U or L profile are usually higher than C-shaped spouts, which slope more gently over the sink. An elongated spout is recommended for large or double sinks.
A high-arc spout makes cleaning easier and is very useful for filling tall pots and pans. Since water tends to splash more with a high-arc spout, a relatively deep sink is needed. A low-arc spout is ideal under a window, on a small sink, or if it is not intended to stand out.
The swivel action of a spout allows the water jet to reach more areas of the sink, and in a double-bowl sink, makes rinsing easier.

Sprayer or pull-out spray head
The sprayer is a flexible hose that extends when pulled and retracts with the help of a counterweight installed under the counter. A sprayer allows you to reach all areas of the sink and facilitates certain tasks such as filling large pans. Some sprayers have a trigger button and multi-directional jets, a practical feature for washing vegetables and rinsing dishes.

Some faucet sets come with a side spray, either in the same material and finish as the faucet, or made of plastic, which is lighter and does not conduct heat. Installing a side spray requires a separate mounting hole. An increasing number of faucets are now made with a pull-out (or pull-down) spray head at the end of the spout, usually made of the same material as the faucet and providing excellent water pressure. Spray hoses can be as long as 54".

Aerator
An aerator, also called a flow restrictor, can be added to a faucet. This is a device attached to the tip of the spout which reduces the flow of water by mixing it with air, but at the same time maintains steady water pressure. On average, a standard faucet uses 8.2 litres of water per minute. The same faucet equipped with an aerator delivers 5 litres per minute. To decide what type of aerator to install, you will need to unscrew the end of the spout. If the threads are located on the outside of the spout, you need a female aerator; if they are on the inside, you need a male aerator. Note that an aerator cannot be fitted to a sprayer.

Body
The body or base holds the faucet on the sink or countertop. Most kitchen sinks on the market come with pre-drilled holes ready to mount the faucets. However, sinks made of solid-surface materials and undermount sinks will not have holes, leaving you the choice of where to locate the faucet or faucets.

Single-control or single-lever faucets generally have one point of support, requiring a single mounting hole, whereas two-handle faucets require two or three holes. Faucet holes are always spaced at 8" centre and have a 1½" diameter. Sinks can have up to four holes for a faucet set. When replacing existing faucets, check the number of holes on the sink or counter, as well as the centrespread.

Valve
The water circulates through an internal valve device, which controls the volume of water. This three-way mechanism regulates the amount of incoming hot and cold water and the flow of blended water through the faucet. The four types of valve mechanisms available are: compression (washer), ball (washerless), cartridge (washerless), and ceramic disc cartridge (washerless). While each system has its advantages, the most popular is the ceramic disc cartridge, which is not only extremely durable but also very easy to replace if necessary.

Finishes
Faucets are made of solid brass or a zinc and brass alloy. Solid brass is durable and corrosion-resistant; however, a solid brass faucet may be more expensive than an alloy equivalent. Zinc alloy is relatively durable, but the faucet must be replaced when the plating wears off.
A kitchen faucet should be chosen to match the style of the sink and surrounding appliances. While finishes vary from one manufacturer to another, the following finishes are the most common:
Chrome: An enduring classic; one of the most durable finishes there is. Polished chrome is shiny and adds sparkle to the room. However, it does show water spots more easily than other finishes.
Stainless steel: The most popular finish; known for its antimicrobial properties. A brushed stainless finish will not show finger marks or water spots. It may, however, be prone to scratches.
Brass: Brushed or polished, brass is appreciated for its durability.
White: Neutral finish; clean look.
Bronze and gold: Antique, Brushed, Oil-Rubbed or Mediterranean – a bronze or gold finish evokes the opulence of these precious metals.
Nickel: This popular silvery white metal pairs well with stainless steel. Brushed nickel has a soft, warm feel, while polished nickel is shinier and looks similar to chrome.









Other features to consider
Some models of faucets are equipped with motion sensors. Commonly used in public washrooms, these faucets are becoming increasingly popular on the residential market, especially in homes with children or people with reduced mobility.

Temperature limit feature
This safety feature, which sets a maximum temperature limit, is well worth considering. An anti-scald ring limits the hot water flow, which not only reduces the risk of scalding but also helps keep household energy costs down.
Installing a kitchen faucet is relatively simple and requires only a few tools. The faucet is generally mounted on the back of the sink or on the countertop. If it is mounted on the sink, choose the faucet and sink together so you are sure to have the right number of holes. If it is installed on a hard-surface counter, such as granite or marble, you will need to choose the faucet and sink before ordering the counter, so that the holes can be drilled in the right places. Remember: the more holes required, the more costly the drilling. The spout should be centred over the sink bowl. If the sink has more than one bowl, position the spout over the divider between them.
When upgrading a kitchen, it is easier and less time-consuming to install the same type of faucet as the one being replaced. In other words, choose a faucet with the same number of holes and the same centrespread as you already have – likely to be 8".
Check that the existing plumbing connections are compatible with the new faucet. If they are not, you will need to change the connections or install adapters.
If there are no shut-off valves, now is the ideal time to install them.
Make sure that the existing pipes are in good condition. If not, it may be wise to replace them. Flexible (braided) hoses are more practical than rigid pipes.
Cover the sink drain hole to prevent screws or small parts from falling in.
Faucets are generally deck-mounted on the sink or the counter. The plumbing lines are connected beneath the sink.

Once the rough plumbing (water supply and drainage pipes) are in place, it is relatively easy to install a kitchen faucet.
The main installation steps are as follows:
Turn off the water supply by closing the shut-off valves under the sink.
Clean the surface where the faucet will be installed.
Install the faucet using a sealant to help it adhere properly to its support (sink or countertop).
Connect the pipes.

To install a faucet you will need an adjustable wrench, an Allen key or Phillips screwdriver, sealant, polytetrafluoroethylene (PTFE) tape, and a damp cloth.
Faucet maintenance can be summed up as follows:
Clean the outside of the faucet regularly.
Replace gaskets or O-rings if they become worn.
Clean or replace the cartridge inside the faucet if necessary.
Most types of gaskets and cartridges can be found in stores, but if you are unable to find the part you are looking for, the faucet manufacturer should be able to supply it.

Replacing gaskets and cartridges is a simple process that can be carried out with ordinary household tools. The screws to dismantle a faucet are easily accessible; they are usually concealed under a decorative plate or behind the handle cover.
© RONA 2023, All Rights Reserved