Print
Finish the basement – planning and design
Difficulty:

Close

Difficulty

Beginner Do-It-Yourselfer - Easy

Intermediate Do-It-Yourselfer - Moderate

Experienced Do-It-Yourselfer - Difficult
Not so long ago the basement was ignored – it was where we deposited the things we didn't know what to do with, and where odd pieces of furniture accumulated over time. The idea of a basement being a functional room was never considered.

Today, it's a different story – basements have become part of our living space in their own right. As much thought goes into their decoration as in other parts of the house; they offer extra storage space and can be turned into useful, pleasant rooms, often designed with a special purpose in mind, where all the family can get together.
What's more, finishing the basement is a good investment. It'll add to the value of your home as well as giving you many more square feet of living space.

LAYOUT AND PLANNING
As you draw up the plan for the basement and designate specific areas, stick to the goal of creating a warm, welcoming space and make every square foot count. If the basement looks inviting as you walk down the stairs, you'll want to go there often. Comfortable furniture, pleasing colours, decorative accents on the walls and on shelving, and a warming fireplace are the hallmarks of a pleasant, welcoming room. Certain decisions have to be made at this point to ensure you fulfill your family's needs according to everyone's respective activities.
The current trend is towards "hiving", a new lifestyle characterized, among other things, by a desire to keep in contact with others and also with the world at large, within the comfort of home. Room divisions disappear to allow the occupants to go about their business while living in a communal space. Rooms therefore become multi-functional: for example, home theatres can now be situated near laundry rooms thanks to the new high-performance, ultra quiet washing machines.
Basements often have structural constraints that you'll have to incorporate or find a way around. There are probably low ceilings or smaller windows, temperatures can be a few degrees lower, pipes or technical equipment may be visible. You need to be aware of these constraints before starting work. Make use of arches and columns: they create psychological divisions, marking out specific areas and enhancing the style of decor.
An additional concern for basement layouts is the space. Is your basement one big empty room? Does it have smaller dividing room? Do I want it to be one big room, or is it better with smaller spaces for different functions? Would it be easy to add a bathroom or half bath? These are the types of questions you need to ask yourself before you begin.
Space is often limited, and they can also be dark, so think big – go for open spaces. This lets natural light filter into the whole area creating an impression of spaciousness. If the rooms are designed for activities that require quiet and concentration – home offices or libraries, for example – then you could opt for doors that let the light through, such as sliding doors or French-style doors inset with frosted or plain glass. These offer a good compromise between needing to be closed off but being able to enjoy better light. After all, no one ever said studying and working had to be gloomy!
If, for example, you find there is any dampness, you must take steps to eliminate it by means of good aeration and heating. There's no escaping the fact that it must be dealt with sooner or later; it would be a great pity to take major corrective measures once your renovations are complete and to end up having to redo part of the work. Be in charge of your project every step of the way rather than working by trial and error.
It's also at the planning stage that you should be thinking about extra storage and about how you could fit out the basement to best organize the space. Later on, you'll congratulate yourself for having done this beforehand.
The layout for the basement has potential to be many different kinds of rooms, depending on each family's needs—both now and in the future. Though its often tempting to design a space for the here and now, you would be foolish to not consider the future. For instance, a playroom may be necessary at your particular stage of life, but design it in such a way that it can easily be transformed into, say a movie room, a few shorts years down the road.
Here is a list of potential basement ideas to get you started, but remember that the possibilities are endless. Create a basement to meet your needs.
ROOM IDEAS
Extra (or kid's) TV room: Sometimes it is nice to have TV that the kids can control, playing their favorite shows and using it for video games. Not only will the noise level decrease in the rest of the home, but it gives older kids a space they feel like is their own—to relax, entertain friends and just hang out.
Movie theater: Does your family spend a lot of time together watching movies? A basement is a perfect space to outfit with the latest technology—surround sound, subwoofers, and even those comfy reclining movie theater chairs. Go all out and you'll never actually have to go out for a movie again! (Just think of all the money you'll be saving!)
To create a home theatre, bear in mind that you must allow sufficient distance between the armchairs and the screen. Lighting is less important here, but comfortable seating is essential. Remember also that you will need to hide the unsightly cables of your various pieces of equipment, and you may also want to consider soundproofing the room.
Guest suite: Do you entertain guests often? Though a guest room is sufficient, a private guest suite in the basement is extraordinary. Your guests will enjoy having their own space to retreat to without feeling like they are in the middle of a busy household. Outfit the space with a luxurious bath, and on a dark, snowy night with no guests, you can sneak down for a bubble bath yourself!
Home gym: Would you benefit (and regularly use!) a home gym or exercise room? It would be convenient to have exercise equipment right downstairs, but realize there are no excuses for not getting to the gym then! You'll need enough room for a cardio machine, a few dumbbells, an exercise mat and few other items. Adorn the walls with full-length mirrors and you'll forget you aren't at the local gym!
Ensure you have enough space to be able to move about freely without risk of injury. You should be able to stretch without touching the ceiling. Proper ventilation is also essential. Finally, you will probably enjoy watching TV while exercising, in which case you should plan for a wall-mounted TV support as well as the necessary electrical outlets for the audio-visual equipment you will be using.
Ceiling height is one of the most important considerations if you're planning a gym in your basement: you've got to be able to stretch without hitting the ceiling. Pot lights are essential; a fan or opening window is necessary for ventilation. Wiring for a TV and cushioned flooring are advised. The floor space must be large enough for equipment and sufficiently open for you to sprawl out.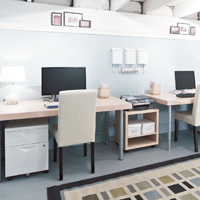 Office: Do you work from home or simply need a place to pay the bills, surf the Internet and file household paperwork? The basement is a great place to set up an office—out of sight from the rest of the house, so you won't even have to keep your desk clean if you don't want to.
The basement is the ideal location for a home office, since it is away from the comings and goings in the rest of the house. You will need an efficient and ample storage system, probably consisting of shelves, drawers and a filing cabinet. The work surface should be large enough to allow you to spread out your papers and work at the computer with ease. A comfortable, ergonomic chair with good back support is a big asset – working more comfortably improves your productivity. If you are self-employed and receive visits from clients, make sure they too have a space to sit in your office. Your professional image only stands to benefit!
Game room: Perhaps your family could benefit from a game room to occupy kids (and adults!) during those seemingly never-ending winter months. Complete the room with a pool table, fuse ball, card table and more.
Craft room: Do you enjoy crafting, sewing or something similar? Set up shop (and don't have to tear it down each night!) with all of the essentials. You'll finally have the space you need to get and stay organized.
Playroom: If you have small kids in the house, chances are you feel like you are constantly picking up toys. Why not turn a portion of the basement into a playroom that can be left untidy at times? Ensure the room is safe so you won't have to worry what the little ones are getting in to. Dress it up with murals, chalkboards, whimsical items and maybe even a small slide. You children will have the space to get some energy out—even when the weather doesn't allow for outside play.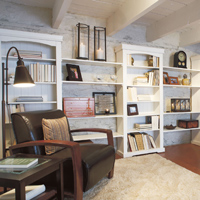 Library: What is cozier than a library in a basement? A few bookshelves coupled with comfortable leather recliners and you'll be sneaking off to the library every chance you get.
In a reading room, proper lighting is paramount. It should be of good quality and sufficient to let you to read there at any time of day. The shelving should also be carefully planned. For maximum effect, you could install floor-to-ceiling bookshelves on practically every wall, remembering to choose adjustable shelves that can hold all your books, big or small. You will look forward all the more to spending time in this room if you are comfortable there – it would be wonderful to have a cozy armchair with a large, soft throw, for instance.
Wine cellar: Wine cellars are becoming more and more popular. For the ultimate look, arrange wooden cases obtained from your wine merchant, an empty barrel to use as a wine-tasting counter, wooden signs for decoration, and – why not – a pair of wrought-iron gates, calling to mind the most prestigious European vineyards.
Remember that good aeration, well-controlled humidity levels and subdued lighting are all essential for aging wine successfully.
Workshop: If you enjoy working on small projects, why not use the square footage of your basement to set up a warm workshop that allows you to construct all year long? A work bench, a set of tools, and other necessities will quickly turn a just-sitting-there-space into a functional workshop.
Organized storage room: The basement, when planned properly and designed well , can accommodate many storage needs. Take into account what you'll need to store, as well as available space, and construct a plan that will work for you.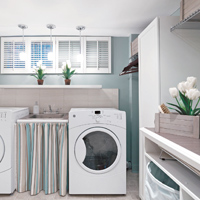 Laundry room: Finishing the basement is a great opportunity to acquire a proper, purpose-built laundry room for your own needs. Think about placing this next to the water heater and plumbing—it will save considerably on the plumber's bill. And if you feel like making life a little easier, you could think about installing a laundry chute from upstairs down into the basement.

Bar: If you often entertain adults, consider setting up a bar in the basement for you to retreat to.
You may decide to combine several functions in one room and create a multi-purpose space that can be converted when needed. For example, you could design a family room or office that can quickly be transformed into a guest bedroom, complete with a sofa-bed, under-bench storage, and cupboards to hang clothes.
The possibilities for a basement are really limitless—figure out what you'll use most often, and then make it happen!
FLOORING
The characteristics of your basement will not only influence architectural decisions but they are also a key element when it comes to choosing flooring. Factors such as increased humidity, cooler temperatures than in the rest of the house and more limited light all need to be taken into consideration.
It would be wise to build a sub-floor to cover the concrete. There are new, easy-to-install materials on the market that are specially designed to stop the damp rising from a concrete slab.
There is a wide choice of materials available for floor coverings:
Vinyl: Easy-care and available in a wide range of patterns, colours and textures, vinyl and linoleum both make good choices. Some are such excellent imitations of wood, tiles or stone that they look totally authentic, giving a rich feel to your basement. Vinyl lasts about seven years and is good for guest rooms, offices and playrooms. It can be laid directly onto concrete, but is difficult to remove when it comes time to replace it.
Linoleum: Very damp-resistant and fire-resistant, linoleum is available in a varied colour range. It is suitable for use in most rooms, including high-traffic areas, such as playrooms and family rooms.
Carpets and rugs: Warm and soft to the feet, carpet is a good option as long as no one in the house suffers from asthma or allergies. It shouldn't be used if there is high humidity. New 100% natural fibre carpets have recently come onto the market. They follow the environmental trend that is becoming increasingly popular in the interior design world, and they blend well with every decor. Among the favourites is sisal, a fibre that holds no static and has amazing soundproofing qualities. Carpets made from a mix of hemp, cornhusks and bamboo come in a wide variety of colours and, in addition, are smooth to the touch, durable, and water-resistant. They can even be hand painted. Any budding artists out there?
Hard wood: Timeless, chic and elegant, wood floors add to a home's value and the finished effect looks fabulous. If you decide to opt for hardwood have a look at the new exotic, eco-friendly woods like bamboo and bubinga.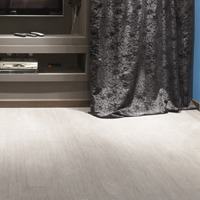 Laminate: Nothing can withstand wear and tear like laminate; it also gives warmth and has the same aesthetic appeal as real wood. It's easy to install – simply follow the manufacturer's instructions – and this makes it especially suited to basement use.
Ceramic: Versatile and low-maintenance, ceramic tiles can be laid in a variety of ways, allow for inserts to be artistically arranged, and come in a multitude of shades, textures and patterns. Because ceramic is colder to walk on, however, you might find it less comfortable; it may therefore be better suited to bathrooms, offices and laundry rooms.
The choice is really up to you, but if young kids will be playing in the basement, a washable vinyl tile floor with area carpets is probably wise. However, if the room will get adult use or if guests will sleep there, carpeting is nicest underfoot.

CEILING
There is an additional design element in basements that you don't often think of when designing other rooms of the home: ceilings.
Suspended ceilings have always improved the look of basements, making them look more finished. There are many kinds on the market. The advantage? You can carry out repairs and work on the plumbing or the electricity without demolishing part of the ceiling. Tiles generally come in a choice of two sizes: rectangular (24" × 48") or square (24" × 24")
If you think a suspended ceiling has too much of a "basement" feel, you could go for ceiling tiles. Although more expensive at the outset, this type of ceiling looks more aesthetic, more finished, and is just as versatile as suspended ceilings when you need to carry out small plumbing and electrical jobs. It can also be painted any colour you like, allowing you to personalize the decor even further.
But remember, whatever type of ceiling you choose, its height will be determined by the lowest point of any piping, wiring or other electrical installation.
FURNITURE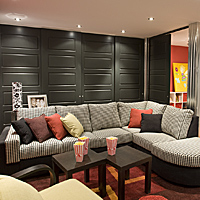 The function of the basement will dictate the furniture needs. However, here are several things to keep in mind.
Since you may be sharing the basement with occasional overnight guests, decorate with a pull-out sofa rather than a conventional one and arrange the furniture so that it can be easily accessed and put into use.
If you have a wall of shelving for the TV and other electronic equipment, build in some extra drawers or closed cabinets for guests to store their personal items in while visiting.
Provide somewhere for them to hang their clothes. Stools with storage inside or armoires that complement your decorative look are both attractive and useful for keeping guest bedding and towels.
Purchase furniture that can easily be adapted from room to room. For instance, a buffet used under a TV could eventually be used as a dresser if you ever decided to change the room into guest quarters.
Always opt for furniture pieces with storage—you can always use more places to store things!

LIGHTING
Lighting plays a major role in home decoration and can make all the difference between a room being functional versus it being really beautiful. It should therefore be considered a priority, especially in the basement, where light is often in shorter supply than in the rest of the house. Not only does well-adapted lighting make a room more functional and comfortable, but it also creates atmosphere.
Recessed ceiling lights are ideal as a general light source for the basement. Adding dimmer switches will enable you to adjust the intensity of light as you need it, altering the mood of the room. Swivel spotlights or a combination of different types of lights will give more versatility. Floor lamps or table lamps are great for reading or lighting a game table, while wall sconces will highlight interesting features as well as make the room feel cozier in the evening. A pendant lamp can hang from the ceiling above a permanently located table.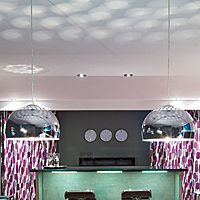 One trick to create more natural light is to use mirrors galore. They make a room look bigger and increase brightness; they also highlight interesting details and are wonderful decorative features in themselves.
As with any room in the home, the more lighting sources the better—this way you'll be well equipped for any situation that comes along.

STORAGE
The basement provides ample opportunity to install proper storage units for all of your storage needs. Here are just some of the ways a basement can be equipped to hold items.
Consider adding a deep freezer to accommodate extra meats and other foods, allowing you to save money by purchasing items in bulk,
Space under the stairs is often wasted. Why not fit it out as a place to store cleaning products or firewood?
Install an adequate storage system in one corner of the basement to store items that are not used frequently—winter sporting gear, holiday decorations and more.
A small set of shelving units can act as a back-up pantry. Ensure you never run out of anything again with a well-organized stock-pile in the basement.
HIDING UNSIGHTLY ITEMS
Basements are often plagued with visible structural elements—beams, pipes, columns and more. It is vital that you do your best to disguise any bad points.
If beams and pipes remain visible, they can be painted the same colour as the ceiling. That way, they'll blend into the rest of the decor, and you'll soon stop noticing them.
Install built-ins around certain elements that you can change. For instance, if there is a support column in the middle of the room, perhaps you can construct a seating arrangement or high-top table around it. Or, make the column more beautiful—add capitals and a base or have a faux painter make it look like a stone column.
COLOURS
Warmth, comfort and pleasure – these are the key words that should be guiding your decisions for the basement. Spending time in the basement is a more tempting idea if you manage to create a pleasing, inspiring atmosphere. To do this, think hard about the entrance to the main room. A wide doorway, which leads the eye to an interesting architectural feature, such as a beautifully decorated fireplace, an arrangement of paintings or pictures, or a mirror, will beckon you to come downstairs.
The basement is generally darker than the rest of the house, so both paler and brighter colours work best because they make the space look lighter and bigger. If you are a fan of wallpaper, remember that vertical stripes make walls look higher; with a little time and patience, a similar effect can be achieved using paint.
White or very pale-coloured ceilings will also make the basement look higher and a lot brighter. The same goes for the floor – whatever type of floor covering you choose, it's better to opt for paler tones or lighter-coloured wood. In practical terms, this means choosing a colour palette two tones lighter than that used in other parts of the house. Darker, more intense colours can look fabulous as accent colours for accessories.
Top colours for basements are therefore natural hues of green, blue and aqua, as well as neutrals such as beige, greige (grey-beige) and cream. Other, up-to-the-minute warm colours include vibrant coral, apricot and orange.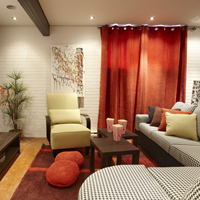 Most basements have lower ceiling than the rooms on upper floors, so you have to use tricks that fool the eye into thinking they're higher. Here's how:
Whatever flooring you choose, make it a light colour
Paint the ceiling white or a very pale colour and fit with pot lights with white interiors
Decorate with colours you like; find inspiration for colour combinations that work well together in drapery fabrics and repeat these colours on the walls, furniture and cushion accents. If stripes are your thing, decorate with a wall covering or paint treatment with the stripes running vertically, never horizontally.
Use these colours as a guide, but ultimately choose a hue you will be happy with.

STYLES
In decor, though personal interpretations abound, there are really two main looks, each with their own identifying characteristics. Homes often look best if all the rooms follow one of the styles, keeping uniformity flowing throughout the home. The two main styles are: traditional and contemporary. Keep in mind that either of these styles can be personalized, reinvented and even somewhat combined. Use your imagination as you complete a look that satisfies your eye.
The Traditional Look
It is comfortable and familiar, might be considered "formal"; the furniture has curved lines, the rooms are painted in easy-to-live-with colurs, the furniture is covered in solid fabrics or woven textured patterns; it has no surprises.
Walls: Paint in a conservative colour or a deep shade and consider mounting chair rail and painting or wallpapering the two parts in different shades of the same colour.
Furniture: Think living room: soft furnishings with rounded edges; wood tables, brass or ceramic lamps with shades.
Floors: Wall-to-wall carpeting, or hardwood or laminate with a hardwood look and topped with area carpets will set the mood.
Window treatments: Louvered wooden shutters or draperies on rods, lined, if privacy is a factor, are the best in a traditional room.
Lighting: Use traditional standard shaded floor and table lamps.
Accessories: Botanical prints, flowered fabric on pillows, cozy throws, white or cream coloured trim, cove mouldings at the ceiling will naturally find their place in a traditional room. Get out those old melamine bookcases, clean them up by adding botanic or floral stencils and use them to store your board games, etc. to match your traditional décor.
The Contemporary Look
It is modern, spartan, sleek, clean-lined, streamlined, shows little ornamentation, and has cool white, blue and grey colours.
o Lighting: Decorate with sleek metal fixtures.
o Floors: Plain vinyl flooring or subdued low-pile wall-to-wall carpeting are well suited to the contemporary basement.
o Furniture: Black leather sofa and chairs, chrome or stainless steel and glass tables, metal shelving and modern prints in black frames on the walls will give you a contemporary look.
o Window treatments: Roman shades in plain fabric or metal mini blinds will cover the windows in a modern way. Glass block instead of standard glass can inject a strong contemporary note.
o Accessories: Anything metal and chrome, or plain or coloured glass will further the contemporary look; square or rectangular baskets for holding magazines or boxed games add a touch of warmth; modern prints in plain frames punch up the walls. Vases, pots, etc. or blown glass, very chic in the 70's, will look sensational in a contemporary décor. Solid coloured pillows soften sofas.
TRENDS
The "eco-friendly" look is definitely one of this year's strongest trends.

This year's hottest design trend has to be eclecticism. In this "do-it-yourself" era, the emphasis is on personal, original decor, combining different looks, colours and textures while keeping balance, harmony and aesthetics in mind. Antique and rustic furniture can look great alongside urban, contemporary pieces in the same room.

"Kits," "suites" or matching sets of furniture are out – original and unusual combinations are most definitely in.

A globe-trotter style is also becoming popular. Complete this look by introducing influences from faraway places. Classic pieces from Europe, Africa and Asia are timelessly elegant, while the French country look remains as popular as ever, with its fresh yet slightly old-fashioned feel. At the other end of the spectrum, the Mexican style is increasingly popular, with its cheerful royal blues, oranges and yellows that bathe the house in warm sunshine. There are many colourful hand-painted clay pots, urns and vases to choose from.

Recycling is yet another "in thing": garage sales and flea markets are more popular than ever, as bargain hunters look for hidden treasures that can add instant character to rooms.

Wallpaper is making a comeback, with textured surfaces, embossed patterns, psychedelic prints and metallic finishes increasingly popular. For a special look, don't miss the wallpapers made to look like wood, brick or stone – they're excellent imitations and very effective. Bolder designers may consider dressing the walls with materials intended for quite other purposes, such as bamboo poles, burlap, tatami (Japanese straw matting) or even fake leather.

When choosing textiles, it is trendy to mix styles and combine fabrics. Fake fur can be teamed with cotton or linen, for example. Shiny or iridescent fabrics look sensational as drapes or cushion covers. Plants, flowers, cowhide and all manner of stripes are also popular, fun patterns for window treatments and furnishings.

Uncluttered and ultra-simple is also still in style. The contemporary look is characterized by its horizontal, pure lines and a judicious blend of wood, glass and stainless steel. The Zen look is also a firm favourite, with its pale hues of aqua, blue and soft green that evoke nature and promote well-being. Combined with black or chocolate brown as accent colours, these natural tones create an atmosphere of balance and harmony. As far as lighting is concerned, stainless steel and brushed metal fixtures look perfect in a contemporary decor. Floors laid with vinyl or traditional or exotic wood complete the sleek, modern look, as well as adding overall warmth. Accessories should be used sparingly and can include wood for warmth, glass for light, and metal for a modern touch. Stylish prints, black or dark brown picture frames, photos, natural-fibre cushions… all will all look great in a contemporary setting and will enhance the room's peaceful, calm atmosphere.
Finishing the basement helps make maximum use of all the space in the house and creates extra storage. With good planning you'll be able to make rooms that are every bit as pleasant to use as those in the rest of the house, and you can design and equip special-purpose areas to use for your own activities, just as you've always dreamed of. With a little imagination, you'll be able to create a comfortable space with your own personal stamp on it — a place where the whole family will be able to share time together.
Since it's the basement, let your imagination run wild, exaggerate the style and highlight it with comfort. You'll find yourself seeking those quiet moments alone, or with family and or friends.

© RONA 2023, All Rights Reserved