Print
Child's bedroom
Difficulty:

Close

Difficulty

Beginner Do-It-Yourselfer - Easy

Intermediate Do-It-Yourselfer - Moderate

Experienced Do-It-Yourselfer - Difficult
One minute you're planning the perfect nursery to bring your precious infant home to, and seemingly the next you're moving on to 'big kid' beds.
A child's bedroom is a unique space for him or her to play and rest in. Creating a space that reflects your child and fosters creativity, independence and responsibility is an important aspect of parenting.
Encourage your child to help in the designing. Safety is of the utmost priority, followed by storage solutions. Once safety and storage measures are in place, the sky is the limit for a creative, fun, stimulating bedroom for your child.

LAYOUT
You must first consider the type of child that will be living in the bedroom before you begin the layout. His or her hobbies, activities and social qualities will largely dictate both the extra elements (aside from a bed, dresser, etc) in the room and where they should be placed. Consider your child's tendencies:
The active child: Add a play area where your kids can use up excess energy: consider steps, a swing, ladders (hanging or fixed to the wall), a bridge, tunnel, or slide. The color red often suits people on the go – but use it sparingly or it may overexcite your child. Add some blue, which is restful and calming.
The artist: Is your child a budding Picasso? An easel, a drawing table, a white board or blackboard will allow an artistic imagination free rein. Think about keeping a wall free to display their masterpieces. Perhaps you have an actor? Screen off a corner of the room. This will be the star's dressing-room. You'll need a dressing table for makeup, accessories, wigs and costumes. A ceiling spot will ensure that the performer remains in the spotlight during family productions. As for colours, there's a vast range to choose from, and kids generally love them all – the more the better! Mauves and purples are inspirational, but be careful – they're not necessarily popular with everyone.
The intellectual: An avid reader will need a well-stocked bookcase, a comfortable chair and a swivel reading light. Go for ever-smart grey which can be brightened up with a touch of sunny, warm yellow.
The host: Plan the bedroom so that your child can have friends round for a play date or a sleepover. Foam chairs that open out into a bed, or futons, make good accommodation for young visitors. Include extra armchairs, stools, stacking chairs, or large cushions on the floor for hanging out with friends. Orange stimulates the senses, green instills vitality. Pink, on the other hand, induces sleep (everyone needs to rest at some point!).
Regardless of whether your child is active, an artist, the intellectual or often a host, one thing is for sure: all kids like to play. If space permits, keep a large portion of the floor open for playtime. From helicopter landing pads to a princess tea party, the space will be well received by a child sprawled on the floor during playtime.
FLOORING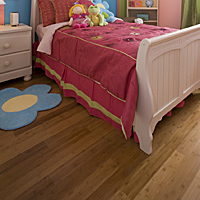 Carpets collect dust and are home to dust mites, so they're best avoided unless you're willing to vacuum regularly. Any paint or food spilled on the floor may stain and be difficult to remove, so it's better to choose a floor covering that's easy to clean, such as wood, laminate, smooth linoleum or vinyl.
However, put down a cozy rug for little feet when they jump out of bed. Ensure the carpet will stay in place and won't skid around so that youngsters don't trip and fall—accidents happen quickly when children are around!
You may also opt for a cozy rug in the play area of the room. If your child spends a lot of time on the ground playing with dolls, trucks or anything else, wood or other hard surfaces may quickly become uncomfortable. Choose a rug that you can wash regularly for easy maintenance.
Keep in mind that the floor can easily become a part of the décor of your child's bedroom. Consider painting the floor for a unique effect. Whether you choose to paint a game on the floor (hopscotch, 4 square or another game perhaps?) or simply shapes, murals or funky designs, the extra color and shapes will entertain your child more than a simple wood or linoleum floor would. For a durable treatment, use paint that's specially designed for floors (enamel) that is resistant to knocks and bumps and has a high-shine finish. This way, you'll avoid having to apply several layers of varnish to protect the surface.

FABRICS
Bed fashions for kids are no different from those of grown-ups. Bedspreads, pillows, cushions and throws all provide the opportunity to bring patterns and textures into the room through fabric, and they help to make bedtime more interesting. One rule for child's bedding: Make sure there are ample pillows for a good pillow fight!
Girls often love canopies over the bed. They add an airy, romantic touch to the room. Dressing the window with voile panels completes the look; alternatively, you could hang sheer curtains, but go for opaque fabric if your child has the habit of waking at dawn. Once again, a good mix of patterns will give an up-to-date look to the room. How about this for a fun idea: show off your young genius's best artwork by having it printed on solid-colour drapes or small throw pillows?!
The fabrics used in a child's room will largely vary based on gender, age and simply personal preferences. Children make messes, so ensure any fabric you choose—whether for the drapes, bed skirts or even throw pillows—is washable. Nothing is worse than having a stain you can do nothing about.
FURNITURE
Baby furniture can easily be reused and repurposed as your child grows. A quick coat of paint can effortlessly make a dresser, trunk, side table or night stand fit into the new 'big kid' design scheme.
However, as children grow, they do need new beds. Several considerations when purchasing a bed for your child's room:
Loft Beds: You can find multi-purpose (or loft) beds on the market, which have room below for a play or study area. These are ideal for small spaces. Before you purchase a loft bed, make sure that your youngster likes sleeping up high and also that the bed has a safety rail. Loft beds are not recommended for children under six.
Bunk or Trundle Beds: Consider more than one bed for your child's room if he or she often has sleep-overs with cousins or friends. Or, if you plan to eventually move a sibling into the room with your child, opt for the double sleeping arrangement from the get-go.
Adjustable Beds: For those who prefer to sleep a little closer to the ground initially, choose an adjustable bed that can grow with your child.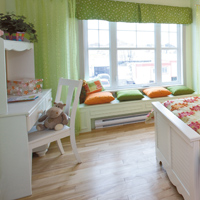 Think about creating a corner for reading and relaxation. Inflatable furniture is fun. It comes in trendy colours and motifs and is a cheap and cheerful way of brightening up a room. Hanging chairs are also popular. Make sure they're firmly fixed to the ceiling, and don't allow children to use them as swings as they could hurt or knock over other people. If you create a fun space for reading and relaxation, chances are your child will enjoy these activities more.

One day your child will be off to school and he or she will need a place of their own to do homework. Bedrooms are the ideal place, as long as they are on the same floor as the main living area for supervision. When you set up a study area, plan a large enough work surface to hold all the child's books and papers. Many children also need a computer. (Always keep an eye on how they use it.) The study area should be set up away from the play area if at all possible. It can be screened or curtained off, or even separated by a bookcase. Aim to create surroundings that will help your child concentrate.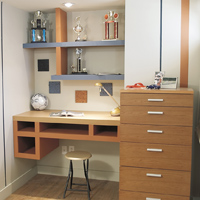 Elements of a homework station or desk area:
Look for a desk that can be adjusted in height to suit your child.
The chair should be adjustable too, and offer back support. For good circulation when seated, a child should have his or her feet flat on the ground with the knees slightly higher than the pelvis. A footrest also aids good posture.
Be especially attentive to lighting at the homework station. Try to avoid the effects of light and shadow. A desk light gives uniform lighting over the whole work area. It should be placed on the opposite side from the writing hand. Steer away from glass-topped desks and those with a shiny finish, as they create annoying reflections.
Put up shelving for books, and a bulletin board for notes and the school calendar. Don't forget somewhere to keep pens, pencils, rulers, scissors, scotch tape, and all the other essential bits and pieces. This kit will stay at the desk so that the young student always has everything to hand.

LIGHTING
A child's room needs more than one source of light.
Track spotlights give good light for playing.

A swivel lamp makes reading easier on the eyes.

Desk lamps and table lamps will also be useful.

Create atmosphere with mural appliqués in the shapes of flowers, moons or orangeade bottles; these will also serve as nightlights after dark.

Use luminous light switches like you did in your toddler's room; they help children see where they are, and are handy for children who are still afraid of the dark.

Glow in the dark ceiling accessories (such as stars and planets) and/or paint is a fun surprise for your child's eyes after the lights are turned out. Who knows—maybe he or she will actually be excited to jump into bed!
SHARING A BEDROOM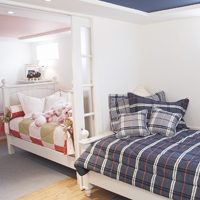 When space is short in a home, it often means that kids have to share a bedroom. Bunk beds are a good space-saving idea*. Or, you can push single beds against the walls, which frees up playing space in the centre of the room.
When children have the same tastes, creating a space that suits them both is not too difficult. But even if they don't, it's possible to arrange two areas that, though different, still go well together.
You can play with colours: the orange corner for your eldest, the pink corner for her younger sister, for instance.

Or why not try framing each bed with a different coloured rectangle. This will allow the two occupants to mark their territory.

Coordinate bedcovers with your chosen colours. The same goes for drapes and accessories.

Furniture can be painted the same colour for a uniform look, or in contrasting colours: a pink dresser against an orange wall, or vice versa. A dramatic impact is guaranteed!

The study area needs to be big enough to accommodate both children. Place two desks back to back or have one long table. Setting up a bookshelf or a fixing a dividing panel that could serve as a bulletin board can split the area.

Two children in one room mean double the toys. Storage units need to be plentiful and practical. Throw toys into a wooden chest to keep them out of sight. Cover it with a pretty cushion and you have an instant seat. Storage boxes also make stools. Tidy away stuff in a handy storage bench in the reading corner.
* If you choose to have bunk beds, remember they can be dangerous. Children have seriously injured themselves falling from the bed or getting an arm or leg stuck. It's essential to check that the bed is safe. The top bunk must have safety bars on all four sides, and the ladder should be firmly fixed. Check too that the mattress is the correct size and that the bed frame is sturdy. Look for labels indicating that the bed conforms to government safety standards. Be sure that your children use it properly. Never put a child younger than six in the top bunk and don't sleep more than one person there. Show children how to climb up and down the ladder safely. And tell them that a bunk bed is not a climbing frame. Never let children play on or under bunk beds.
STORAGE
Children and mess seem to go together. Try to instill good habits early on by providing child-size solutions. Kids need easy access to storage bins, toy boxes, baskets and shelving. When it comes to wardrobes, don't forget that children are not as tall as you. The same goes for hooks: don't fix them too high on the wall.

When surface area is limited, expand upwards. Fix shelving to walls. Try to be a little more original and hang baskets on the wall, or containers such as pretty wastebaskets or paint cans (hardware stores sell clean, empty ones), ideal for small toys, books, stuffed animals and crayons. If you fix some of them with the opening towards the top and others facing you, you'll have a more interesting perspective. Look for hanging storage units – available in net or fabric – which also save space.

Where possible, fit out an entire wall with storage units (you can never have too many). They should all be solidly fixed to the wall, with shelves and bookshelves that are wide enough to hold toy boxes. Cover the front with curtains and nothing will be on show. Or install a whole row of cupboards. Some of the doors can be faced with cork for pinning up works of art, or with blackboards for drawing.

Take advantage of wasted space. Drawers on casters and baskets can slide easily under beds and are useful for storing toys, bedding, or out-of-season clothes. Alternatively find a bed with drawers in the base. Don't forget doors, onto which you can attach baskets, shelves and other containers for storing small items. In this way, you make use of all available vertical space.

Stacking boxes on casters are a great idea for storage and can be pushed easily from room to room, which is useful if your child decides to go and play elsewhere.

A hammock suspended in the corner of the bedroom makes a wonderful place for all those stuffed animals and dolls to sleep.

Having sufficient storage makes tidying easier and quicker. And everyone will sleep easier too.

Don't forget that kids like to use the toy chest as…a toy. So be sure that the lid is not too heavy in case it falls on a child hiding inside. And, although it's not to be encouraged, if the chest is used for a hiding place, it is important that it has enough openings to ensure adequate ventilation. Check the hinges regularly and replace any that are damaged.
COLORS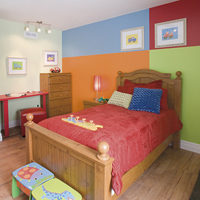 Get inspiration from your child's personality, and plan the décor and color scheme to match. Forget gentle pastels, your kids are now at an age when they want bright, stimulating colours. They love them: blues, greens and reds are generally boys' favourites, while girls love shades of pink, mauve and purple. Yellow is popular with both. Unusual colour mixes can give great results: orange and blue together, red with yellow, pink and green. It's all a matter of working with shades and tones.
Give the room a theme. Work around your child's favourite sport or artistic activities; or even a favourite hero. Don't forget to let your child have a say! Children love helping to plan their decor. After all, it's a room where they spend a lot of time, so it's important that they like it. Don't hold back – paint a fresco of a favourite subject or hang themed wallpaper. But remember that at this young age their tastes can change quickly. If you're afraid your child will soon tire of the decor, it's a good idea to do a little at a time and work with things that are easy to replace (duvet covers, curtains, pictures and accessories). This will allow you to ring the changes again later without having to redo the whole room.
A washable semi-gloss finish on the walls may be a good option considering the little fingers that will constantly be rubbing against the walls.

UNIQUE IDEAS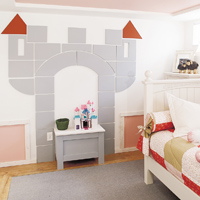 Children's bedrooms should be unique, stimulating, playful, and even a bit magical. Here are several extravagant and bold ideas some parents have incorporated into their child's bedrooms:
Use a ladder to climb up to the top bunk, but a slide to come down! (Ensure there is enough empty floor space at the bottom of the slide to prevent injuries.)

Turn the bed into a magical place—a pirate ship, castle, race car, horse drawn carriage or other fairytale masterpiece!

Pull fabric from the tops of the walls into the middle of the ceiling to simulate a tent for a circus themed room.

Extravagant murals turn even the most boring of rooms into a magical world.
TRENDS
Room 'themes' are still popular for children's rooms—from super heroes to cartoon characters, many children's rooms follow a them for bedding, window treatments, wall décor and accessories. Child's interests change quickly—make sure the theme is able to grow with your child!

Dramatic murals on the walls, floors and even ceilings are still popular.

Bright colors are the signature mark of children's bedrooms. Go bold!
© RONA 2019, All Rights Reserved