Print
Carpets
Carpets are the classic choice for floor coverings. They add comfort, warmth and elegance to a home, especially to living rooms and family rooms.

It is important to know and recognize the features of carpets sold today, most of which are made with synthetic fibres, in order to choose the material that best suits your needs and lifestyle.
UNDERSTAND YOUR NEEDS
Is the room a high-traffic area?

Is it a room used by children or pets or both?

Is there anyone in the household who suffers from allergies?

What kind of visual effect do I want to create?
Show All Steps
Close All Steps
Carpets are excellent floor coverings in terms of comfort and durability. Available in a wide range of colours and textures, they come in three distinct
Wall-to-wall carpet
Area rug
Carpet tiles
A wall-to-wall carpet covers the entire area of a floor. Made to measure, it is secured using adhesive or tack strips. Carpet underlay will extend carpet life and improve underfoot comfort. Baseboards and mouldings, installed afterwards, give the room a finished look. Wall-to-wall carpeting has excellent thermal and acoustic insulation properties.

The area rug is a small carpet. It is woven so that the edges will not fray; some have serged borders, others have fringed ends. A rug with underpadding protects the floor in high-traffic areas and prevents falls on slippery surfaces (tiled entryway, bathroom, etc.). Area rugs are often woven from natural fibres such as wool, cotton, silk, linen, bamboo, coir, sisal or seagrass. The most widely used synthetic for rugs is acrylic.

Carpet tiles, available in myriad shapes and sizes, are self-adhesive carpet squares that are sold in boxes. Their main advantage is their versatility. You can mix and match tiles of different colours and textures to create a floor covering with a unique, custom look.
Some carpets are smooth, while others are highly textured; some have a velvet appearance and others a rugged look. Such variations are achieved using a number of different manufacturing styles, processes and fibre types. All these factors have an impact on the durability, comfort, colours, textures and ease of maintenance of a carpet.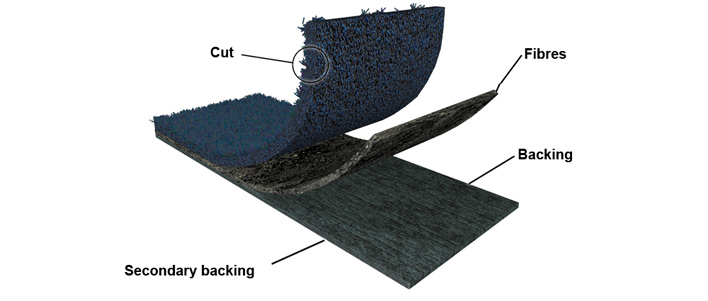 Backing
The foundation of a carpet is the backing. Carpet can be manufactured in two ways: weaving or tufting. A woven carpet is based on the traditional method of interlocking warp and weft threads: the pile and the backing yarns are woven together. Tufting is a form of weaving in which the yarn is stitched through a pre-constructed backing to form a loop or a tuft. A tufted carpet is made up of thousands of strands of a particular height, density and twist level.

Depending on the manufacturing method, the backing can be single or double. The backing on woven carpets generally consists of jute or synthetic thread. Tufted carpets have yarn pile tufted into the primary backing, typically made of polypropylene or polyester. A carpet with a felt backing can be installed with or without adhesive, or using a textile fastening system.
Some carpets have a backing made of latex foam rubber, whose thickness varies depending on the carpet's quality and the manufacturer; it provides enhanced underfoot comfort and improves the thermal and acoustic insulation properties of the carpet. These types of carpets can be laid directly on the subfloor or glued down, but must not be used with tack strips.


The basic material of every carpet is the fibre. It can be pre-dyed during the extrusion process or dyed after the carpet has been woven; the pile can be looped or cut. Some fibres are natural while others are synthetic.
Fibres
Advantages
Disadvantages
Application(s)
Maintenance
Nylon (Synthetic)

Compact
Durable
Extensive range of colours, styles and textures
Resistant to:

Requires stain and static protection

High-traffic areas
Family rooms
Hallways
Staircases

Easy, but requires stain protection

Polyester
(Synthetic – made from recycled plastic bottles)

Bright colours
Non-allergenic
Mildew and moth proof
Resistant to:

Stains
Discolouration
Moisture
UV rays
Mildew

Fluffing
Pilling
Fibres lack resilience
Difficult to remove grease stains
Tends to flatten

Easy, except it absorbs grease stains

Polypropylene
(Synthetic - Olefin)

Anti-static
Affordable
Resistant to:

Stains
Discolouration
Moisture
Mildew
Water damage
Fluffing and pilling

Limited choice of colours
Lacks resilience
Prone to abrasion

Exteriors
Basements
Other interior spaces

Easy

Acrylic
(Synthetic - rarely used for wall-to-wall, but widely used for rugs)

Cushiony texture
Soft
Wide variety of colours
Hides dirt well
Creates little static electricity
Mildew and moth proof

Rarely used for wall-to-wall carpeting
Pilling

Very high-traffic areas (manufactured primarily for commercial use)

Easy

Triexta
(Synthetic - polyester-based fibre, new on the market)

Durable
Soft
Resistant to:

Stains
Discolouration
UV rays

Easy

Wool
(Natural)

Durable
Resilient
Improves indoor air quality
Rich look and feel

Low stain resistance
Higher price

Living areas
Bedrooms

Moderate to high
The three most important factors that have a direct impact on the durability, resilience and price of a carpet are its fibres, its twist and its density. The twist level is determined during the manufacturing process. This step involves twining two piles of yarn. How many turns per inch the yarn is twisted gives it its twist level, with a higher number indicating a good-quality carpet that will keep its appearance over time. A high twist level produces excellent resilience.

Density refers to the amount of pile yarn per area of carpet and the closeness of the tufts. The denser the pile, the better the performance. The closer the tufts, the higher the density. Lower pile height provides a higher density construction and better performance. Density is expressed in ounces per square yard (oz./sq. yd.). The metric measure of g/m2 is not seen as often. A carpet with a pile yarn weight of 16 oz./sq. yd. is much less dense than one with 50 oz./sq. yd.
The following table will help you better understand the different types of carpet piles and textures.
| | Pile Height | Appearance | Application(s) |
| --- | --- | --- | --- |
| | Pile is sheared to an even height | Luxurious, smooth surface | In elegant, classic-style rooms |
| | Higher pile | Casual | Bedrooms, living rooms |
| | Highly twisted cut pile | Textured | High-traffic areas |
| | Individual loops, even height | Uniform / Homogeneous | Very high-traffic areas (manufactured primarily for commercial use) |
| | Varied loop heights | Textured, sculptured appearance | Suitable for all rooms |
| | Combines cut and looped fibres | Textured, multi-coloured designs and patterns | For hiding floor imperfections as well as stains or dirt |
Carpet underlay (or padding) is an essential accessory. It increases the carpet's comfort and absorbs up to 90% of the impact of foot traffic. The carpet lasts longer and looks nicer. An underlay acts as a sound buffer and helps keep the cold out. It also makes vacuuming easier.

A carpet underlay is selected according to the traffic level of the area or room. As with a carpet, an underlay is measured by its density. A good quality underlay will have a thickness of 5/16" to 3/8" and will offer a certain resistance when squeezed.

Underlay is made from the following materials:
Foam rubber
PVC foam
Polyurethane foam
Bonded rubber granules
Synthetic felt
To calculate the amount of carpet and adhesive or tack strips you need for a room, you must first calculate the surface area of the floor you want to
Draw a floor plan on squared paper (one square = 1 sq. ft.). Note the length of each wall, taking any storage areas into account.
Measure in several places. Bear in mind that the walls might not be entirely parallel along their whole length.
Add an extra 3" to the widths and lengths you noted to give you some leeway during the installation.
The surface area will guide you on how much carpeting, padding and adhesive you need.
Calculate the perimeter to know how many tack strips you need.
Carpeting can installed in one of three ways:
Using tack strips: the best method for rolled carpeting and often done by a professional.
By gluing down (onto a concrete subfloor, for instance): usually a straightforward job depending on the type of subfloor. Use the adhesive recommended by the manufacturer.
With self-adhesives (carpet tiles): fairly easy installation.
No matter which method you use, prepare the surface area well and ensure you are comfortable and proficient with the required tools.

All carpet is constructed so that the pile (or nap) will lay slightly in one direction. Always place your carpet pieces so that the pile runs in the same direction to avoid shading. The pile will typically face towards the room entrance; this enhances the texture and colour of the carpet. For stairs, the pile direction runs down the stairs.
Laying a carpet requires some special tools, in addition to some more common ones:

Specialized tools:
Knee kicker
Seam iron
Carpet stretcher
Standard tools:
Stapler
Utility knife
Hammer
Measuring tape
A carpet with a higher pile height is more comfortable but harder to clean than a carpet with a shorter pile height. Choose a high-pile carpet for rooms intended for relaxation, such as a bedroom or living room, and a low-pile (commercial-type) carpet for the basement or entranceway.

When deciding on colour and pattern, it is worth remembering this:
A dark colour scheme and large pattern will make a room feel more cozy and intimate.
A light colour scheme and small pattern will make a room look bigger.
Be aware also that a multi-coloured, single-textured carpet is the easiest to maintain.
A carpet can actually improve indoor air quality by trapping the dust and allergen particles that would otherwise be airborne. Ongoing research by carpet manufacturers is leading them to develop products that are healthier for the home.

Anyone particularly concerned about the quality of air in their environment can look for the Canadian Carpet Institute's Green Label sticker on carpets and pads, which meet stringent criteria for low emissions of volatile organic compounds (VOC).
Installing carpeting in one or more rooms of a house can be a considerable expense. One of the best ways to protect this investment is to clean the carpet on a regular basis. In fact, simply vacuuming it once a week will be enough to remove loose dirt and dust and keep the carpet fresh and tidy-looking.

To keep your carpets looking their best, deep cleaning is essential every twelve to eighteen months. You can hire a carpet cleaning professional or do it yourself by renting a carpet cleaning machine. Review the manufacturer's recommendations and make sure the room is well ventilated when you work. The carpet, when dry, should then be vacuumed.

Stains – a carpet's worst enemy – must be removed immediately. Here are some tips:
For solids, break up and vacuum out as much as possible.
For semi-solids, scoop up with a rounded spoon, then blot.
Blot liquids with a clean, white, absorbent cloth or paper towel.
Do not scrub.
Apply a small amount of the recommended cleaning solution to the cloth. Work from the edges of the spot to the centre. Blot thoroughly and repeat until the spot is removed.
For tough stains, pre-test a spot removal agent in an inconspicuous area to make certain it will not damage the carpet or its
Finally, to remove all traces of cleaning or spot removal product, rinse the area with warm water and absorb with a dry cloth.
After your carpet is dry, vacuum it to restore its texture and appearance.
If the stain persists, call a professional cleaner.
N.B.: Dishwashing soap and vinegar are excellent substitutes for removing certain stains.
Helpful Information
Related projects and Guides
© RONA 2021, All Rights Reserved