Print
Build a garage
Difficulty:

Close

Difficulty

Beginner Do-It-Yourselfer - Easy

Intermediate Do-It-Yourselfer - Moderate

Experienced Do-It-Yourselfer - Difficult

Completion Time :

10 Days
Building a garage is similar in many ways to building a shed. Aside from the excavation and foundation work, which is best left to specialist contractors, if you are a handy do-it-yourself you should be able to complete most of the work involved in this major project and so add to the resale value of your home.
The following steps describe how to build a 16' × 22' garage. They provide the main guidelines and give an idea of the skill level required to undertake such a project.

Print
Tools and materials required
TOOLS
Stapler
Pneumatic nailer
Ratchet wrench
Chalk line
Utility knife
Plumb line
Caulking gun
Hammer
Carpenter's level
Electric drill and drill bits
Boundary stakes
Nail punch
Measuring tape
Circular saw
Square
MATERIALS
Roof shingles
Framing lumber
Treated lumber
Shims
Tarred fibreboard
Plastic roof cement
Finishing nails
Galvanized nails and screws
Plywood
Window
Roof trusses
Drip edge
Self-adhesive membrane
Air barrier membrane
15 lb felt paper
Exterior door
Garage door
Silicone-based caulk
Exterior cladding and moulding
Joist hangers
Before Assembly
ELEVATION(S)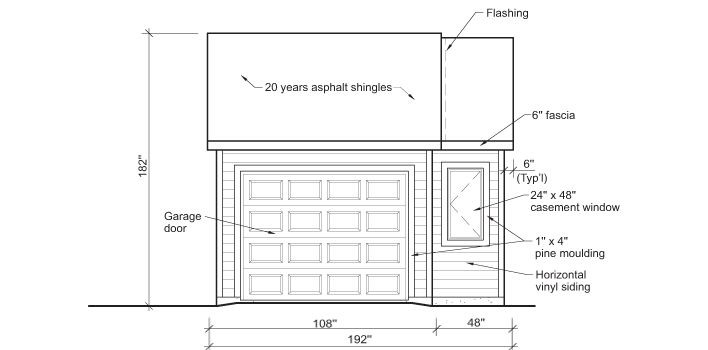 Several weeks before you plan to start your project, talk to your municipal building office about permits or any specific conditions you're required to meet given the size and scope of your project. Also contact your local utility company to locate and mark any buried power, water, or gas lines.
Before you begin, read the plan from start to finish. Get a feel for the steps in the assembly process and the materials involved.
Set aside enough time to do the job, taking daylight and preparation time into account. Check the weather; it's important to work on calm days when no wind or rain is forecast.
Roof trusses, frames composed of structural members, are designed and built in a special manufacturing facility to the exact specifications of the garage plan. Roof trusses are designed to withstand vertical pressure only. For this reason, they should never be lifted horizontally or laid flat across exterior walls.
Steps
Show All Steps
Close All Steps
© RONA 2022, All Rights Reserved