Print
Basin vanities
The bathroom vanity is an integral part of any bathroom design.

While appearance remains a prime consideration, technical features are also important. Before you make your choice, learn as much as you can about various basin vanities, types of installation, materials to prioritize and the many options available to you. This Buyer's Guide will enable you to familiarize yourself with the soon-to-be centrepiece of your new bathroom design.
Enhance your bathroom style with a basin vanity
UNDERSTAND YOUR NEEDS
Who mainly uses the bathroom?

How many people share the bathroom at the same time?

Where do you plan to locate the basin vanity?

What kind of visual aspect are you looking for?

Will you be incorporating Universal Design principals?
Show All Steps
Close All Steps
Although conventional cabinets are perfectly adequate for the bathroom, there are off-the-shelf basin vanities available you can install yourself. Generally smaller, they integrate well into bathrooms where space is at a premium. There are three configurations to choose from according to bathroom size, the space allocated for the basin vanity, and the number of people using the bathroom.


| Configurations | Features |
| --- | --- |
| Wall or pedestal mount basins | This suits a bathroom with very limited space. There is no storage space included. |
| Single basin vanity | This should be your first choice when space allows. As well as providing storage, it conceals the plumbing. |
| Double basin vanity | This is the ideal solution when a family must share the same bathroom. More than one person at a time can use it, which is a time-saver. Double the storage space. |

Both single and double vanities are separated into three categories:

Standard basin vanities are set directly on the floor in the bathroom.
Basin vanities with legs are desk-like and harmonize well with all decor styles.
Wall mount basin vanities have no contact with the floor and enable an 'airy' bathroom design.

It is possible to choose the height of your basin vanity to suit those who will be using it.

Basin vanities installed at a height lower than 34" are more accessible for children, people of below-average height and people in wheel chairs. A 36" basin vanity is preferable for people of average or above-average height.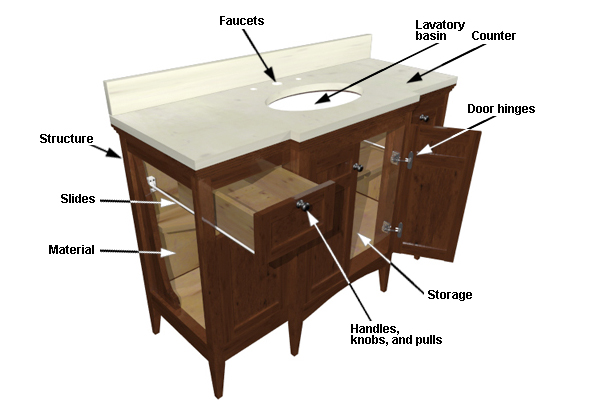 1. Structure

Framed basin vanity cabinets incorporate a 'frame' around the front outer edge of the cabinet box, of the same material as the drawers and doors. The face frame provides some rigidity to the cabinet box, helping it to remain square and sturdy. Here, the hinges are exposed, installed directly on the frame. These vanities harmonize well with traditional decors and doors can easily be replaced.

Frameless basin vanity cabinets offer a bit more accessibility because there's no inside edge of a frame partially blocking the perimeter of the vanity opening. The sides are generally thicker to improve stability. Hinges are installed directly on the lateral panels, increasing the amount of storage space.

2. Material

The material you choose for your basin vanity will largely determine its durability, as well as influencing the style of your bathroom. It is inevitable: dampness will always be a problem in bathrooms, a problem some materials can withstand better than others. It would be wise to choose waterproof materials, such as exotic wood species (teak or wenge wood, for example) or wood veneers. Simple particle board and MDF should be avoided.


Material(s)
Description
Benefits
Drawbacks

Solid wood

The most popular wood species:

Maple
Birch
Pine
Mahogany
Walnut
Oak
Cherry
Hickory
Exotic species

Ageless
Resistant
Versatile
Warm
Suits any decor
Maple, birch and oak remain favourites because of their durability.
Exotic species are increasingly popular due to their warm shades

Vulnerable to humidity
More expensive
Although more affordable, pine is more fragile and susceptible to nicks and scratches

Wood veneer

A thin sheet of wood glued to a plywood base.

Less expensive than solid wood
More resistant to humidity than solid wood

Less scratch-resistant than solid wood

Melamine

Melamine resin is used to laminate decorative paper onto a sheet of particle board.

Large selection of colours and patterns available
Affordable

Not shock-resistant
Difficult to repair if damaged

Laminate

Many sheets of paper layered and soaked in melamine resin then subjected to high heat and pressure for hardening.

Much more resistant than melamine
Large selection of colours and textures

More expensive than melamine

Lacquer

Lacquer is a high resin and hot solvent-based finish applied over an MDF (pine fibre) panel.

Sculpted designs are possible
Large range of finishes

Fairly expensive
Difficult to maintain
Gloss may diminish
Whites may yellow

PVC (thermoplastic)

Panels are pinewood fibres covered with a sheet of PVC, or thermoplastic.

More resistant than laminates and melamine
Easy to maintain
Very mouldable

More expensive than laminates
Limited range of colours and finishes

3. Storage

Although the visual style you're looking for is very important, you shouldn't neglect the storage aspect. The basin vanity can include drawers, doors, or a combination of both. Certain vanities have only one shelf.

For people with limited mobility, drawers are preferable for free and easy access to contents. Drawers are useful for storing beauty products and accessories, but inadequate for holding household cleaning products; for this, doors become necessary. A combination of drawers and doors maximizes your storage possibilities. After you determine your needs, it's simply a question of style.

As with a console cabinet, vanities with a single shelf, without drawers or door, are useful for setting decorative objects but offer very little storage space. They may be better suited to a powder room.

4. Handles, knobs and pulls

Handles, knobs and pulls provide the finishing touches to the bathroom style you have chosen. Although viewed as purely decorative, they have a very important function: to enable you to open your vanity drawers and doors.

Handles are attached with two screws. Available in many styles, they harmonize with all kinds of decors. Ergonomically-designed handles are easy to use and correspond with the design principles for people with limited mobility or people suffering from arthritis.
Knobs are attached with a single screw. They have decorative appeal, harmonize well with the smallest vanities, and suit all users.
Pulls are loosely jointed handles, at home in more luxurious decors. Signs of wear will appear over time where the pull rests against the door or drawer front, those made of wood in particular.

5. Door hinges
You have a variety of hinges to choose from according to the type of basin vanity. Ant-slam safety hinges are a wise choice if there are children in the household.

Exposed or semi-concealed hinges have two wings and a pivot-point knuckle. They are completely or partially visible when the vanity door is closed.
Concealed hinges, also known as 'hidden' hinges, cannot be seen when the vanity door is closed; primarily functional, most are adjustable.
Mortise hinges sit flush with the door and frame when installed; a notch is cut into the vanity frame to install the wings.
Non-mortise hinges do not require any chiselling in the vanity frame; the wings are simply attached to the surface of the cabinet.
Door swing hinges provide the maximum amount of cabinet door opening for complete access to the inside of the vanity.

6. Drawer slides (slide rails)
Drawers rest on slides installed within the vanity. Ease of opening and the extent to which drawers can be opened is determined by the slide rails. Full extension drawer slides permit better access to drawer contents, compared to partial extension slides. Some manufacturers propose "soft-close" slides which slow down the mechanism, making it possible to close a drawer more gently. Also referred to as "anti-slam" buffers, they can be useful for people in the habit of slamming drawers shut.

Slide rails can support a load from 75 lb. to 100 lb., which more than meets the needs for bathroom storage space.

Ball bearing drawer slides are located on each side of the drawer. They are stable, simple and durable.
Under mount drawer slides are fully concealed and allow a lot of weight. They provide excellent support and stability.
Side mount drawer slides although solid, provide more limited access to drawer contents.

7. Counter

Certain basin vanities are already equipped with a natural stone, synthetic material, laminate, glass or even quartz counter. For vanities without a counter, other coverings can be added such as wood and ceramic tiles. Each covering carries with it certain benefits and drawbacks to consider, such as installation techniques and match with the vanity basin model. One of the selection criteria to take into account is the available counter space around the lavatory basin. Certain counters are equipped with a backsplash, which as well as enhancing the visual style of the cabinet prevents water from dripping down the wall behind the counter.


Materials
Benefits
Drawbacks
Type of Lavatory Basin

Natural stone (Granite, marble, slate, etc.)

Durable
Elegant, unique, high-end
Easy to clean

Most natural stone vanity tops require the application of a sealant

Drop-in installation
Under-counter installation
Above-counter (vessel) installation

Synthetic materials (acrylic, polyester and aggregates)

Offered in a wide selection of colours
Durable
Easy to clean
Very resistant to stains and abrasive products
Seams are concealed

Relatively expensive

Drop-in installation
Above-counter (vessel) installation
Integrated installation
Under-counter installation

Laminate

Affordable
Versatile
Reliable
Large choice of colours and patterns

Damaged surfaces are more difficult to repair

Drop-in installation
Above counter (vessel) installation

Tiles (glass, porcelain, ceramic, etc.)

Large choice of colours and patterns
Easy to install
Affordable
Waterproof

Tile joints collect dirt easily

Drop-in installation
Above-counter (vessel) installation
Under-counter installation is possible with certain ceramic tiles.


Wood

Traditional look
Versatile
Ages well
Suits all decors


Vulnerable to moisture and humidity
Requires extensive maintenance
Sensitive to shocks and scratches

Drop-in installation
Above-counter (vessel) installation

Glass

Contemporary
Different shades are available and motifs may be added

Fingerprints show up very easily
Fragile

Drop-in installation
Above-counter (vessel) installation
Integrated installation

Quartz

Requires less maintenance than natural stone
Waterproof and durable
Uniform colour and motif
Antibacterial
Not porous, therefore does not require the application of a sealant

Fairly expensive

Drop-in installation
Under-counter installation
Above-counter (vessel) installation
8. Lavatory basin

Several vanity models enable the installation of a vanity top and integrated sink. In this construction, the basin is made from the same material as the counter top, forming one easy-to-install unit. If your vanity does not include a basin, you should learn about the various basins and installation techniques available in order to make an informed decision.

Drop-in basin: sits enclosed within the vanity unit. The rim of the basin overlaps part of the vanity counter surface.
Under-counter basin: sits underneath the top of the vanity for a flush finish.
Above-counter basin (vessel): resembles a bowl placed on the counter.

9. Faucets

Certain vanities come with integrated faucets. If not, you need to choose your faucets according to the number of holes in the basin and counter. It may be possible to drill an opening in the counter where you need one; this depends on the counter material. Wall- mount faucets are also an option.


The installation of a basin vanity is easy to complete for the amateur do-it-yourselfer. A few hours and some basic tools are sufficient to get the job done. Two people may be required, however, to handle the vanity, depending on the weight of the vanity and counter.

Before you begin, close off the water supply and mark the location of the basin vanity and wall studs. The plumbing should ideally be positioned in the center of the vanity. Check that the back panel has an opening for the plumbing. If not, use a hole saw to make the openings where you need them.

Attach the basin vanity to the wall to secure it solidly in place. It is simpler to install the basin and faucets on the counter before placing it on the vanity. Connect the plumbing and run a bead of silicone caulk between the wall and the counter to ensure that it is watertight.
A number of accessories can embellish your basin vanity, and by extension, your bathroom. These are:

Medicine cabinet: this remains a very useful addition to any bathroom. Built-in or not, single or double, the medicine cabinet provides essential storage space for the whole family.
Mirror: aside from its primary function, a mirror will make the room seem much larger. Thick mirrors are preferable to thin ones, since there will not be any distortion of the surfaces it reflects. If the bathroom is used by the whole family, it might be wise to install two mirrors rather than just one.
Light fixtures: in addition to providing light, select your light fixtures to enhance your decor.
Helpful Information
Related projects and Guides
© RONA 2021, All Rights Reserved