Description
This portable concrete mixer from Yardmax is ideal for both professionals and DIY enthusiasts. It's made from steel, and the 500 watt motor and housing are rated waterproof at IP45, which means you can use a pressure washer to clean the entire unit. The low-profile cement mixer mouth is close to the ground, which allows for spatter-free pouring into moulds. The design also makes it easier to fit into trucks or vans for site-to-site transportation. With a 115-litre capacity, the portable concrete mixer is just the right size for mixing a single bag of premix concrete, which takes the effort out of judging how much to mix. The two wheels and third leg make it easy to transport around the work site and provide a stable base during operation. The mixer's handle has a locking ring for safety. The unit is simple to put together and break down.
Solid steel drums easy to clean and use
Powered by factory assembled electric motor for easy installation
Low-profile height is ideal for pouring into forms, wheelbarrows and moving around a job site
Steel spring-loaded handle with steel ring is easy to operate and lock into place, ensuring the drum stays where you need it
Product specifications
Base Warranty Labor(Months)
Base Warranty Parts(Months)
Frequently bought together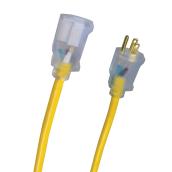 WOODS
Woods 12/3 Extension Cord 25' Yellow
Format 12/3 25'
Details
Article #74045239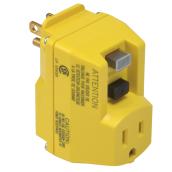 YELLOW JACKET
Single Outlet Portable GFCI Adapter - 1800 W - 15 A
Details
Article #32045050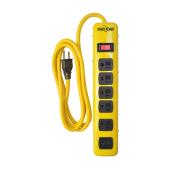 YELLOW JACKET
6-Outlet Power Bar with Surge Protection - 6' - Yellow
Format 1.8M
Details
Article #32045053
You may also like
What is the warranty on this product 
1 year warranty
Date published: 2022-09-10
YARDMAX Portable Concrete Mixer - 4 cu. ft. Drum
is rated out of
5
by
15
.
Rated

5

out of

5
by
Johnboy007
from
Great mixer
I bought this because it was going to be $60 a day to rent and I couldn't reserve it. This took 1.5 hours to put together. Remember to have the middle crossway bracket on the wheel side and when you go to put the blades in put the cover on temporarily to line up the holes. Super easy to put together and great instructions. Not like the 3.5 cu ft both competitors sell. Plus motor and drum are larger. I put 7 litres water in from a work pail I marked on the inside then two 30 kg bags of concrete turn it over just less than a half and boom done in a minute. Dumped by tipping and then turned it on for remaining amount and repeat. First time ever and you need trowel and rake.
Date published: 2019-07-03
Rated

5

out of

5
by
Salt Spring Island
from
Well built and powerful mixer!
This is a solid mixer branded by Rona. Got it on sale and It appears to be the same model as the highly rated Yard..x with a much better price. Good work Rona! Took about an hour and half to assemble, very clear instructions. Tip:install the mixing blades the right way (two open rectangles to the front opening). I learned that the hard way. 5A motor is a workhorse. You can probably mix 3 - 80 lb bags at a time, it has the power, but 2 bags is easier to work with. Everything is waterproof so easy to hose down at the end of the job.
Date published: 2019-06-11
Rated

4

out of

5
by
Justin78
from
Pretty good
I had to pour a small footing where I needed 61 bags of ready mix concrete at 30kg's each. The mixer made it to 58 bags before the motor got too hot. Up to that point I was very happy with it's proformance. Very good for small jobs.
Date published: 2019-08-20
Rated

5

out of

5
by
Bigmike
from
Excellent product
The reviews helped in this purchase. I mixed the concrete no more than a bag , ( 66 lb ) at a time. And one shovel at a time with recommend water , mixed perfectly. I poured 20 sauna tubes 4 feet deep in several days for my project. Saved on rental fees for a mixer and have more projects planned. Very pleased with this product.
Date published: 2019-09-11
Rated

4

out of

5
by
Kerry kerry
from
Easy assemble,
I bought this mixer in anticipation of doing some concrete work, and am glad I did. We picked it up around 3 in the afternoon and by nightfall had mixed a dozen batches. The only draw back would be the dumping procedure, it takes some strength to control the rate of pour.
Date published: 2020-10-05
Rated

1

out of

5
by
Rockman6104
from
The worst cement mixer
Horrible product. I put one bag of cement in with water and the motor overheated and died. Don't bother. Terrible product
Date published: 2020-11-27
Rated

1

out of

5
by
Phil_Ontario
from
This shouldn't be a product
When I poured in my concrete mix and water with the unit tilted as described in the manual, the mixer could not mix the concrete. Instead it trapped most of the mix behind a thin layer of wet concrete, and made small concrete balls out of the rest. It took significantly more water than the 2.3 L per 30kg bag of Quikrete, which has likely significantly diminished the strength of my concrete. I recommend hand-mixing in a wheelbarrow over trying to use this. Had it not been a year between my purchase and first use, I most certainly have returned it.
Date published: 2022-09-19
Rated

3

out of

5
by
Spig
from
Not the best or the worst
I just needed something for use few times a year. Cheap, easy to put together. If its lasts 3 jobs its already paid for its self.
Date published: 2020-12-04