Whirlpool Over-the-Range Microwave - 900 W - 1.7-cu ft - Stainless Steel
Article #30005763
Model #YWMH31017HZ
Format 17.12x15.56x29.93"
This item is not currently available for immediate purchase, but can be ordered by visiting the selected store.
Description
Save valuable space in your kitchen with this low-profile Whirlpool microwave oven. The electronic touch controls navigate through cooking modes and options with controls that are as easy to use as the microwave is to keep clean. Indeed, this microwave oven has a fingerprint-resistant finish and is equipped with a dishwasher-safe turntable. Quickly set the microwave timer to 30 seconds or add 30 seconds to your cooking time with the touch of a button. Once your meal is prepared, quickly get rid of cooking odours with two different fan speed settings. Keep an eye on what's cooking below the microwave thanks to the adjustable cooktop lighting. This appliance is backed by a 1-year limited warranty on parts and labour.
Product specifications
Over-the-range microwave oven
Stoppable, dishwasher-safe
Add 30 Seconds, Control Lock, Cook, Cook Power, Cook Time, Defrost, End of Cycle Signal, Off/Cancel, Pizza, Popcorn, Potato, Reheat, Soften/Melt
Useful information
DELIVERY AND INSTALLATION
Our experts are dedicated to ensuring your new appliance is delivered with the utmost care.
Learn More
PROTECTION PLAN
Enjoy exclusive privileges.
Learn More
RETURNS AND REFUNDS
We stand behind every product we sell.
Learn More
Credit available
Frequently bought together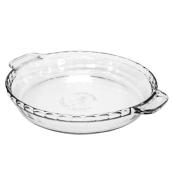 Pie Plate - Glass - 1 5/8" x 9" - Clear
Details
Article #97737604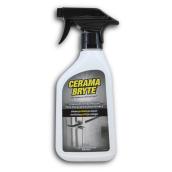 CERAMA BRYTE
Cerama Bryte Stainless Steel Polish - Removes Water Spots - Contains Mineral Oils - 474-ml
Format 474ML
Details
Article #8307003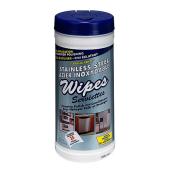 CERAMA BRYTE
Cerama Bryte Stainless Steel Cleaning Wipes - Contains Mineral Oil - Removes Fingerprints - 35 Per Container
Format 35/PK
Details
Article #8307005
Does this come with the mounting bracket?
Yes it does 
Date published: 2020-09-29
The vent on the top of this microwave vents out to the room is that normal? and some is also going to the outside. I am almost sure something is not right. Thanks for your info
The blower on the back side can be installed to either recirculate air which blows air into the kitchen through the top vents at the front of the microwave above the door, or it can be installed where it blows out of either the back or top side at the back of the microwave where the blower sits. If you have the duct work for the venting to blow the air outside of your house, the blower should have been placed in one of those two positions depending on where the duct work is. If there isn't any duct work to vent to the outside the blower should have been left in the default position and it will just recirculate the air into the kitchen. If this isn't something you want and you don't have the duct work to blow the air outside you'd need to get someone to install the duct work and adjust the blower. You definitely don't want to be blowing the air into an enclosed space like into the wall behind the microwave.
Date published: 2021-04-15
Is it silent one   What is cfm rating?
CFM rating is the measure of the amount of air extracted by the exhaust fan. CFM stands for Cubic Feet per Minute. The higher the number, the more air is "sucked" by the exhaust fan.
Date published: 2019-06-21
What are the inside dimensions of this microwave?
Width 21",Depth 14",Height 9 1/2". So far no problems after 1.5 years.
Date published: 2019-06-06
?? Was that "No" answer about exhausting outside correct? Elsewhere it seems to have a back exhaust vent. Does it exhaust outside? Northern ON Bob
It does exhaust outside, there is a rear vent. You will need an outside vent cover and some calking. I used some 2-way sticky tape to make a better seal. One note there was some sticky tape residue on the keypad, I used some degreaser with acetone in it to clean. Don't do that as it will mar the keypad finish.
Date published: 2019-02-19
Can this model be used as recirculation with no outside venting?
I did not think so. Per installation manual it required 6" vent go outside.
Date published: 2019-01-15
how do you install the microwave on top of the stove
first secure and level bottom mounting bracket to wall (studs).Then drill holes for plug-in and screws to secure top of microwave through top cupboard.Then you'll need two people to first put microwave on bottom bracket and then someone to fish plug-in as you bring up microwave to top cupboard and screw in screws through cupboard in top of microwave.
Date published: 2019-01-14
What is the meaning of HS or HZ at the end of the product code? YWMH31017HZ
Hi Totter218, "HS" or "HZ"; last two letters represent our generation code (year of release) and colour/finish of the appliance. For example "S" represents Stainless Steel and "Z" represents Fingerprint Resistant Stainless Steel. Hope this helps, thank you for your question!
Date published: 2019-01-05
Whirlpool Over-the-Range Microwave - 900 W - 1.7-cu ft - Stainless Steel
is rated out of
5
by
7820
.
Rated

1

out of

5
by
WOTfun
from
WMH31017HZ - error codes right out of the box
I purchased Whirlpool Microwave part number WMH31017HZ new from Lowe's. I took it home, unpacked it following directions to get it ready for use, plugged it in, and put it in demo mode to test it before installing. The display immediately flashed error codes. I called the Whirlpool customer service number and was told they would have to schedule a service call. I said no thanks and promptly returned the microwave to Lowe's. I initially picked this unit because the vast majority of reviews were very positive. However, there were some that described experiences similar to mine. My conclusion? Most of them are probably pretty good; some are total junk; and you never know which you'll get.
Date published: 2019-05-08
Rated

5

out of

5
by
overrev
from
Great features and clean look
[This review was collected as part of a promotion.] This is a replacement for our last whirlpool that lasted about twelve years of hard use. This is a replacement for our last Whirlpool that lasted twelve years of hard, daily use. Cannot say enough about the look, features and operation of this one. Upgraded display and controls are great!. The thing my wife seems to love the most is that the exhaust fan automatically activates while she is cooking on the matching stove beneath it. Keeps the kitchen cooler and steam out of her eyes, I guess. Would also recommend to any DIY folks. The installation is fairly simple and we were done in less than an hour.
Date published: 2020-06-23
Rated

1

out of

5
by
michealP
from
Hasnt worked properly since shortly after install
microwave stops heating after 4 minutes of usage and takes about another 5 - 10 mins to start heating again. Repair shop had my unit for a month "repairing" it only to bring it back doing the same thing. So i called whirlpool again only to be told that the unit can not vent out the top and can only be vented out the front for proper cooling of this model. So basically a unit that is designed to be able to vent externally is now being said to only be ventable out the front or it will over heat and shut down. So basically this product does not function as intended and whirlpool doesnt care. So now I have to buy yet another microwave in less than 10 months.
Date published: 2020-01-10
Rated

3

out of

5
by
Stephanie
from
Lasted 2.5 years only
This was part of our builder grade appliance package. From the beginning, the food wouldn't cook evenly and the fan was extremely loud. I can live with those things even though annoying. But then about 3 months ago the inside wouldn't turn on or cook anything (the fan and night light still worked.) Then randomly it would go on/off again until it completely died. After hours of work and my husband replacing all 3 door switches, we concluded the motherboard is shot. For a microwave in a brand new home to go out in 2.5 years it has to be terrible quality.
Date published: 2018-04-08
Rated

1

out of

5
by
Meki
from
Do Not Buy - Lasted Less Than 2 Years
I bought this in Feb 2017 because the reviews were good. It worked great at first. The light started flickering but the microwave worked. A couple of days ago it acted like it couldn't tell the door was shut one time. Thus morning it barely heated my food. Then tried it again, wouldn't recognize the door being shut. Unplugged it and plugged it back in. Without touching any buttons, shut the door. Now the turntable slowly turns and makes a weird sound. Hitting cancel won't stop it. Have to either open the door or unplug it. What a piece of junk. My previous microwave lasted 20+ years (it was not a Whirlpool). This did not make it 2 years. Will not buy Whirlpool again. Do not recommend anyone buy this product.
Date published: 2019-01-27
Rated

1

out of

5
by
Mauima
from
Lasted less than 2 years!
[This review was collected as part of a promotion.] My last Whirlpool microwave wasn't broken after 15 years but I bought this over range microwave to go with rest of appliance package 21 months ago. Immediately I noticed the fan does not have enough power as when you boil water on the range the front fogs up. Then two weeks ago the light began to flicker when you opened the door. Yesterday the panel throws an F1E4 error and does not run at all. Repairman said the board needs to be replaced and part is so expensive plus labor it will be less costly to replace the entire microwave. Very Earth non friendly company to make appliances of this size with a less than 2 year life expectancy! Guess it is time to find a different company to use on my house renos.
Date published: 2018-09-12
Rated

5

out of

5
by
SkyPaic
from
Searched for a replacement for my aged microwave
[This review was collected as part of a promotion.] My home's built in Kenmore microwave broke down in March 2020. I looked for a Kenmore but alas nevermore. After diligently searching for something similar i ran across my new microwave made by Whirlpool. It appeared to be an almost duplicate of my original microwave. It was made by a very reputable manufacturer Whirlpool and i really like its appearance and styling. After installation I've grown to like it's simple operation and solid feel in opening and closing its door. Solid not flimsy or cheaply made. I fully expect it to last for at least 15 years. It was selling at a great price and I'm glad I purchased it.
Date published: 2020-06-08
Rated

2

out of

5
by
Chad
from
EXHAUST FAN IS USELESS!!
[This review was collected as part of a promotion.] I have no complaints about the microwave process. However, the exhaust fan does not do an adequate job for any steam created on the front burners of the stove. Every time we use the front burners there is moisture on the front door. Recently we boiled a chicken for approximately 15 minutes. The water was dripping from the front of the microwave door and inside the cabinet above the microwave the glasses were dripping with condensation! Our exhaust is vented outside. We had a technician examine the situation and we have spoken with Customer Service at Whirlpool and there is no remedy!
Date published: 2019-11-20