Description
Hallway door knob. Adjustable latch 2 3/8 in. and 2 3/4 in. For door thickness of 1 3/8 in. to 1 3 /4 in. Lifetime warranty.
Product specifications
Reversible (left or right)
Smartkey or KW or WS 5-pin
Frequently bought together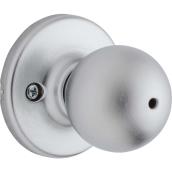 WEISER
Weiser Yukon Privacy Door Knob - Satin Chrome - Metal - Adjustable Latch - Reversible Handle
Details
Article #09655434
I have a similar door knob on my bedroom door and when I turn the know it doesn't connect to the latch.  So I am unable to get my bedroom door opened.  How do I take off the knob and get the door opener?