Description
Halifax passage lever by Weiser(R) features a minimalist design with rich tones of matte black to highlight its unique elegance. This passage knob/lever is best used on interior hall and closet applications where no locking is required. This reversible lever mounts on both left and right-handed doors, and comes with an adjustable latch to fit all standard door preparations. Installation requires only the use of a screwdriver. Backed by a lifetime mechanical and finish warranty.
Product specifications
1 3/8-in to 1 3/4-in (3.49 cm to 4.45 cm)
2 3/8-in and 2 3/4-in (6.03 cm and 6.99 cm)
Limited lifetime warranty
Frequently bought together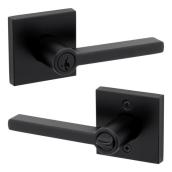 WEISER
Weiser Halifax Entry Lever - Matte Black
Details
Article #09656146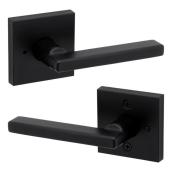 WEISER
Weiser Halifax Privacy Lever - Matte Black
Details
Article #09656147
Are these dummy handles? 
The pictures are misleading. Some show the handle centered some show it offset to one side. Which is it?