Description
This Cobra VersaHook(TM) small hook can be used on the wall to support curtain rods or hung on the ceiling to support light decorations or potted plants. You can rest assured that the hook will securely stay in place with the nylon TripleGrip(R) anchor system.
Holds up to 35 lbs. in drywall
For drywall, concrete, wood, tile
Use a Cobra Nylon Toggle mechanism
Strong and attractive design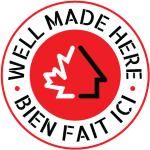 Product specifications
VersaHook, the versatile all purpose hanger.