Description
New metal door. Product may vary depending on stock availability. The EVO5 700 HRV HEPA is an air exchanger with heat recovery core equipped with a HEPA filter and is ideal for homes up to 3,000 sq. ft. of living space. The HEPA filter included in this unit captures 99.97% of allergens and other microscopic particles and can help reduce the symptoms of allergies, asthma, and other respiratory problems. This unit is our best option for optimal indoor air quality. The basic installation kit no. IKSV1000 - 536796 (sold separately) is required for installation of this unit. It is also possible to purchase an optional bathroom installation kit no. IKBV1000- 536770 (sold separately).
Superior sound-dampening BASF Elastofoam® cover
HEPA filtration
Energy efficient
Ultra quiet (2.5 sones)
Quick and easy installation
Energy Star certified
Electronic wall control included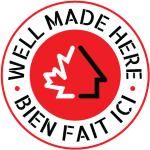 Ecological Attributes
This air exchanger is ENERGY STAR® certified to save energy.
Product specifications
Maximum Ventilated Area(ft2)
Maximum Ventilated Area(m2)
Venmar EVO5-700 HRV 104 CFM HEPA filters
Air exchanger, bracket screws
Sound Level Rating (Sones)
do you have filters for older model venmar air exchangers 
Please reach out to our Product Experts at 1-800-567-3855 to discuss your enquiry further.
Date published: 2021-12-23
Where is this product manufactured?
Drummondville, Quebec.
Date published: 2021-12-20
After installation, will it need air balancing?
There is no balancing damper included, or pressure tap on the unit. To balance , the installer must use an external damper and airflow measuring station (not included)
Date published: 2021-12-20
After installation, does the unit need air balancing?
There is no balancing damper included, or pressure tap on the unit. To balance , the installer must use an external damper and airflow measuring station (not included)
Date published: 2021-12-20
Can I install 2 bathrooms? Can I install more than 2 whispers, I am planning to have one whisper per room, so can I install 7 whispers + 2 bathrooms?
We have one in each bathroom(3) and one in the kitchen. I don't know how many you can have, the HRV company can answer that better than I can.
Date published: 2021-02-24
do you install venmar hrv units
Yes, I installed venmar Hrv unit in my home half year ago. The unit, which I bought from the Lowe's. This HRV does not have interlock to control furnaces fan. You need to contact a HRV profession for install. 
Date published: 2020-09-21
Just wondering about the cfu on the venmar 500 model. Thank you
According to the Venmar website for the 500 at https://www.venmar.ca/91-air-exchangers-evo5-500-hrv.html the cfm is 50 to 94. 
Date published: 2018-10-28
Some HRV's have built in dehumidifiers, can you confirm if this model has one?
That is what air exchangers are. It is a dehumidifier.
Date published: 2022-01-25
Venmar EVO5 700 Air Exchanger with Heat Recovery and HEPA Filter
is rated out of
5
by
24
.
Rated

4

out of

5
by
flyingbluecat
from
Good HRV but missing a critical feature
I called Venmar support and confirmed both EVO5 500 and 700 not supporting furnace interlock and was told no documented solution to address it. For most of home owners no way to build dedicated ductwork to pull stale air so only option is to use so called "simplified installtion" tied in main returned ductwork. This installation requires to run furnance blower always on. Furnace interlock can run furnance blower only if HRV operates.Without this feature, it's a waste to run furnance blower 24x7,potentially can reduce blower lifetime and increase the noise level. Otherwise it's a decent HRV unit.
Date published: 2017-01-19
Rated

5

out of

5
by
John Mytroen
from
Fantastic unit!
We have a 1 year old home and every morning if it's below 0C outside we had water on our windows. Installed yesterday and this morning fresh air and no water on any windows. Easy to install. This is our second installation of a Venmar and they are excellent units.
Date published: 2017-01-29
Rated

5

out of

5
by
howard k
from
very quiet hrv with great controls
unit runs very quiet and seems well constructed controls allow for remote operation of the unit and for timed ventilation ie 20 minutes for every hour recommend purchasing the installation kit for easy install unit has been running for over a year with no problems
Date published: 2016-10-28
Rated

5

out of

5
by
Bohunk
from
Works well.
Only one caveat, the intake and exhaust vents are on opposite sides from original venmar I bought. This required moving the box and using flex hose to recconect. My thought would have been to keep the intakke and exhaust uniform from one generation to the next. Hmm.. wonderwhy the port reversal.
Date published: 2017-10-10
Rated

4

out of

5
by
SubArcticGuy
from
Good so far
Picked it up on sale for under $800. Install was simple as I was replacing a Broan HRV3.1 which stopped working. I just had to reroute some ductwork. The quality seems better than the Broan (even if they are one and the same) and it seems to run quieter. Hopefully this one last more than the couple of years the Broan did.
Date published: 2018-01-02
Rated

4

out of

5
by
Vrenn
from
Easy to install
I bought this several month ago, but didn't have time to install it at the time. When I did, I found it easy since it was a lot lighter than the old Venmar that it was replacing and chose Venmar because I got very good service out of the old unit. The only complaint is the wear of the sleeve bearings in the blower. I wish they were ball bearings. After operating for a while, I found that the plastic core was not as efficient as the aluminium core of the one it was replacing. I do like the doors that shut out the outside air and redirect the flow to be circular inside the house.
Date published: 2018-05-29
Rated

1

out of

5
by
Mark M999
from
Beware
Do NOT buy this unit for a new build. The EVO5 700 does not have the ability to interlock with a furnace and also does not come with the ability to balance as required by building inspection.
Date published: 2019-05-19
Rated

3

out of

5
by
Alicat326
from
Not sure about it…
We bought this to replace our original unit which was also a venmar. Installation was fairly straightforward. However, noticing this winter that we have tons of condensation on our windows. I've used the troubleshooting guide and nothing gives. I miss the old dial from the original unit that I could adjust the humidity with. Not sure what we're doing wrong?
Date published: 2022-01-21