Description
Heat recovery air exchanger. 50 to 94 CFM. Washable foam filter. Electronic wall mount control including 40 ft of cable. 100% fresh air. Ultra quiet, 2.5 sones. "Elastofoam" covering. "Energy Star" and HVI certified. Compact. 1-year regular warranty, 2-year warranty with online registration.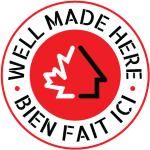 Ecological Attributes
This air exchanger is ENERGY STAR® certified to save energy.
is the evo5 model 500 d csa approved?
The EVO5 is cUL approved.
Date published: 2022-01-07
Can I use this in my unheated garage where the temperature drops to -10 C?
These models have to be installed in an environment where ambient temperature is always above 10°C or 50°F.
Date published: 2021-12-23
Hello, for your Venmar Whole-House Air Exchanger with Heat Recovery, can you provide a operations, installations, and maintenance manual?
Please reach out to our Product Experts at 1-800-567-3855 to discuss your enquiry further.
Date published: 2021-12-23
Is this item available in the sudbury store i want the one that has the hepa filtration. The product number is evo5 700
Stock needs to be confirmed with the individual store.
Date published: 2021-12-23
will this unit replace a Flair 3055 and will I need an installation kit. The old unit is also hooked into 2 bathrooms The house is 1450 sg ft
Please reach out to our Product Experts at 1-800-567-3855 to discuss your enquiry further.
Date published: 2021-12-23
does this have a drain tube for humidity ?
Yes it does
Date published: 2021-11-12
My Ontario building inspector has requested a "balance sheet" for this unit but there are no ports to measure cfm on the unit. Is this unit factory balanced and if so, please send me these specifications so I can give to the building inspector.
I have since spoke with Venmar and they have confirmed that these units are factory balanced and do not require balancing upon installation. Venmar is providing the necessary paperwork to give to our building inspector to meet his request for "balancing sheet".
Date published: 2021-02-18
What is the continuous CFM output? I need between 160-190 CFM 24/7, can this unit handle this? Also are you going to stock both filters, if not You just took yourself out of the private home market HRV sales and have left a opening for me to take over.
yes it does move 0-some cfm
Date published: 2019-04-01
"EVO5 500" Air Exchanger
is rated out of
5
by
9
.
Rated

2

out of

5
by
Lee Mee
from
Hrv bearings in motor only lasted 13 months
I purchasd the HRV and had it proffesinaly installed. The HRV worked great for 13 months but began to get louder to the point where it could not be used. Service technician was here today and advised the motor needs replacing due to bearing. I had registered the product at time of purchase on line and that extened the warrenty to 2 years. Parts had to be ordered from manufacturer and would take a week to arrive. Although I had to pay for service trip, parts and installation of parts are to be covered by warranty.
Date published: 2019-02-24
Rated

1

out of

5
by
BigD56
from
Simple is better
My first unit which was a basic contractor air exchanger ran for 15 years. Bought this unit and luckily registered on line for the extra year of warranty coverage. They covered the repairs and parts for the damper motor assembly. It was barely two years of operations. Today it failed again and I have to pay because they replaced it 16 months ago.
Date published: 2019-12-19
Rated

5

out of

5
by
Madman
from
Great Product.
I purchased the unit to replace my old air exchanger that was defective. The install was very easy as the in and out vent locations were pretty much in the same spot. I had to make minor adjustments as the unit sizes were a few inches in difference and the vent connections on the old unit were 6inch and the new 5inch. Besides that wiring was already there from my old unit. The new wall control is amazing. The unit is extremely quiet even on Turbo mode and does not vibrate at all. This a great product.
Date published: 2016-11-17
Rated

5

out of

5
by
Acreguy
from
Excellent first impressions
I just installed this machine myself and am very impressed by its look and VERY quite operation. I really like the size compared to my two previous HRV units. One suggestion to Venmar - come up with a different way to hang the unit. The chains and springs are very awkward to engage around the supplied screws and hooks. Leveling is even more awkward because the chain links are inconsistent and have a tendency to jam around one another. The springs work well to decouple the unit noise from structure, but the chains are a royal pain. I even had the unit sitting on a platform while I hooked up the hanging hardware. It would be nearly impossible if you had to hold up one end and engage the chains and springs. Other than that, installation is a breeze. The manual needs work. It has several typos and is obviously not written by a technical writer. The hardcopy diagrams are hard to see. The online ones are only slightly better because you can zoom in. It hasn't been tested under a "house closed for winter" condition, but I anticipate that it should do the job. Overall, I highly recommend the Venmar.
Date published: 2017-10-06
Rated

3

out of

5
by
Lorenzo
from
Broken fan blade
I bought this 3years ago. It was working fine. But yesterday it started making super loud noise. I took it apart and found the fan blade was broken.
Date published: 2020-12-11
Rated

4

out of

5
by
Nick G
from
Great unit!
Turbo features work good to eliminate bad odors fast.
Date published: 2017-11-28
Rated

5

out of

5
by
G Cyrenne
from
HRV Good Value
Nice unit, works well, very quiet. Easy to install. I I have a 2200 square-foot ranch with basement.
Date published: 2020-11-05
Rated

5

out of

5
by
Gizzy100
from
Un peu cher mais au combien genial
Cher a l'achat mais il présente de tres bonne fonction. Plutot impressionner par la récupération de chaleur.
Date published: 2020-12-19