Description
This white Uniwatt convector features a modern look with its rounded edges and sleek lines. It is equipped with a built-in thermostat and has a completely quiet operation.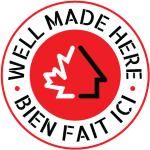 Product specifications
1 year (10 years on the element)
Pour une pièce de 9' x 10'x 9' , combien de watt à une plinthe électrique?
UNIWATT Convecteur avec thermostat intégré, 1500W, acier, blanc Article#03915153 Produit#373522 Modèle#UHC1502w Format1500W-240V Couvre quelle superficie ou BTU?