Description
This Salto 60 in. reversible shower base by Uberhaus is made of white acrylic and has a textured base that is fibreglass-reinforced for extra strength. Hidden drain design. Drain sold separately. Backed by a one-year warranty. Shower base dimensions: 32 inches x 60 inches x 3 inches.
Product specifications
Base Warranty Labor(Months)
Base Warranty Parts(Months)
Items Required For Standard Installation
Screwdriver, drill, 1/4-in and 1/8-in drill bits, silicone, measuring tape, level, pencil, rubber mallet, precision knife
Manufacturer Color/finish
Frequently bought together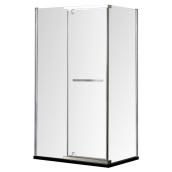 UBERHAUS
Uberhaus Salto Reversible Shower Door - Clear Tempered Glass - Stainless Steel Bar - Semi-Frameless
Format 58 1/2x30 1/10x75"
Details
Article #70845016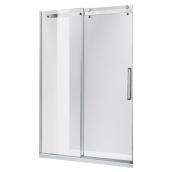 UBERHAUS
Uberhaus Dettifoss Sliding Shower Door - Clear Tempered Glass - Chrome Finish - Industrial Style
Format 58 1/2x75"
Details
Article #70845019
Salto Reversible Shower Base - Hidden Drain - 60-in x 32-in
is rated out of
5
by
8
.
Rated

2

out of

5
by
Josephin2003
from
I think rona had a mistake!!!
The drain cover that rona include it wasn't the right one, the piece dont stay in place it wiggle and it's very dangerous, as you see in the photo the drain cover is smaller and you can see the drain right to it. My daughter slipped on the shower because of it!!! i went to the store and asked them and complained and they said that's the exact cover it comes with the shower base. I like the base but it's not the same in the actual photo the drain cover.
Date published: 2019-09-28
Rated

1

out of

5
by
Thisproductisjunk
from
Poor quality
This shower was installed in my new house before I bought. Obviously its a cheap piece of crap as numerous people are stating below that their shower drain cover has cracked....just like mine is. Finding a replacement piece is also nearly impossible. Rona can't help...gave me a number for another company who is closed for the christmas season. Awesome (insert sarcasm). Also...the photo is WRONG...the piece this base comes with is the exact one that people are stating in the reviews is the wrong one. I only found the piece because of THEIR photos, not Rona's.
Date published: 2020-12-31
Rated

1

out of

5
by
Sean Kenneth 1234
from
Dangerous drain cover
This shower base looks like it has a sleek design to hide the drain. Instead the cover is not as advertised and is dangerous to stand on. It slips and slides and has alot of bounce if you were to step on it. It makes it so you can't stand on that side of the shower. Should be recalled
Date published: 2019-11-21
Rated

3

out of

5
by
Ange
from
Drain cover cracked
Hi..I stepped on the drain cover and it cracked. How do I order a new one?
Date published: 2020-07-30
Rated

3

out of

5
by
Malcolm
from
Drain cover
Was ok quality but drain cover cracked and I have not even used it yet. Just installed it. How can I order a new one ??
Date published: 2020-12-13
Rated

1

out of

5
by
Christine_stbno
from
Le couvre-drain craqué
Comment faire pour se procurer un nouveau couvre-drain. Il n'est pas très fixe et il a craqué.
Date published: 2020-12-14
Rated

1

out of

5
by
RJdn
from
Pire produit possible
Dès les premières semaines le cache drain a fait des trous à chaque coin de l'endroit où il est placé. Il a donc fallu boucher les trous pour éviter que l'eau coule sous la base. C'est un produit totalement mal fait. Évitez de l'acheter à tout prix. Ceci devrait être retiré des tablettes et remplacé par quelque chose d'adéquat.
Date published: 2021-08-01
Rated

2

out of

5
by
Karrie
from
Cracked Drain cover
I need a new and hopefully improved drain cover as do most other reviewers. Please contact me.
Date published: 2021-07-13