Description
This utility trailer with a lift-out gate is perfect for all types of work around the house. Its mesh flooring is practical and makes the construction lighter for less fuel consumption without sacrificing the results. It is equipped with 12'' (30.5cm) rated at 449kg (990 lb) each. It has an impressive payload of 794kg (1750 lb). 1 7/8'' (4.75 cm) coupler with safety chains. The articulated axle of 907kg (2000 lb). Black steel trailer of 3 1/2' x 5' (1.07 m x 1.52 m). (Note that product availability may vary from store to store)
* Trailer license and registration are required when picking up this item.
16-in high sides
Slide-in rear gate
1-7/8-in coupler with safety chains
16-In high sides
Slide-in rear gate
1.875-In coupler with safety chains
The trailer displayed is representative of Carry-On Trailer model# 4X5LSHS (Lowe's item# 253168); if you have questions about the date of manufacture or dealer stock number, please visit your local store or call 1-800-240-3121 for additional details
Product specifications
Product is stored outside and is subject to weather conditions; delivery not available at most locations
Manufacturer Color/finish
3.5-ft x 5-ft Wire Mesh Utility Trailer
Frequently bought together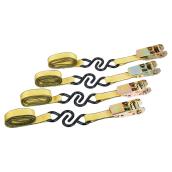 ERICKSON
Ratchet Tie-Down - 1'' x 10' - 900 lb - 4/PK
Format 1"x10' 900LB 4PK
Details
Article #16425000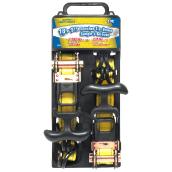 STINSON
Stinson T-Handle Ratchet Tie-Downs - Rubberized Handle - Vinyl-coated J-Hooks - 1 1/4-in W x 16-ft L - 2-Pack
Format 1 1/4"x16'xPK2
Details
Article #0033335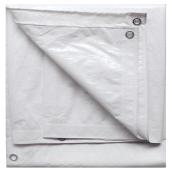 PROJECT SOURCE
Project Source Polyethylene Tarpaulin - 8-ft x 10-ft - White
Format 8'x10'
Details
Article #19595012
Can i tow my Quad with this trailer- Yamaha grizzly 
Can you tow this trailer behind an ATV? Definitely. That's what it's used for. Can you tow your ATV by loading it inside of this little trailer? No. The trailer is too narrow and is only made of a few steel support beams with metal mesh. There is no where to strap it down as well this trailer does not have any suspension. It'll be too rough. I tow this little utility trailer with my small car for hauling garden supplies or behind an ATV. It's definitely more for basic utilitarian purposes.
Date published: 2022-06-25
Does it fit with Honda Civic? Does it impact the transmission?
small light trailer no problems to pull with a honda civic
Date published: 2022-03-02
Is it possible to load any standard size appliances ? such as a fridge/dish washer/dryer/dish washer/stove ? will the standard size of appliance will go inside and fit ?? Pls. tell me, thanks very much, vivah
Well, i would think your standard appliance would be okay.  I would hesitate to put anything tall like a fridge. 
Date published: 2022-06-25
What is the width including wheels?
3.5x5LSHS Overall Width: 56"
Date published: 2020-08-08
how often to grease the wheel axle? how to get the hub out at the wheel axle?
https://www.carry-ontrailer.com/wp-content/uploads/2014/08/dexter.pdf page 51 will discuss your needs.
Date published: 2020-08-08
How high is the trailer once it's level from ground to top of sidewalls? Thanks all !
3.5x5LSHS has 16" mesh sides and has 12" tire and wheels.
Date published: 2020-08-08
What is the wall height?
3.5x5LSHS has 16" mesh sides
Date published: 2020-08-08
What is the recommended hitch height for this trailer? I have a 2017 Toyota Corolla and the hitch height for the Corolla is 9 1/4"
Not sure about the hitch height, but you should be fine.  The long neck helps with backing, and keeps weight on the trailer so as not to overload the rear of your car.
Date published: 2019-08-15
Trailer with Removable Rear Panel - 3 1/2' x 5' - Black
is rated out of
5
by
103
.
Rated

5

out of

5
by
Allen
from
Great Utility Trailer!
This trailer is well made and is painted very nice! It works perfect with my 2019 Kia Soul Plus and due to the light weight I can't even tell it is back there while I am towing. Excellent for hauling small stuff like mulch, supplies, and garbage to the dump without guzzling the gas of a truck. The expanded metal sides and bottom is a plus to keep things from flopping out. Trailer is also small enough to move around by hand and fits snugly in the corner of my garage. I highly recommend this trailer for those that don't need the frequent use of a truck and occasionally need to haul items on their own.
Date published: 2020-04-30
Rated

5

out of

5
by
BABO
from
This trailer is great, I use it to carrying my portable generator behind my camper trailer(Had a welder attach a hitch to the bumper of the camper trailer) the generator its a 7500 watt and a bit heavy to keep loading and unloading. So I keep on this trailer with some other camping equipment ready to go. I attached a trailer jack from Harbor Freight to the front of it and wow It is a snap to go in an instant. Other campers that see my rig are green with envy.
Date published: 2013-09-03
Rated

5

out of

5
by
Asaenz5329
from
Great Price Good Features
Bought Trailer last year. I am 68 years old and started having problems loading and unloading items from Dodge 3/4 ton Pickup. Great for holiday season, starting in October taking decorations out of storage and loading on trailer a lot easier than loading and unloading from Pickup. Same for planting season, painting, or loading cleaning supplies, loading and unloading is a snap. Pull with 2005 Nissan Sentra, saving on gas, when towing turns on a dime, backs up easily (need to practice a bit) Remember what you paid for it, don't abuse it and it should last for a while.
Date published: 2015-10-13
Rated

4

out of

5
by
Raoul
from
Good little trailer
Bought this to tow behind my Wrangler. No complaints but a few of fixes. Rear gate bounced out. Bungee cord would fix but, I bolted the gate permanently in place, figured if I couldn't lift something an extra 16 inches it didn't belong in this little trailer anyway. The tag hangs too low. If your State allows motorcycle tags on small trailers go that route, then just flip the tag bracket above the light (two nuts). The tag won't be lit at night but, you won't be going back to DMV for a lost tag. The mesh floor is weak, covered it with some wood.
Date published: 2014-01-05
Rated

5

out of

5
by
Race-fan
from
3 ft.6 in x 5 ft Wire Mesh Utility Trailer
I purchased this trailer last August/2013, I pull it behind my Jeep Wrangler. I have had no major problems with it at all, you'd never know it was there. I've hauled furniture, lumber, concrete blocks. It is hard to back up because of it's size. It did have some rust places on it from being displayed outside, but a can of black paint fixes that. I added a cut to fit sheet of 1/2" plywood to the floor ( painted with black enamel, both sides) bolted it down. I also drilled a 1/4" hole in each side of the lift out tailgate (while installed) and used two 1/4" x 3 hitch pins to hold it in place. Also had to mount license plate to tailgate because original mounting plate is to low to the ground. For the homeowner this is a perfect size trailer, easy to move when not in use, easy to store.
Date published: 2014-05-13
Rated

5

out of

5
by
Mike
from
Perfect kayak trailer
[This review was collected as part of a promotion.] I was looking for something small than can carry all of our kayak gear and two 10ft kayaks on top. I built a 3' tall frame with a mix of square tubing and angle iron. With two 30 gal totes it holds all life vests, safety gear, and paddles so we can hook up and go kayaking in 5 min. You will need to spot paint every year, rust will form in the corners. The best part is fully loaded it only weighs a couple hundred pounds so you can easily pick up the tongue and move anywhere.
Date published: 2019-04-06
Rated

5

out of

5
by
HomeownerNJ
from
Wire Mesh Utility Trailer
I bought this trailer to haul fire wood and manure from the county parks and surrounding horse farms. It was delivered to my business fully assembled. The deliveryman was a complete gentleman in all respects. It is a very good trailer, handles quite well and I am very happy with it. It is well built, tires are perfect for it's size, lights are easy to hook up with a simple adapter purchased at Walmart for about $18.00. For the homeowner like myself it is a perfect fit.
Date published: 2013-04-08
Rated

5

out of

5
by
LAM
from
Good light useable trailer
The best thing I can say about this trailer is that I can actually lift it and hook it up myself. I bought it for yard debris hauls to the dump. It will be great for yard cleanup. We live in the desert and wild shrubbery is growing all the time. Already pulled it on a 75 mile trip (back home from Lowe's) and I didn't know it was there. My van has absolutely no trouble at all towing this trailer. It is small enough so that it stores in our two car garage with the van. I just would not use it for very heavy loads, but most of my loads are not that heavy.
Date published: 2016-09-07
Rated

5

out of

5
by
ALCANtravel
from
CROSS COUNTRY CHAMP
I drove from Ottawa, Canada to Anchorage, Alaska with this trailer...I constructed a wooden box inside of it, to add a little weight and allow me to lock items inside of it. Not one flat tire, or damaged bearing. 5000miles of highway including the ALCAN highway. Only wish I had for improvement would be to have tires rated for 65mph not 55mph. For those who don't like how low it is, use winter driveway markers. Then you'll see it in your rearview on the road, and in side mirrors when turning.
Date published: 2016-07-09
Rated

5

out of

5
by
TroutStalker
from
Perfect suburban trailer
Been eyeballing this for some time, decided to snag one when price dropped, couldn't resist. Added back up guides, just zip tied to frame for now. Added a 3/4" piece of plywood decking, will bolt down. Will add 1/2" plywood to sides, and bolt in too. This will help provide rigidity and protect contents and reduce loose dirt/rocks from falling out, and allow me to add a tarp to cover items when traveling in inclement weather or to keep prying eyes off items. Bought a spare tire too, with bracket to mount, gotta have a spare tire... Bought a triangular tongue box, need to add that, for misc items, and add a bit more weight to tongue. Drove it at hi speed empty, no issues, back up rods are very helpful as it is not visible out rear vie mirror. Don't need to add light kit, as my suv lights are visible when towing, not required. I did add additional reflectors to fenders. All in all, a great little trailer for my purposes and price point.
Date published: 2017-09-11
Rated

4

out of

5
by
Jeff
from
Still going strong
[This review was collected as part of a promotion.] Bought mine around 2012 or 13. I've used it for every imaginable purpose. I've hauled many tons of gravel, appliances, firewood, tools and lugage for road trips. It towes great with a small car, or I can hook it to my truck for double the cargo without loose much at all on gas mileage. I bought it because of the side panels, which makes it far superior to any of the landscape trailers for actually hualing stuff other than lawnmowers. Added a wood floor, and homemade ladder rack to mine, and couldn't be more pleased with it after many years and many thousands of miles.
Date published: 2020-01-17
Rated

4

out of

5
by
Roadtripping
from
Fits our needs perfectly
I bought this last year (summer of 2017) to tow cross country, Virginia to Oregon and back. The reviews let me know what I was getting. There was some rust and the wiring was shot, but I knew that going in. Replacing the wiring was easy, especially considering I had no experience with that sort of thing. During the trip it was towed by a minivan and we couldn't tell it was there most of the time. The box I built for it and the camping gear was about 600-700 pounds. Since then it has been used on multiple trips to the Midwest with no issues. It is easy to manhandle and the short length keeps it behind the vehicle when driving through parking lots. I would easily give it 5 stars if it weren't for the wiring.
Date published: 2018-06-24
Rated

4

out of

5
by
McFee
from
Great little trailer almost perfect!
Ive had the trailer for just over a year. The first year was great. I agree about the rust in alot of the reviews so make sure you look for a none rusty. there were some bad ones. I touch it up with a can of tremclad. I got it out the next year and the lighting didnt work. turns out the light assemblies are extremely cheap. The way it holds a light bulb is cheap. i replaced them when some LED housings for 32 bucks off amazon. Only other complaint is how low it sits and i cant see it unless its loaded up with something. I added a trailer jack. I use it mostly for camping and dump runs. its been perfect for my needs.
Date published: 2017-05-01
Rated

4

out of

5
by
Maudibe
from
Nice little trailer
Pros: Trailer contains a functional light kit for hook up. the ball required is 1 7/8". No assembly required. Angle iron and mesh with solid welds. Descent payload. Nicely balanced. Cons: Tailgate slides down in vertical slots. Does not swing down and double as a ramp so some modification will need to be made to do so or will need external ramps. There is no locking mechanism to prevent the tail gate from being stolen which will require additional alteration. There is a moderate amount of rattling of the tailgate in the slots while on the road. The license plate mount is too low to the ground so I had to mount it to the tailgate. The trailer is not visible while backing up because it is much narrower than my truck which makes backing up nearly impossible unless I lower the truck tailgate.
Date published: 2014-09-14
Rated

4

out of

5
by
MIKE
from
Good trailer if youre able to upgrade it.
GOOD IF YOU UPGRADE IT>>>> removed mesh floor and installed 1x6 press. tr. boards... LED lights throughout. installed pins on the gate(2016 model was before the revised gate) and of course had to touch up the paint.
Date published: 2022-01-04
Rated

2

out of

5
by
Daniel
from
Don't buy online until you see the trailer first.
I purchased this trailer online, in fact it was only trailer available within a 100 mile radius. I noticed when I goto the DMV the title on the trailer was dated 2010 and I bought it May 28, 2013. When I saw it, it was rusty and wiring was frayed and one of the lights were missing. I also noticed a bolt was missing on the under carriage. but it was cheap and buyer beware. I can only blame myself for not being a smart shopper, however they shouldn't sell damaged items like this either. Also, being new it would not pass inspection.
Date published: 2013-06-10
Rated

4

out of

5
by
Campingdude
from
Great little trailer for the price
After buying and returning a harbor freight 40x48 kit trailer after not even taking it out of the boxes, I purchased this little guy in June 2016. Those kit trailers from Harbor Freight and Northern Tool in Pennsylvania have to be inspected prior to titling and getting tags which adds about $200 to cost before the title & tags. This carry on trailer is capable of hauling 1650 lbs and has a 2200 lbs Dexter EZ Lube axle installed. As with the other reviewers I had problems with the tail gate before 15 miles it took to get home. My trailer was mfg on Mar 2016 and had the welded tab on the trailer and tail gate with a locking "D" ring pin. That still didn't keep the tail gate from bouncing around and I lost the "D" ring. I solved the problem by bolting the tail gate to the sides and bottom of the trailer. Without doing so the sides can flex with a heavy load. I purchased the trailer specifically for hauling camping gear so I modified it as such by adding a spare tire to the rear tail gate. A ATV cargo carrier to the front tongue. Tongue jack and plywood bottom with attachment points. Additionally with my mini van I cannot see the trailer while towing so I added 2 fiberglass driveway markers in the back corners. Overall this is a great little trailer that u can use as is or can modify with endless possibilities.
Date published: 2016-07-04
Rated

5

out of

5
by
Brownsquad
from
Extra capacity for long trip
We bought this trailer to tow behind our VW Routan. First time we used it we pulled it from Texas to Idaho and back. We towed it at 75 to 80 mph, loaded with about 300 pounds no issues. It didn't seem to affect our fuel millage at all. The paint job is not that good, and it doesn't come with a spare or the bracket to hold the spare, an extra cost of about $100. Make sure to check all nuts and bolts, including the lug nuts on the tires, some were loose. The measurement to the TOP of the ball on our van is 16" and the trailer is not quite level, the tongue is a bit high. It would be level if it were an inch or so lower. As a side note check all the lights before leaving the store, about half were broken on the trailer we got due to careless handling at the store. Also the 12 inch spare at the Lowe's store we were at was actually a larger diameter than the one on the trailer when compared side by side so I got the spare at a different store.
Date published: 2014-03-29
Rated

4

out of

5
by
Sonny
from
Excellent Landscape/Utility Trailer
This is an excellent trailer to do suburban yard work with. As soon as I got it I added a 1000 lb, swing-away jack with wheel. With this setup you can shop for the stuff you need--has excellent weight capacity--tow it home with your vehicle, unhitch it, and roll it around if your ground is level and firm, OR, you can use your lawn tractor fitted with a 1 7/8" ball and go most anywhere. The lift-off tailgate is ideal for getting stuff in and out. I used it for trimming brush and trees then took that load to recycling. It was real easy to load and unload. Put cardboard on the bottom before hauling bags of stone or they will wear through before you get to your destination if the distance is far and rough. It tows and tracks perfectly, but is not the best thing to back due to the narrow width. If you don't know how to back a trailer don't try to learn with this one. Paint quality is not the best. Keep a can of zinc chromate primer and black paint on hand or it will get rust spots very fast.
Date published: 2013-07-11
Rated

4

out of

5
by
xack
from
Hope they get some more into stores
[This review was collected as part of a promotion.] Nice size for pulling behind a Jeep Wrangler. I welded on some angle iron to raise the sides to 2 foot. Used a sheet of 1/4 plywood for for the sides. It handled 1/2 ton of anthracite with ease. I will be using it for camping, gravel, garbage in the warmer months. At this time Lowes doesn't seem to be restocking this size, if they to, don't hesitate. Perhaps when I do sell my truck I will buy a 5x8 for mowers and motorcycles, but for most of my wants and needs, this one is a perfect size. I rated it 4 stars because the inside measurements are a little smaller than advertised.
Date published: 2018-12-14
Rated

5

out of

5
by
shane
from
good investment great price
picked this up for hauling camping gear in with my 2008 kia spectra. trailer is very light barely noticeable hauling with my car and a very smooth ride. the back gate rattled around a lot but is very secure with the double locks I went ahead and tied it down so no more rattle. The bottom mesh is a little weak and will tear up stuff while being hauled so I put a light board down on it. overall this was perfect for my needs at a great price.
Date published: 2017-05-29
Rated

3

out of

5
by
heejr
from
2" ball
Website description says 1 7/8" ball. Coupler on trailer says 2". See photo.
Date published: 2021-04-01
Rated

5

out of

5
by
StealthGTI
from
Great Buy for a Small Car
I had a Carry-On 4x6' trailer for 13 years. I didn't *need* a new trailer, but this one was too good to pass up since it's smaller, has 16" sides, and has a tailgate. As others have done, I installed a wooden floor since I know the mesh floor will warp under load. I also added mounts for my rooftop carrier, tie-down points, and inverted the license plate holder (my state allows the mini/motorcycle plate). The trailer and its 90-psi tires are spec'd to carry 1750 lbs, but I don't ever carry more than 800. Lightly loaded, this trailer can tend to bounce violently on bumps. Since my loads are always light, I swapped out the 1000# slipper springs for 500# units and switched to a larger, 30-psi tire (which required a fender swap). I also did a hub conversion so I could mount VW wheels, which also means I don't need to carry a spare tire since my car's spare will work. The ride is much improved; I can even carry my bikes without concern of them getting beat up from bouncing. I've shared some photos. In short, I love the trailer! The car/trailer combo is only marginally longer than a full-sized pickup truck, but it's far more maneuverable and economical. I can even get it into a single parking spot if I choose wisely. :)
Date published: 2017-04-23
Rated

4

out of

5
by
Portlandguy
from
Simple trailer
I recently purchased this 3.5 by 5 feet trailer because I bought a small car and needed something light to haul light loads. I would have given all 5 stars but the floor seems a little weak, doesn't feel ideal to walk on it. I'll probably add a 1/4 inch plywood anytime I need to walk on it to roll something heavy on it. I haven't used it on my new car yet bec I'm wating for a new hitch. Look forward to using it for years.
Date published: 2015-04-04
Rated

4

out of

5
by
GuyfromFlorida
from
This is a useful little trailer for anyone who is limited to Class I hauling. I use it with my Kia Soul. The trailer takes up little room in my garage but can haul quite a bit when needed. And it's easy enough to move around so that even my 102 pound wife can handle it. The inside dimensions are about 41.7" x 59.5". This doesn't make it the best trailer for hauling plywood and 8 foot+ lengths of lumber, but for the average homeowner, it's good enough. The trailer tracks straight and true, even at 80 mph. However, it is difficult to back-up with because of its single axle and short length. Not always being able to see it in my side mirrors doesn't help. I will add something like feelers with something visible on the ends at the rear to help. You'll also notice that the tires are labeled for 90 psi. I'm sure this is for max. load. I run them at 70 psi with no problem. Spare tire/wheels can be found easily, but watch for different tires. The Carry-On wheels that come with this trailer are nice and the tires seem tough enough to last.
Date published: 2013-07-30
Rated

4

out of

5
by
Junior
from
Just took long trip - worked great
I purchased this trailer a few months ago, but wanted to wait until I had taken a long trip before making the review. I took this trailer on a roughly 1200 mile trip and it performed very well for both highway driving and city driving. Highway driving was partly in Texas where the speeds are 75 mph on some roads and the trailer performed great. I was pulling this behind a mini-van and the wife mentioned it was like it was not even there. I loaded it down with roughly 500lbs of stuff on the way there and a little less on the way back. The only problem I had with it was the wire mesh rubbing a hole in the tarp, but I knew going into it that might happen, so I will just need to put something heavier down on the floor in the future. As other people mentioned the paint job may have a few scratches but I had a can of black spray paint at home so the few blemishes I saw were easily fixed. The major reason I bought this particular trailer was the size. Because it is small it pulls great behind the van and did not really change the gas mileage. It is not very wide so I could easily go through a drive thru and not have to worry about hitting anything. However the size does make it disappear in the mirrors so backing or even keeping an eye on it while driving is not an easy thing to do with this trailer, but it is light and pretty well balanced so most of the time I did not even bother to back it up. I could move it around easier by just unhooking it from the van. Even loaded it easy to move. When I got home I simply unhooked the trailer and pushed it into the garage to be unloaded another day. Another nice thing about the size is that because of the short width and the tall sides (the sides are roughly 19" tall and the top rail is angle iron) I can easily attach removable cross rails that I originally purchased for a car rack. This allows me to put nearly anything on those rails that I would put on top of a car. I plan to attach a car top carrier and use plastic bins in the "bed" of the trailer on the next big trip to make It easier to load and unload. I will just need to remember to put some wood down in the bottom to keep the wire mesh from rubbing a hole in the bins. Overall I am very happy with this purchase.
Date published: 2013-12-02
Rated

4

out of

5
by
JeepinKris
from
Good Little Trailer
I bought this to tow behind my Jeep TJ and wanted something easy to move around by hand in tight spaces. Overall a great trailer for the price (<$400 on sale). Build quality is good, name brand axle, but it's obvious they are just thrown together. Paint is decent, but lots of runs (it's a utility trailer) but some major splatter on the lights, wiring and safety chains. I also had to re-mount the tail lights (they were loose) and rework some of the wiring when I noticed they weren't working quite right. I found loose wiring at one of the tail lights and a cut ground wire. Once I got it "fixed" to my liking, everything is good. I also noticed two different tires are installed (same steel wheels), nothing major, just different tread pattern. With the 12" wheels, it sits fairly low to the ground, but not a problem. It fits my stock TJ perfectly. Would also be great behind a car. You'll need a fairly large drop ball mount to be level on most newer pickups or lifted vehicles. It also requires a 1 7/8" ball.
Date published: 2017-03-04
Rated

4

out of

5
by
Traveler
from
2000 Miles at 70+ mph
I bought this trailer to use for carrying luggage and vacation items for a 2000 mile round trip to the gulf coast in June. It worked great at highway speed with a few points to consider for your own uses. 1) I drilled 5/16 inch holes in the top rear frame and rear gate to pin (used 5/16 inch hitch pin) both sides of the gate solidly to each side of the trailer frame and keep the gate from opening during transit. Without this the sides of the trailer are likely to bend out when loaded and the rear gate is likely to fall out. 2) I put down a thin layer of sheet plastic (about 1/16 inch thick) on the bottom and the sides held on by wire ties to prevent the mesh sides from damaging the items in the trailer during transit. A thin layer of any weather resistant material would probably be just as good. 3) The trailer lights are very cheap and you can expect the bulbs to fail regularly from vibration and the light fixtures to be prone to shorting out or having wiring issues. I had to fiddled with one of the bulbs to get the light to come on and stay on even in new state. One of the bulbs also needed to be replaced when I finished the trip. Have spare bulbs and a Phillips head screwdriver at all times to change the bulbs when they fail. My plan is to replace these fixtures with more reliable LED lights before my trip next year. 4) The trailers do have a tendency to rust easily, so buy a good quality black spray paint (1 large can was sufficient for me) to repaint the trailer anywhere the rust is starting to appear. 5) As with all trailering, you should never overload it, have tires at the proper pressure, check the wheels and tires at each stop for excessive heat buildup, and load it with more weight forward than in the rear of the trailer. The trailer performed great at highway speeds for the entire trip when these trailer practices were observed. 6) It is small enough that it is hard to see behind the vehicle and it tows like it is not even there. Be careful not to forget it is there. Backing the trailer is almost impossible as a result, so you may want to simply unhook it to back it up and move it into small spots by hand or have a helper to guide you while backing up. 7) To keep things dry I lined the bottom with a 10 mil heavy duty tarp (10x20), then loaded the trailer, then wrapped the excess tarp around the sides and top to encase the items (a bit like a burrito). Lastly, I used 6 ratchet straps to secure the tarp preventing wind flapping and damage accordingly. Next year I will be using a 4x6 cargo net instead of or in addition to the straps to achieve the same secure result. 8) I added a spare tire holder and tire to complete the package.
Date published: 2015-06-26
Rated

4

out of

5
by
we5inelgr
from
Overall nice little trailer for $. Things to note!
Picked this up a few days ago. Nice little utility trailer. The price is the best around at this time for this trailer. It *may* be a little difficult to see in the photo online, but the floor of this trailer is wire mesh as well which of course does give in more than a solid metal floor would. So I will be mindful of the trailers weight carrying limitations. Will be using this for hauling camping gear (large ice chests, chairs, tents, ez-up canopy's, etc#, and the occasional yard work #hauling brush, etc# and so forth. We figured this trailer would be much more versatile, and have a larger carrying capacity than one of those hitch mounted platforms for about the same price! Of course, with a trailer, comes registration fee's. However, in CA, I believe it will be around $38 every 5 years. With room to store it, this trailer is a better option than a platform IMO. When in use, this trailer will be hooked up to a 2008 Enclave primarily, and occasionally to a 2003 Silverado HD CC 1500 #with a drop hitch#. A couple of issues: #1# Noticed rust in various spots on the trailer. I will have to sand that down, prime it and repaint. Not a huge deal given the cost...but still. It's brand new and there should not be any rust on it anywhere. #2# On the Certificate of Origin from Carry-On Trailers, the G.V.W.R. is listed as 907 KG #2,000# LB. The trailer itself is, apparently, around 250 lbs. So, in theory, 1,500 lbs is left for cargo weight. Even though the tires that come with it are stated at 900 lbs capacity (each), I would be very hesitant to put 1,500 lbs in this trailer due to the wire mesh flooring. Even with two metal cross members under the floor. Unless, perhaps the weight was evenly distributed throughout the entire available area. I think I'll limit any load to under 1,000 lbs (weight evenly distributed). #3# The wiring connection on the trailer is a 4 prong straight line/flat plug. If your receiving wiring coupler on your vehicle is the 7 plug circular blade variety #like both my vehicles, and most modern cars/trucks#, you will need to buy a 4 #or 5# way prong to a 7 way blade adapter. My local Lowes sold the Reese 7 way blade to 5 way flat adapter. Part #85212HD. This 5 way flat will also work with the 4 way flat plug that comes with the trailer. #4# Some of the wire mesh sides poke out a bit #near the top edge# from the frame. Might catch some clothes, or a hand/arm on that. I'll need to hammer that in towards the framer better. #5# Lastly, and MOST importantly, the description on Lowes.com says this comes with a 2" coupler. That is NOT true. It's actually a 1 & 7/8" coupler. So don't show up to your local Lowes to pick this up with a 2" ball like I did #based on what Lowes.com description said#. It won't fit! We tried it. You will need a 1 & 7/8" ball.
Date published: 2012-04-30
Rated

5

out of

5
by
Danger
from
3.5' x 5' Utility Trailer.
Great little trailer for the price. We use this behind our Prius because of the trailer's size and weight. I think it tips the scales at 190 lbs. It comes fully wired and even includes side markers. The tailgate rattles around a little but that is easily fixed with a bungie cord. My biggest complaint is the build quality. Some of the welds are not very clean and the paint was slopped on in certain areas.
Date published: 2013-06-25