Description
Ideal for pressure-treated wood. Water-repellent. Ultimate protection against rain, snow and ice. Optimal protection against discolouration caused by UV rays. Resists flaking, peeling and cracking. Translucent, matt finish. No need to scrape or strip after first application. Easy, single-coat application. No harmful fumes (water-based, low-VOC formula). Cedar. 3.78L.
Water-repellent
Will not peel or crack
Designed pressure-treated wood
Low VOC
ECO Certifed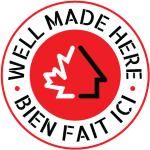 Ecological Attributes
This product has a low content in volatile organic compounds (VOC), as per SCAQMD's stringent standards (the most severe California standard regarding the release of pollutants in the air), which reduces impacts on human health.
Product specifications
For Use on Composite Decking
For Use With Furniture & Cabinets
Manufacturer Color/finish
Maximum Coverage Area(ft2)
Maximum Coverage Area(m2)
Maximum Working Temperature (Celsius)
Maximum Working Temperature (Fahrenheit)
Minimum Coverage Area(ft2)
Minimum Coverage Area(m2)
Minimum Working Temperature (Celsius)
Minimum Working Temperature (Fahrenheit)
TSL Prot. Wood Cedar 3.78L
my fence was built 2 years ago. what preparation do i need to do before applying Techniseal? Also, how often would i need to re-coat the fence in the future?
A coating of this product should last at least two years before a reapplication is required. For optimal results, start by stripping/sanding the wood to work on a completely "naked" substrate. Then, clean the surface with our Wood Cleaner before applying the Stain & Sealer. IMPORTANT - Always work on a dry surface, with no rain forecasted in the 24 hours following application.
Date published: 2022-07-18
J'ai une maison en pruche qui la dernière fois a été peinturée blanche. Si j'utilise votre produit dois-je décaper ma maison avant?
Malheureusement, notre Teinture et Scellant pour bois n'est pas recommandé pour une application sur du cèdre ou de la pruche. Visitez notre site web pour en apprendre davantage.
Date published: 2022-07-15
Deck with 3 year old thecniseal wood protector .Procedure to apply a new coat .Clean only ? Pressure wash ? Sanding ? Or .....some thing else? Thanks
Here is the recommended procedure: 1) Clean the entire surface with Techniseal® Wood Cleaner (60102038), as directed on the product label. 2) Smoothen rough surfaces with an 80- to 120- grade sandpaper. Remove residues with a vacuum. 3) While sanding the entire surface is not mandatory, it will provide a smoother and more uniform finish. Note: Rust-proof nails and screws should not be apparent.
Date published: 2021-06-16
Can I use it on raw natural non treated wood, like cedar?
Unfortunately, we do not recommend applying this product to cedar and similar types of untreated wood. As a means of natural protection, cedar secretes a special oil that can affect the adherence of products such as our Wood Stain & Sealer.
Date published: 2021-07-09
I've applied the first coat of this product to my deck. Can I apply 2nd coat because some area appears thin? How long do I wait to apply the second coat? Thanks!
Our wood protector was developed for a "one coat" application. Adding a second coat is possible, but it must be "wet on wet" and done within a few minutes, while the first coating has not yet dried up.
Date published: 2020-09-17
Bonjour, est-ce sécuritaire d'utiliser ce produit sur une table en bois massif d'acacia pour l'extérieur?
Oui, il est cependant fortement recommandé d'utiliser un nettoyant pour bois, et de traiter la table avec notre préservateur. Cela permettra d'obtenir des résultats esthétiques et durables.
Date published: 2021-08-23
Ça couvre combien de pieds carrés par gallon?
Techniseal Maintenance-Free Wood Protector - Cedar - Translucent Matte - 3.78-L
is rated out of
5
by
13
.
Rated

5

out of

5
by
Jp34
from
Super
Jai esseyer le techniseal couleur cèdre, jai seulement appliquer une couche au pinceau. Jai appliquer la teinture le soir ver 18h . Jai nettoyer le bois au jet a pression et apres jai lai laver avec le produit techniseal. Ma conjointe et moi somme content du résultat . Reste juste a savoir combien de temps sa va toffer. Merci , jai seulement fait le plancher
Date published: 2020-08-19
Rated

5

out of

5
by
Melb35
from
Fantastic color
The guy at Rona recommend this product to me so I thought I would try it. I picked the color CEDAR. It turned out fantastic. The color is rich and warm, lots of character in the knots of the wood when put over pine. Stained the front porch, stairs going down to my tenants house & also the lattice e on the fence. Super happy with this product. There is no odor either.
Date published: 2020-07-29
Rated

1

out of

5
by
Winsker
from
Not diy friendly
This product was not great. I put this on a pressure treated deck and a pressure treated garage door pergola. The colour variation between the 2 projects was extremely different. Both projects were stained from the same can of stain. The stain did not permeate into all wood the same. So some boards look dark while others appear time worn after only 3 weeks. Normally with other brands of stain I would just add a 2nd coat to achieve a uniform look. This product does not recommend a second coat. This stain was a waste of time and money as now I have to sand everything down and retain with another product.
Date published: 2021-07-09
Rated

5

out of

5
by
Raccoon Dad
from
Mr
Bought this product instead of Thompson's Water seal because of reviews. So glad I did. Applied it onto the pieces of a cedar picnic table before assembly. Also a couple of coats after installation. Really brings out the grain of the wood with a nice cedar shade. This table will now probably outlast me....
Date published: 2020-08-22
Rated

5

out of

5
by
Mart1896
from
Excellent produit
Produit de très haute qualité qui ne s'écale pas au fil des ans. Produit Québecois. Plus cher mais 100x supérieur a ce qui se vend sur le marché.
Date published: 2020-09-24
Rated

5

out of

5
by
MB40
from
Great pruduct
Easy to use, great coverage and colour, no reddish undertones. Highly recommend if it lasts more than a few years
Date published: 2021-04-23
Rated

1

out of

5
by
Osee
from
This is junk. Did not last one rain fall
Looks like the money I spent on Techniseal Maintenance-Free Wood Protector (Item #000341421 Model #144-353) is all gone in the water. This product is a junk and it didn't last one rain fall. I have completely sanded my deck down to bare wood, cleaned with the Thompson's cleaner and brightener waited for 48 hours for it to completely dry, and then applied the Techniseal stain and sealer. It was beautiful until the rain falls. It seems like the water is being absorbing through the sealer into the wood. The wood getting darker and darker with the water getting into the wood. OMG! This is heart breaking! Have I put lot of effort and so many hours in to this project in order to have this crappy result? I not only wasted money on the sealer, but also 20+ hours! I am extremely disappointed. I need my money back so that I can get something else.
Date published: 2021-06-25
Rated

5

out of

5
by
Frank OM
from
Excellent produit
J'ai préparé mon patio sur 3 jours….1ier jour nettoyage avec jet pression eau fait délicatement pour ne pas abîmer le bois et nettoyage du bois avec produit dissout dans l'eau pour enlever toute taches et corps gras…2 ieme jour sableuse avec papier 60….3ieme teinture au pinceau, le SECRET est de ne pas repasser le pinceau 2 fois sur une couche déjà installée après une minute car en séchant il y aura apparence de coup de pinceau ou couche barbouillée… voilà
Date published: 2022-05-12