Description
Extend the durability of your paved walkways and driveways with this 3.78 litre Techniseal paver protector. The semi-gloss finish offers the right amount of shine that helps refine the look of your exterior space. This concrete paver protector features a water-based formulation that's easy to apply and creates a protective film against stains and erosion.
Enhances the original colour of pavers
Forms an ultra-durable protective film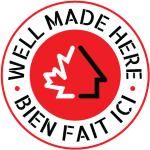 Product specifications
Number Of Coats Recommended
Un gallon couvre combien de pieds carré?
Un contenant de 3,78 litres couvre jusqu'à 14 m2 pour une première couche. Pour une seconde couche, un contenant couvrira approximativement 19 m2.
Date published: 2020-05-13