Description
Enjoy your terrasse or patio even in cold temperatures thanks to this Style Selections patio heater. Using propane gas, it generates 36,000 BTU and covers an area of up to 400 sq.ft. In addition, the central flame and cylindrical design of this device allow for an evenly distributed heat. The protective screen prevents contact with the heating cylinder. This patio heater is perfect for both residential and commercial use. Propane tank not included. Backed by a 1-year warranty.
36,000BTU adjustable heat output
Cylindrical Pyrex glass creates a stunning 360 degree visual effect
Central flame and cylindrical design delivers even heat
Heating area 400 sq ft
Product specifications
Base Warranty Labor(Months)
Base Warranty Parts(Months)
File/Certification Number
Heating Area Range (sq. Ft.)
Hose And Regulator Included
Max Operating Hours On 1-lb. Lp Tank
Max Operating Hours On 100-lb. Lp Tank
Max Operating Hours On 20-lb. Lp Tank
Max Operating Hours On 40-lb. Lp Tank
Maximum Heating Area(ft2)
Black Cylindrical Patio Heater
Frequently bought together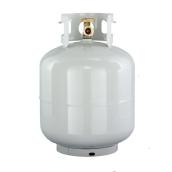 WORTHINGTON
Worthington Empty Tank for Propane Gas - Steel - 20 lb
Format 20LB
Details
Article #1718026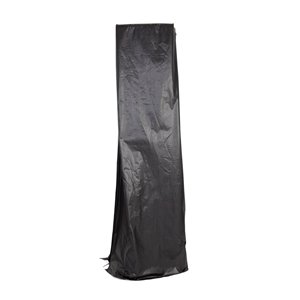 PARAMOUNT
Paramount Black Vinyl Outdoor Flame Heater Cover
Details
Article #330000341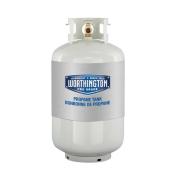 WORTHINGTON
Reusable Empty Tank for Propane Gas - 30 lb
Format 30PD
Details
Article #6598010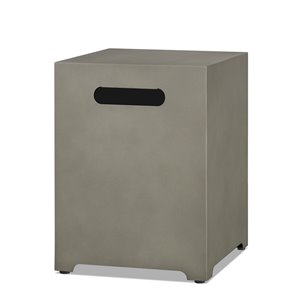 REAL FLAME
Real Flame Propane Tank Cover in Grey / Silver - 15-in x 15-in x 20.25-in
Details
Article #330730336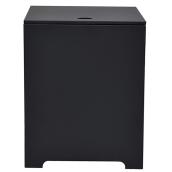 Ellington Black Steel Propane Tank Cover - 20.76-in x 15.75-in
Details
Article #20555059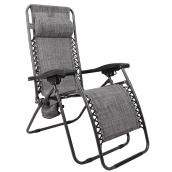 STYLE SELECTIONS
Style Selections Patio Lounge Chair - Relax Collection - Zero Gravity - Cup Holder - Grey
Format 64.56x26.77x44.09"
Details
Article #44315005
Where can I order a new control knob? No link, no email, no phone number available.
Mine got blown over in strong wind and I need a new glass insert. Who can I order one from?
Style Selections Propane Patio Heater - 36,000 BTU - 400 pi²
is rated out of
5
by
19
.
Rated

4

out of

5
by
Jean-Francois99
from
Super
J'ai décidé d'écrire un commentaire après avoir lu que ça chauffait pas sur un autre commentaire.... oui ça chauffe mais il faut attendre 5 - 10 min pour que le verre devienne chaud... c'est certain qu'au début ça chauffe juste dans le haut... au mois de novembre je suis en costume de bain à 6 pieds et c'est parfait.... et c'est 1000x plus beau qu'un chauffe terrasse à radiateur dans le top ... acheter en spécial fin août à 168$
Date published: 2019-07-11
Rated

1

out of

5
by
SlapShot12
from
DO NOT BUY THIS!
I bought this in May and we used it 5 times before it stopped working. Now it is taking forever to get the manufacturer to get it fixed and we won't have a working until fall has passed. SUPER disappointing.
Date published: 2020-09-15
Rated

1

out of

5
by
Nick 22
from
I have 2 of these units pure garbage doesn't work
The patio heaters don't work properly I always have to use a lighter to turn it on plus it's dangerous to do this
Date published: 2020-08-08
Rated

2

out of

5
by
Canadian insulator
from
Bolt it to the ground!
better batten this thing down with everything you have. A little wind and its laying flat with a pile of broken glass. And good luck getting replacement glass. Not available through Rona Called the mfg and "not in stock for distribution"......!!!??? Super. Now i have not one - but two (cuz we thought a pair on the deck would look fabulous) oversize paper weights.... Giving it two stars because when they did work they did look fabulous on the deck.... but alas should have purchased a different product.
Date published: 2021-10-10
Rated

2

out of

5
by
fscaron
from
Très beau mais ne chauffe pas tant que ca
Acheté en Mai pour les premières soirées patio. Très belle flamme mais on sent la chaleur à 3 pieds et moins: s'il ne vente pas du tout! J'ai un patio ouvert peu exposé au vent mais quand même ... je m'attendais à mieux.
Date published: 2019-05-27
Rated

1

out of

5
by
Oz99
from
Stopped Working after 1 season
I bought this in summer, used it a couple of times, and could not get it to start the following summer. Because it passed the 1-year warranty, could not get it replaced. Trying to find parts online. Do not buy this. Save your money and put it into something of better quality.
Date published: 2021-06-22
Rated

1

out of

5
by
Mf62
from
Chauffe vraiment pas comparé a ceux a 200$ très de
Achèté en décembre 2021 et deplus on est fermer meme au boute degage pas de chaleur
Date published: 2022-02-25
Rated

4

out of

5
by
Cameleon
from
Flamme magnifique
Chauffe dans un périmètre de 4 mètre sans mur dans toit. La flamme donne une ambiance reposante.
Date published: 2019-07-22