Description
Take relaxing outdoors to a whole new level with this Relax patio lounge chair by Style Selections. It features a sturdy steel frame that is powder-coated for rust resistance. The grey fabric is designed for outdoor use and is easy to clean. The armrests provide added support and it comes with a removable pillow for extra comfort. The chair has an adjustable design you can position to suit your liking. The cup holder allows you to stay comfortably seated for extended periods. This product is backed by a 1-year warranty.
Heavy-duty steel frame with grey powder-coated finish
350-Lb weight capacity
1-Year warranty
Product specifications
Fabric Pattern/color Name
Number Of Chairs Included
Frequently bought together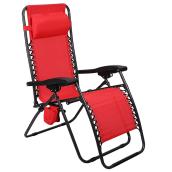 STYLE SELECTIONS
Style Selections Relax Patio Lounge Chair - Zero Gravity - Cup Holder - Red
Format 64.56x26.77x44.09"
Details
Article #44315008
does this chair recline to laying down position
Not where you're laying flat on your back, but a semi-recline, comfortable position.
Date published: 2021-06-14
Can the chair fully recline?
Not where you're laying flat but a semi-recline position.
Date published: 2022-04-21
Does the bottom of the chair prop up to a leg rest?
Yes
Date published: 2022-05-20
Does the chair recline to different positions with locking mechanism?
How long is the chair? Nothing in specs about length.
HI what is the weight limit on this lounge chair?
Style Selections Patio Lounge Chair - Relax Collection - Zero Gravity - Cup Holder - Grey
is rated out of
5
by
20
.
Rated

5

out of

5
by
Peaceful
from
So comfortable and portable
Purchased just before Ontario went into another never-ending lockdown series and this is perfect recliner with neck and arch support to support my back and neck while lying in the backyard. I actually purchased 2 of these and the other is kept in my car for when I visit the park or eventually go to a soccer game again I'll be the funny guy in the recliner haha
Date published: 2021-04-27
Rated

3

out of

5
by
Patio Princess
from
Standard
Simple, compact, comfortable. Mechanism to raise and lock the leg rest is made of plastic. When you are changing the chair's incline, this hard plastic locking switch feels stiff and resists operating smoothly. Nevertheless, it's a good lounge chaise for the price!
Date published: 2020-07-23
Rated

5

out of

5
by
Buppa
from
Reclining chair
This is a very relaxing chair that has good upper back support
Date published: 2020-07-14
Rated

5

out of

5
by
OlMilwaukee
from
Great chair for the price!
I bought these chairs recently after I returned other zero gravity chairs to a different hardware store. These chairs are very comfortable and provide great upper body support. They are also much more sturdy and have a higher weight capacity (350lbs) compared to anything else in the same price range. For a chair the similar price at other major retailers you'd be looking at a 225lbs or 250lbs weight capacity, which even if you're not close to being that weight I believe it speaks volumes for the overall longevity and durability of this product. I'm not sure what some of the other reviews are saying about not being able to sit properly in it ("sitting like a pretzel"), as I think most ordinary people should have no problem figuring out the locking mechanism on this and how to sit properly. This chair even comes with a cupholder which is a bonus compared to other similar products that you'd have to pay extra for. Overall I'd rate these chairs at 5/5. Are there better chairs out there? For sure. But you'll be spending at least 3 to 4 times the amount of this zero gravity chair for a similar product. Save your time and money and pick up some of these bad boys for your house, cottage, or wherever, and you won't be disappointed.
Date published: 2022-05-11
Rated

1

out of

5
by
Eric68
from
flat or folded
This chair does not allow you to sit at 90 degrees like a standard recliner - either you are mostly flat on your back staring at the sun, or you're folded upright with your knees at your chin making it useless to read or have a drink with your feet up. Makes it impossible to climb into - I prefer to model I purchased 4 years ago when these were designed properly with common sense ergonomics.
Date published: 2021-05-12
Rated

5

out of

5
by
Pclarke
from
Awesome chairs!
We got these last month to replace our 10 year old chairs. They are very comfy. Some reviews said they could only be in a lounge position, or your knees were up in your face. The way to fix this is to use the little round levers under the arm rests. You can lock them into a lounge position or adjust them into a normal upright sitting position. And they're not too heavy to carry to the beach :)
Date published: 2021-08-13
Rated

1

out of

5
by
Pretzel Logic
from
Very uncomfortable
After struggling to fall into this awkard chair, I'm stuck flat on my back or bent upright like a pretzel. Not adjustable like the Zero-Gravity chairs - a poor reproduction making it a wasted purchase I needed to return - wast of time. Can't believe someone approved the prototype for this cheap copy.
Date published: 2021-05-14
Rated

5

out of

5
by
Paisley
from
Very Impressed! Great value!!
I've seen these at a few places and bought 2 from Rona because they were the least expensive. Have to admit I was really impressed with the quality. Just as good if not better than the more expensive ones. Fold up easily so can be stowed until you want to use them or you can leave them out. Very comfortable! Just what I need to relax.
Date published: 2021-04-24