Description
Proudly made in Canada, this Stirling(TM) trailer feature galvanized construction offering a corrosion-resistant finish that is long-lasting and maintenance-free. The torsion suspension gives a smoother ride with increased trailer rigidity. The expandable design allows for the transportation of a wide range of loads. E-Z Lube hubs offer ease of maintenance and added bearing protection. The galvanized finish will give many years of maintenance-free use. This product is backed by a 1-year limited warranty. (Note that the in-store availability of this product may vary from store to store) * Trailer license and registration are required when picking up this item.
Front expandable gate providing the ability to extend the trailer bed by 15-in for longer loads
Corrosion-resistant galvanized coating offers increased protection for prolonged trailer life
Front fold down gate expands length to 8-ft 6-in
E.Z. lube bearing lubrication system
Product specifications
Manufacturer Color/finish
Stirling 4ft x 7.25ft Galvanized Steel Expandable Utility Trailer
Frequently bought together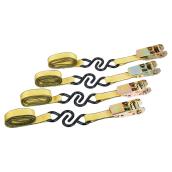 ERICKSON
Ratchet Tie-Down - 1'' x 10' - 900 lb - 4/PK
Format 1"x10' 900LB 4PK
Details
Article #16425000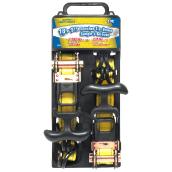 STINSON
Stinson T-Handle Ratchet Tie-Downs - Rubberized Handle - Vinyl-coated J-Hooks - 1 1/4-in W x 16-ft L - 2-Pack
Format 1 1/4"x16'xPK2
Details
Article #0033335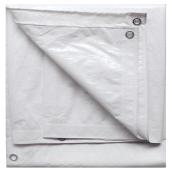 PROJECT SOURCE
Project Source Polyethylene Tarpaulin - 8-ft x 10-ft - White
Format 8'x10'
Details
Article #19595012
Would this unit be good for storing and transporting a Power golf cart weighing approximately 255kg. The length of the power cart from bumper to bumper is 96 inches and width is 45 inches. with front down is ball weight changed.
Hello, dblackinsk, Thank you for your question. Based on the measurements, your golf cart will not fit on the 4' x 7' trailer with both gates closed. If you open the gate to allow for more room, you need to be sure that the wheels are not resting on the front gate, as it is not designed for such a large point load. The feature allows the customer to carry longer loads, such as lumber. -Your Stirling Team
Date published: 2022-08-15
Does this trailer have tie downs within the bed? If so how many? Thank you.
Thank you for your question. The 4' x 7' trailer comes with four (4) u-bolt tie-downs in the bed of the trailer.
Date published: 2021-06-11
Is the trailer easily maneuverable? How difficult would it be for one person to move the unhitched trailer over a grassy patch of lawn to be stored?
Thank you for your question. The trailer, when empty, weighs about 400lbs and it would be important to use your judgement based on your capabilities when moving the trailer. While the trailer can be moved by hand in certain situations, there are many variables to consider.
Date published: 2021-06-07
Is this trailer pre assembled?
Thank you for your question. The trailers are shipped 95% assembled and there is a final assembly process that is completed before the trailer is sold. The tongue has to be flipped and the top portion of the side panel has to be installed. If you have further questions, you can contact us directly at 866-857-1445.
Date published: 2021-06-07
is this trailer safe to carry an atv or riding mower ,I noticed another had a 200lb bed weight sticker on tongue but the manufactor sticker s weight rating looks ok
Thank you for your question. The 4' x 7' trailer has a payload of 1580lbs, and the tongue weight should never exceed 10% of the payload of the trailer. The interior dimensions of the bed are 4' wide and 7' 3" in length. It is important when loading the trailer that the gate can be closed completely and that the load is not pushing on the sides of the trailer, you should also ensure that the weight is evenly distributed over the axle.
Date published: 2021-06-03
How long is the trailer. From ball joint to the end of the trailer.
Hi Dominic, The total length of the 4ft x 7.25ft trailer from the ball mount to the back is 11.25ft (135"). Stirling Support Team!
Date published: 2021-05-11
What is the full length of this trailer. From the ball mount to the to the end of the trailer.
Hi Dominic, The total length of the 4ft x 7.25ft trailer from the ball mount to the back is 11.25ft (135"). Stirling Support Team!
Date published: 2022-11-05
Would this trailer be strong and sturdy enough for a long distance highway drive?
Hello MicMac123, Absolutely! This trailer is designed for the long haul! When doing long distances, some maintenance is required. For example, you will need to inspected and lubricate your bearings to ensure safe and reliable operation after 3200 km. The trailer axle has an E.Z. lube feature, which allows you to repack your bearings without removing the axle's hubs. Also, the wheel bolts will need to torque to 95 lbs every 800 km/500 mi. We strongly recommend that you read the owner's manual's safety information before making a long trip. Your Stirling Support Team,
Date published: 2021-05-19
Galvanized Steel Expandable Trailer - 4-ft x 8-ft
is rated out of
5
by
15
.
Rated

4

out of

5
by
dadbones
from
Wiring harness prongs pull out
Nice capable light duty trailer that I can move around by hand. However, they used the cheapest wiring harness and the prongs pulled out almost immediately. Now I have to rewire a practically new trailer?
Date published: 2020-05-23
Rated

4

out of

5
by
Darkstar107
from
Great trailer, horrible wiring harness
I bought this a few weeks ago after reading the reviews and thought "how bad could the harness actually be"? When I got there and tried to plug it into my vehicle I was amazed that Stirling was able to find and actually decided to use such a horrible harness. The exposed prongs moved around so much and were so weak that I could barely get it plugged into my vehicle. After about 5 minutes I finally got it plugged in and bought a 6" 4 pin extension cable that I'll just leave plugged into the trailer all the time so that I don't need to mess around with the harness that came with it too much. Rest of the trailer is great though.
Date published: 2022-02-15
Rated

4

out of

5
by
Fidzio
from
Useful trailer but poor quality wiring
Bought the trailer in July and used it half a dozen times and now the RH lights don't work. Car side is fine but for some reason RH flasher/brake and side lights at the back don't work!!! Trailer is two months old!!!
Date published: 2020-09-12
Rated

4

out of

5
by
GWBUSHER
from
Nice unit
Just picked it up and its been very handy already.
Date published: 2020-01-31
Rated

5

out of

5
by
robk1971
from
Great ATV trailer
I bought this trailer mainly to haul my CanAm Outlander ATV as well as the occasional building materials. This trailer has been the perfect solution for all intended tasks. My review and scores are based on price, value, and performance of this product. The quality is solid for the price. If you want something more rugged you will pay for it, but I have hauled my ATV confidently for a few thousand kilometers so far without a single issue.
Date published: 2020-05-28
Rated

5

out of

5
by
Suze2020
from
Really happy with this trailer
I bought this trailer in May 2020. It has made multiple local trips, most of which were hauling stuff to the dump and disposing of lots of tree trimmings. Moving the trailer around is pretty easy but putting a wheeled trailer jack on it has made it even easier. (Thought a woman's review might be helpful :)
Date published: 2021-01-04
Rated

5

out of

5
by
Crobert
from
Excellente remorque pour la majorité des transport
J'attendais l'arrivée de ce trailer depuis plusieurs mois et finalement mon entrepôt Rona en avait reçu trois et tous vendu en quelques semaines. Excellent pour transporter meubles, petit déménagement, aménagement paysager ( arbustes et environ une verge de terre) et vtt/moto. Elle est vraiment versatile pour la majorité de nos besoins à la maison. En réalité pourquoi avoir une remorque de capacité de 3500lbs si celles-ci remplie 99% de vos besoins. Au pire quand ca se présente tu en loues une…
Date published: 2022-04-02
Rated

5

out of

5
by
Anne1973
from
Trailer - greatest features
Very happy to have purchased this small size trailer / 4 feet by 8 feet long. Galvanized, light, easy to carry , transport and pulled to the desired location when empties, especially for women of all size.
Date published: 2021-06-25